Italian Sausage and Bean Soup with Lemon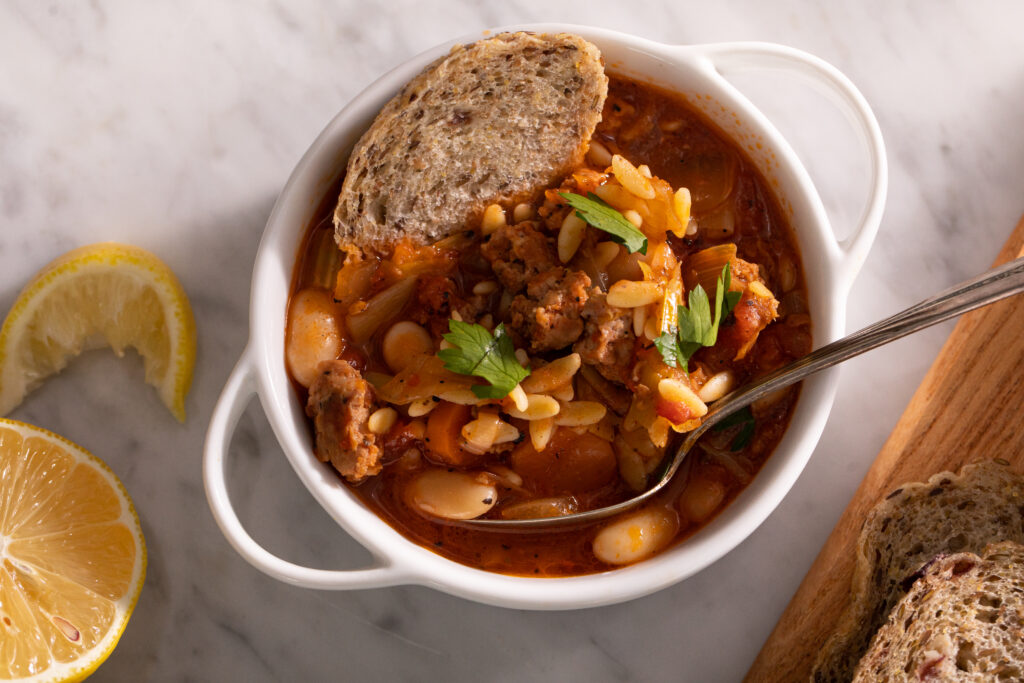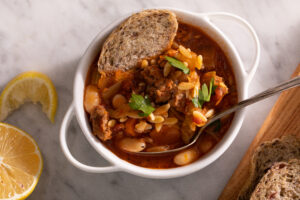 Print
Italian Sausage and Bean Soup with Lemon
Infused with citrus and boosted with collagen proteins and mushroom powder, this classic Italian soup delivers everything your body craves in winter!
Ingredients
¾ lb. housemade Italian sausage, mild or hot
3 Tablespoons olive oil 
1¾ cups onion, chopped
1 leek, cleaned and chopped
8 oz. carrot, chopped
1-2 stalks celery, chopped
4 garlic cloves, sliced
1 bay leaf
1 Tablespoon Northwood Mushrooms Powder*
1 teaspoon kosher salt, divided
2 cans cannellini beans, rinsed and drained
2 cups water
2 cups chicken stock
1 14-oz. can crushed tomatoes
2 scoops Vital Proteins unflavored collagen powder
¾ cup orzo pasta 
1½ teaspoons kosher salt, plus more if needed
½ teaspoon fresh cracked black pepper
Zest and juice of one lemon
Instructions
In a Dutch oven, brown the sausage, remove from pan, and set aside. To the Dutch oven add olive oil, chopped vegetables, bay leaf, and mushroom powder. Sprinkle on the salt and sauté until almost tender, about 10-12 minutes.
To the Dutch oven add the beans, water, chicken stock, crushed tomatoes, collagen powder, and orzo, stir well. Bring to a boil, reduce to a simmer, and cook until pasta is tender, about 10-12 minutes. Return the sausage and add the black pepper. Simmer for 5 more minutes.
When ready to serve, add the lemon zest and juice. Enjoy!
*Substitution option: 8 oz. fresh mushrooms, sliced and sautéed with the vegetables