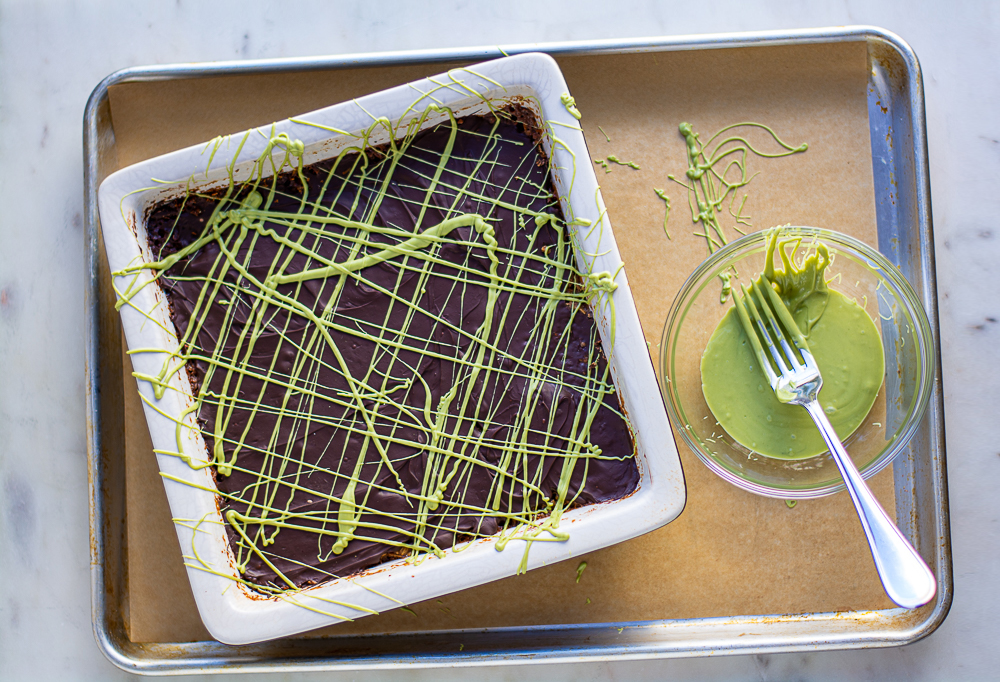 Irish Oat Flapjacks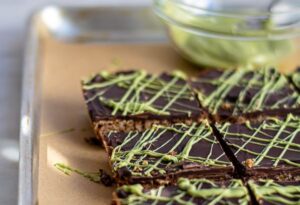 Celebrate St. Patrick's Day (or any day) with these Irish-inspired sweets! Flapjacks are made with local oats, Kerrygold butter, local maple syrup, and chocolate, for a quick, simple, delicious treat.
Ingredients
4 cups Doubting Thomas Oats
3/4 cup (6 oz.) Kerrygold butter, plus more to grease pan
1/2 cup dark brown sugar
1/4 cup maple syrup
1/2 teaspoon kosher salt
1 teaspoon vanilla
1 cup dark chocolate chips
1/3 cup white chocolate chips
1/2 teaspoon matcha powder, sifted
Instructions
Preheat the oven to 350°.
Toast the oats by placing them on a rimmed baking sheet and baking in the oven for about 15-20 minutes. When you can smell the oats, they are toasted.
Butter or line a 9 x 9 baking pan with parchment paper.
Place the butter, dark brown sugar, maple syrup, and kosher salt in a large pot. Set the pot over medium-low heat and gently mix with the spatula until the ingredients melt together and the sugar is completely dissolved, about 10 minutes. Transfer to a large bowl and let cool for about 5 minutes.
To the bowl, add the toasted oats and vanilla and mix until everything is thoroughly incorporated. Place this mixture into the prepared baking pan and smooth it out evenly with the back of the spatula. Firmly press it down, or it will crumble when removed from the pan.
Bake the flapjacks for 30 minutes until the top is golden brown. After removing the pan from the hot oven, immediately scatter the dark chocolate chips evenly over the surface of the flapjacks. Wait for a few minutes, then use an off-set spatula to smooth the melted chocolate over the surface of the flapjacks evenly. Set aside to cool.
In a small microwave-safe bowl add the white chocolate chips and microwave for 10 seconds at a time, mixing thoroughly between each interval. After the chips have melted completely, mix in matcha powder. With a fork, drizzle the green tea chocolate over the top, dark-chocolate layer of the flapjacks.
Let the flapjacks completely cool before cutting with a large, sharp knife. Enjoy with a cuppa.