Heirloom Tomato Burrata Pizza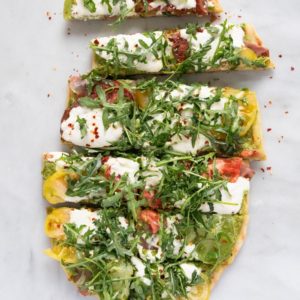 Print
Heirloom Tomato Burrata Pizza
Yield 6 servings
Ingredients
Arugula Pesto
2 cups baby arugula
2 1/2 tablespoons olive oil
2 tablespoons fresh lemon juice
1/4 cup grated Parmesan cheese
2 tablespoons pine nuts
1 clove garlic, roughly chopped
1/4 teaspoon freshly ground black pepper
1/4 teaspoon salt
Tomato and Burrata Pizza
1 package (8 ounces) homemade or store-bought pizza dough, at room temperature
Olive oil, for drizzling
4 ounces thinly sliced prosciutto, torn into bite sized pieces
2 medium tomatoes, thinly sliced, seeds removed
8 ounces burrata cheese, torn
2 cups lightly packed baby arugula
1 teaspoon olive oil
Pinch salt
Pinch red pepper flakes
Instructions
Combine all Arugula Pesto ingredients in a blender or food processor and blend until smooth; set aside.
Heat a gas or charcoal grill to indirect medium heat.
On lightly floured parchment paper, press the dough out to a 10 to 12-inch rectangle.
Brush the top dough surface lightly with olive oil, place on the preheated grill, oiled side down. Grill pizza dough 4 to 6 minutes or until dough is set and browned.
Carefully transfer the partially baked crust to a cutting board, grilled side up. Spread the pesto mixture over the crust. Top with pizza with prosciutto, tomatoes and burrata. Return the pizza to the grill, close the lid and grill an additional 4 to 6 minutes or until the pizza crust is browned and fully baked and the cheese is melted.
In a medium bowl, gently toss 2 cups of arugula with 1 teaspoon olive oil, salt and red pepper flakes. Serve pizza topped with arugula.