Grilled Salmon with Lemon and Green Onions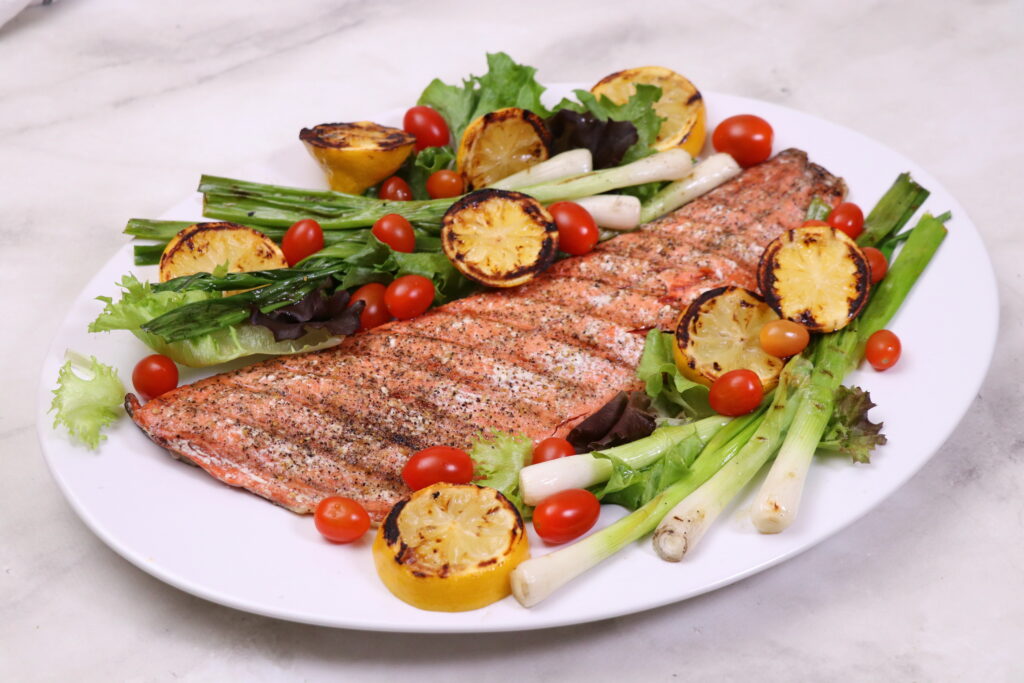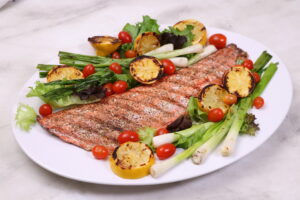 Print
Grilled Salmon with Lemon and Green Onions
Yield 4 servings
Once you've grilled sockeye salmon you'll never want it any other way! This simple recipe lets the rich flavor of the fish take center stage, accentuated but not overpowered by grilled scallions and charred citrus. Served over greens it becomes a one-dish meal you'll want to make all summer long!
Ingredients
1-1¼ lb. wild caught sockeye salmon fillet, skin on (3-4 oz. per person)
⅓ cup extra virgin olive oil, divided, plus more as needed
2 lemons, thickly sliced into 4 pieces (2 slices per serving)
4-8 green onions, root ends trimmed
2-3 Tbsp. Frontier Organic Lemon Pepper seasoning blend, plus more to taste (available in the bulk aisle)
Kosher salt, to taste (optional)
For serving:
5-6 oz. fresh mixed greens
½ pint cherry tomatoes, halved
¼-½ tsp. red pepper flakes, to taste (optional)
Instructions
Preheat grill to medium-high heat.
Line two rimmed baking sheets with foil or parchment. Drizzle 1 Tbsp. olive oil in each pan and brush to coat surface.
On the first pan, place the salmon skin side down on the oiled surface. Drizzle another 1-2 Tbsp. olive oil on top of the fillet and brush to coat. Season well with Lemon Pepper mix.
On the second pan, place the lemon slices and green onions. Drizzle another 1-2 Tbsp. olive oil and toss to coat.
When the grill is ready, place the salmon directly on the grate skin side down and grill for 4-6 minutes. Carefully flip the fillet and cook the top side for another 4-6 minutes or until the internal temperature reaches 145° F.
Place the scallions and lemons on the grill grates for just a minute or two per side until lightly charred.
To serve, plate portions of salmon on top of fresh greens along with grilled onions and cherry tomatoes. Squeeze the grilled lemon over everything and enjoy!