Grilled Pork Chops and Peaches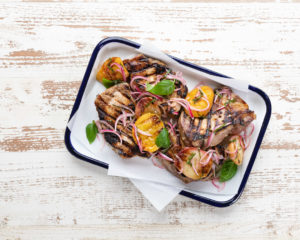 Print
Yield 4 servings
Sweet caramelized peaches and fresh herbs are the perfect pairings for these thick-cut pork chops.
Ingredients
2 tablespoons olive oil
2 tablespoons honey
2 cloves garlic, finely chopped
1/2 teaspoon salt
1/4 teaspoon pepper
4 Pastures A Plenty thick-cut boneless pork chops
4 ripe, firm peaches pitted and halved
1/2 cup slivered red onion
2 teaspoons white balsamic vinegar
Small fresh basil leaves for garnish
Thinly sliced fresh mint leaves
Instructions
In a small bowl, whisk together the olive oil, honey, garlic, salt, and pepper; set aside.
Place the pork chops and peaches in a large resealable container. Add the olive oil and honey mixture and gently toss to coat.
Cover and refrigerate at least one hour or overnight. Remove from refrigerator one hour before cooking.
Heat gas or charcoal grill for medium-high heat. Place peaches cut sides down, on the grill. Cook 5 to 7 minutes, turning once until softened and caramelized.
Place pork on the grill. Cover grill and cook 7 to 10 minutes, turning once, until pork is no longer pink in center.
Transfer pork chops to a platter. In a medium bowl, gently toss the grilled peaches, red onion, vinegar, basil, and mint. Serve peach and onion mixture with the pork chops.