Grilled New York Strip with Lemon, Garlic, and Thyme
.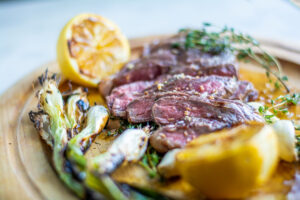 Print
Grilled New York Strip with Lemon, Garlic, and Thyme
What's better in the summer than a steak, grilled just how you like it? This New York Strip is beautifully seasoned and goes well with a number of sides to make your dinner extra delicious.
Ingredients
2 Thousand Hills New York Strip Steaks (about ¾-1 lb. each)
2 teaspoon + 2-3 Tablespoons olive oil for cutting board
Kosher salt
5-6 garlic cloves, smashed and skins removed
8-10 sprigs of fresh thyme
1 lemon
Sea salt, for finishing
Freshly ground black pepper to taste
Instructions
Preheat your grill to high.
Rub the steaks with about two teaspoons of olive oil and sprinkle with a few good pinches of kosher salt. Let stand at room temperature while the grill heats up.
Place the garlic and thyme on a large cutting board, and drizzle with about 2-3 tablespoons of good olive oil. Mix around on the board.
Be sure your grill is scraped clean. Place the steaks on the preheated grill for about 3-5 minutes per side until a digital thermometer reaches about 135-140°. Remove from grill and place directly on the cutting board flavorings and oil. Let rest for at least 5 minutes before carving.
Carve the meat at an angle, toss with the zest of one lemon and its juice, and cut board flavorings. Drizzle with more olive oil and sprinkle with about 1-2 teaspoons of sea salt.
(If desired, serve with baked potatoes, grilled onions, and a Caesar salad, as shown in photo.)