Grilled Five Spice Bone-In Pork Shoulder Roast with Ginger Pear Sauce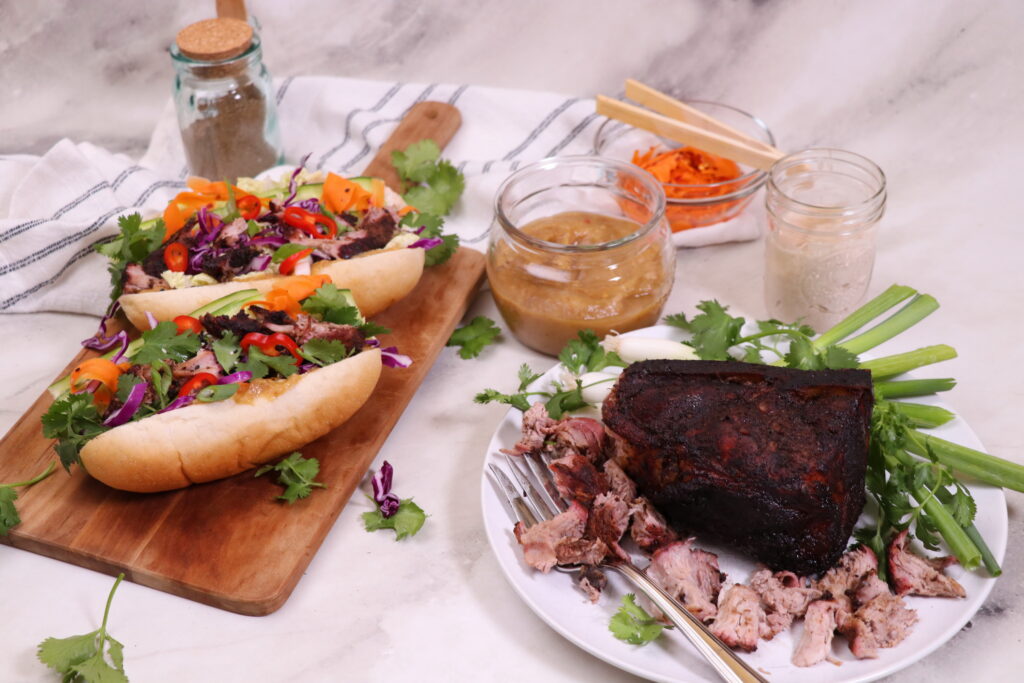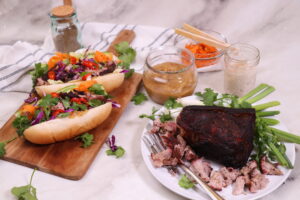 Print
Grilled Five Spice Bone-In Pork Shoulder Roast with Ginger Pear Sauce
Chinese Five Spice is a potent blend of star anise, cinnamon, fennel seed, cloves, and Sichuan peppers that imbues this roast with a deep, smoky flavor. The tropical ginger pear sauce balances out the profile and gives this Asian-influenced dish a fruity finish that's perfect for sandwiches and lettuce wraps.
Ingredients
For the pork:
2½ - 3 lb. bone-in pork shoulder roast (also known as pork butt)
3 Tablespoon tamari or soy sauce 
For the Five Spice rub:
2 Tablespoons Five Spice powder
2 Tablespoons lemon pepper seasoning 
1 Tablespoon granulated garlic
2 teaspoon kosher salt and coarse ground black pepper
For the Ginger Pear sauce:
2 fresh pears, cored and chopped (about 3 cups)
3 Tablespoons fresh ginger, finely chopped or grated
½ yellow onion, chopped (about 1¼ cup)
2 Tablespoons vegetable or other neutral oil
¼ cup coconut sugar
¼ cup unseasoned rice wine vinegar or apple cider vinegar
1 Tablespoon lemon juice
¼ teaspoon red pepper flakes
Instructions
Bring roast to room temperature (in packaging) for about 30 minutes before seasoning. Combine all ingredients for the Five Spice Rub in a small bowl.
Set up grill for indirect cooking. If using gas, leave one burner to the side unlit. If using charcoal, arrange coals to one side. Preheat to medium heat, around 325° - 350°. Cherrywood chunks can be used in charcoal for added color and flavor. Simply add them to the coals just before placing the roast on the grill.
Line a rimmed baking sheet with parchment paper. Place the pork roast on the baking sheet and brush with tamari or soy sauce. Then liberally season the roast with the Five Spice Rub.
Using two large spatulas or long grilling tongs, place the roast on the grill just beside the hot zone. Allow the roast to cook for two hours, then turn and cook for one hour more and check temperature.
When the internal temperature reaches 140° - 145° remove the roast from the grill. Place it on a heavy plate or pan and cover with foil. Allow meat to rest for 15 minutes, during which time it will continue to cook and reach a temperature of 145° - 150°.
Using two large forks, shred the meat.
For the Ginger Pear sauce:
In a sauce pan over medium heat, combine oil, pears, ginger, and onion and sauté until pears are tender and onions translucent, about 20 minutes. Ginger will still be tough but fragrant.
Remove pan from the heat. Add sugar, vinegar, lemon juice, and red pepper flakes and stir. Place everything in a food processor and blend until completely smooth. Sauce is best after flavors have had a chance to mingle for several hours or overnight. It can be stored in a covered glass container for 3 - 4 days.