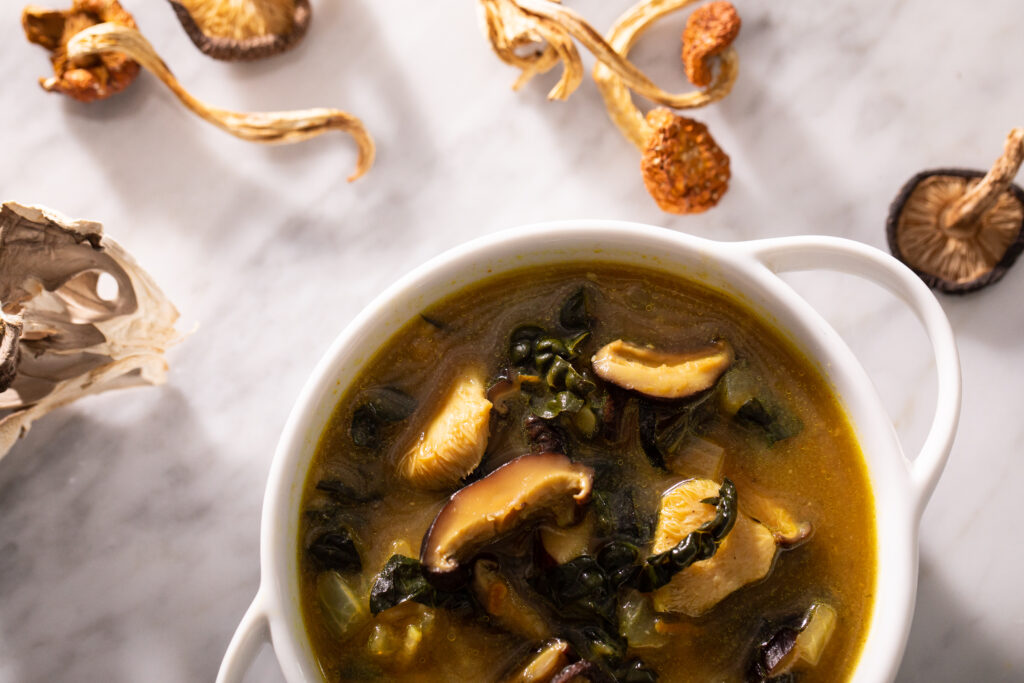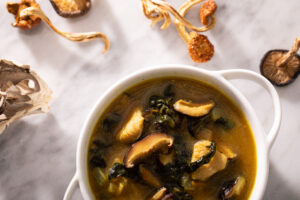 Print
Functional Mushroom Soup
Functional ingredients like turmeric and mushroom powder give this hearty, warming soup an extra dose of health benefits.
Ingredients
1 medium yellow onion, diced
3 cloves of garlic, minced
1 ½ inch of ginger, grated (about 1 Tablespoon)
1 ½ inch of turmeric, grated (about 1 Tablespoon)
1 package (8 oz.) of fresh mushrooms, sliced
1 package (.75 oz) of dried mushrooms, soaked for at least 1 hour and up to overnight, sliced
4 stalks dino kale (about 2 cups), stalks removed and leaves sliced into ½" strips
32 oz. vegetable broth  
32 oz. water
2 Tablespoons coconut oil, separated
1½ Tablespoons Northwood shiitake powder
1½ Tablespoons white miso paste
3 teaspoons Bragg's coconut aminos
¼ teaspoons salt
Pinch of cayenne (optional)
Fresh cracked pepper to taste
Seaweed strips
Instructions
In a Dutch oven or heavy-bottomed pot, melt 1 Tablespoon of coconut oil over medium heat. Add the onions and cook until translucent (about 2-3 min.)
Add the garlic, ginger, and turmeric and cook until fragrant (about 2 min.) Remove the mixture from heat and set it aside.
Add the remaining coconut oil to the pot and melt. Add the sliced fresh mushrooms, salt, and about 8-10 cracks of fresh ground pepper. Cook until the mushrooms are softened and mostly done (about 5-6 minutes). Add the onion mixture back into the pot, along with 1½ Tablespoon of white miso paste, and stir well. Add the broth and water and bring to a simmer. Cook for 10 minutes, stirring occasionally. Add the kale and simmer for 10 more minutes. Stir in the dried mushrooms, coconut aminos, shiitake powder, and cayenne. Continue to simmer for about 10 more minutes until the mushrooms are soft and the kale is cooked to your liking. Garnish with seaweed strips and serve.