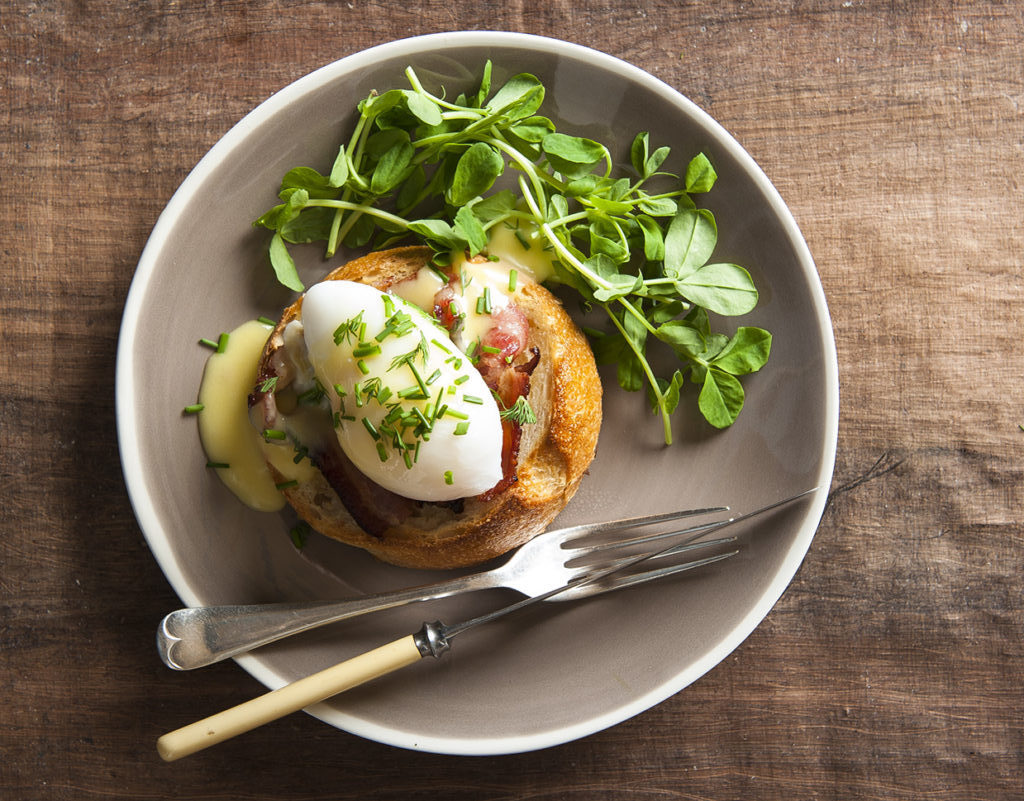 Photo Credit: Mette Nielsen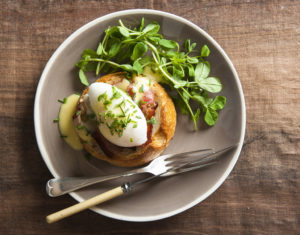 Print
Eggs Bene-Duck
This classic brunch dish is easy, it just takes a little timing. You'll want to make the hollandaise first, then sizzle the bacon, then poach the eggs and toast the English muffins or the bread. The finished dish stacks these ingredients with a light sprinkle of herbs, salt and pepper. Try swapping out the bacon for smoked salmon (for Eggs Hemingway) or wilted greens (Eggs Florentine).
Ingredients
For the Hollandaise: 
¾ cup unsalted butter 
2 duck egg yolks
2 teaspoon lemon juice
Pinch cayenne
Coarse salt and freshly ground black pepper 
For the Eggs Benedict:
8 slices thick cut, country style, or Canadian bacon
1 tablespoon white vinegar 
Coarse Salt 
4 duck eggs 
2 English muffins, split and toasted
¼ cup chopped chives
2 tablespoons chopped fresh dill
2 tablespoons chopped fresh parsley
Instructions
To make the hollandaise:
Melt the butter in a small pot over medium heat until foamy, about 3 to 4 minutes. Put the egg yolks and 2 teaspoons of water into a bowl and whisk vigorously. Very slowly whisk in the hot, melted butter until it's incorporated and if it's too thick, add a little more water. Add the lemon juice and cayenne. Season with salt and pepper and transfer to a small bowl, cover with plastic wrap, and set aside at room temperature.
To cook the bacon:
In a medium skillet set over medium heat, cook the bacon, turning occasionally until crisp then drain on paper towels, about 6 minutes. Set aside.
To poach the eggs:
Fill a medium pot with 3 inches of water. Add the vinegar, a little salt and bring to a simmer – don't let it boil. Using the handle of a spoon or spatula, stir the water clockwise. Crack an egg into the center of the pot, letting the water swirl around it and allowing the white to envelop the yolk. Repeat with the remaining eggs. Check the eggs after about 5 minutes by lifting one out with a slotted spoon. The white should feel firm. If not quite done, slide the egg back for another minute or two, cooking until the whites are just set but the yolks are still runny, about 5 minutes. Once the eggs are poached, remove from the water and let drain on a paper towel lined plate.
Toast the English muffins until crisp and golden.
Assemble the Benedict: Place each muffin half a plate, butter lightly, top with a slice of bacon or ham, then a poached egg, spoon on the hollandaise sauce and sprinkle with the chives, dill, salt and black pepper.