Dairy-Free Lemon Chicken Alfredo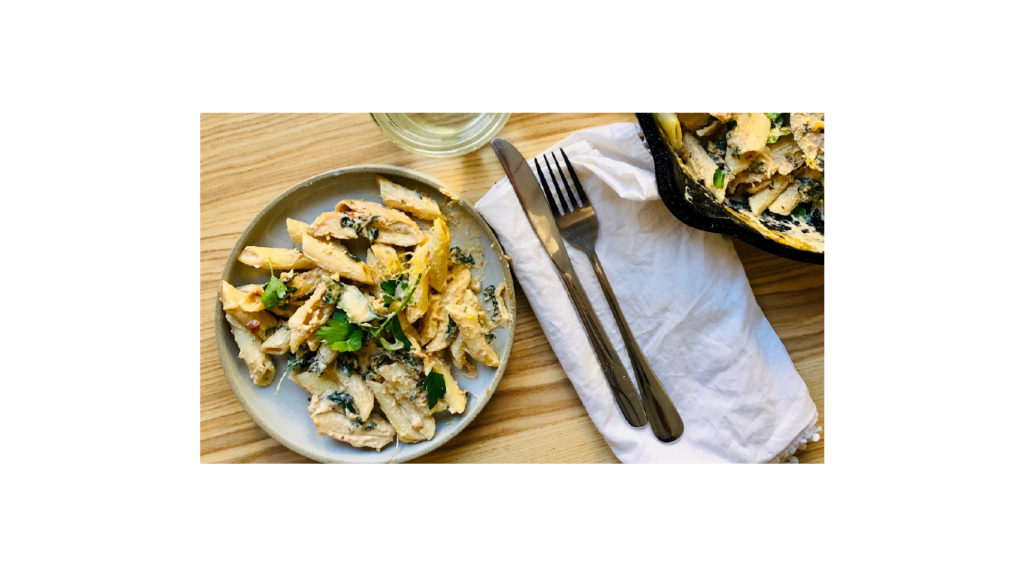 Print
Dairy-Free Lemon Chicken Alfredo
Yield 3 servings
This recipe is a great way to try Buddha's Hand, a funky-looking member of the citrus family. Although Buddha's hand does not yield any juice due to its dense, pithy-interior, it can be used for its flavorful zest and adds a delicious and uplifting twist to this dairy free alfredo dish. Enjoy!
Ingredients
2 chicken breasts
1 tbsp garlic powder, plus 1 tsp
2 tbsp olive oil, plus more for drizzling
1/2 cup sun-dried tomatoes
1 cup cashews
1 tbsp nutritional yeast
1 tbsp lemon juice
1 tsp onion powder
1 cup oat milk, or other alternative milk
1 cup water
1 shallot, diced
1 tbsp lemon zest (from Buddha's hand or a lemon), plus more for garnish
1 cup spinach, chopped into ribbons
1 tsp red pepper flakes
8 oz penne pasta, prepared
1/2 cup fresh basil, chopped into ribbons
Parsley for garnish
Salt and pepper to taste
Instructions
Preheat the oven to 375F. Place chicken breasts on a baking sheet, drizzle with olive oil and sprinkle with 1 Tbsp garlic powder, salt and pepper. Bake for 15-20 minutes or until the juices run clear and the interior of the chicken is no longer pink. When the chicken is done, remove and cut into bit sized strips. Set aside.
In the meantime, pour the cashews into a heat proof bowl and pour hot (not boiling) water over the cashews and allow to sit for about 20 minutes.
In a separate heat-proof bowl, place the sundried tomatoes and add hot (not boiling) water and allow to sit for 20 minutes.
While the cashews and sun-dried tomatoes are soaking, turn a cast-iron skillet on med-low and add about 2 Tbsp of olive oil. Add the diced shallot and stir occasionally. Sauté for about 5 minutes or until the shallot is aromatic and translucent.
After the 20 minutes is complete, drain the cashews and place in a high-speed blender. Add the nutritional yeast, lemon juice, garlic powder, onion powder, oat milk, and water and blend on high for 20-30 seconds or until the mixture is smooth.
Pour the cashew cream sauce into the skillet with the shallot and stir.
Drain the sun-dried tomatoes and chop into bite sized pieces. Add this, along with the chopped chicken, lemon juice, lemon zest, spinach, and red pepper flakes to the cashew cream sauce and stir, keeping the skillet on medium low.
Add the prepared pasta and basil and stir until everything is heated throughout.
Dish up and top with additional basil, parsley, and lemon zest.