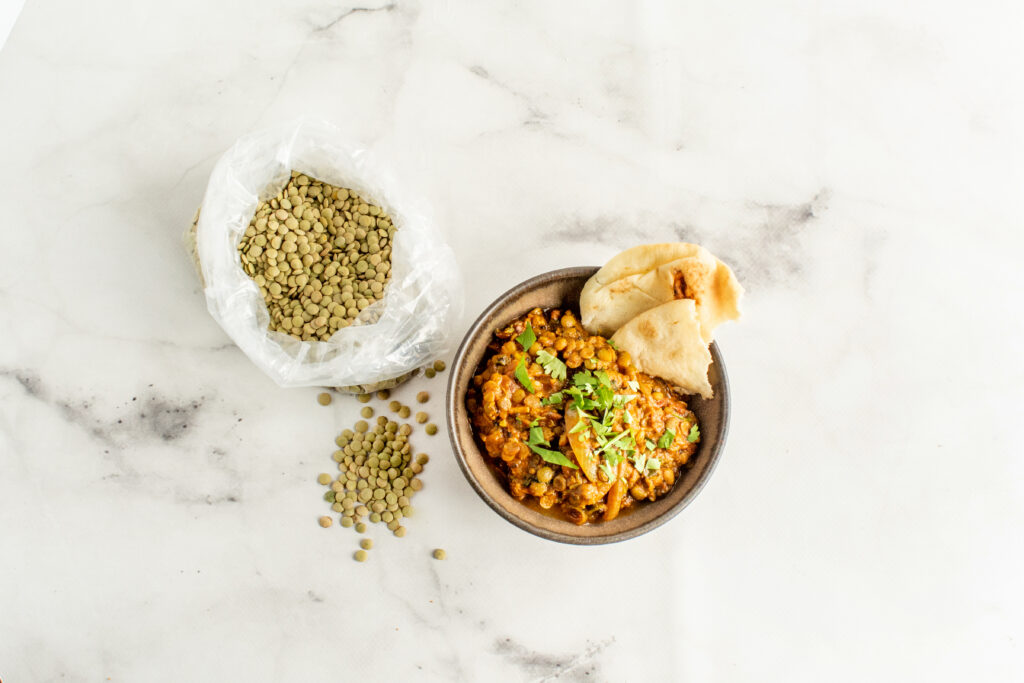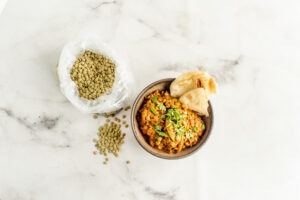 Print
Curried Lentils
Ingredients
1 cup dried lentils
3 cups water or stock 
½ teaspoon kosher salt
1 teaspoon whole coriander seed, cracked (see note)
1 teaspoon red chili flakes
1 teaspoon black mustard seeds
1 teaspoon turmeric
2 teaspoons Garam masala
4 Tablespoons coconut oil (or another neutral flavored oil)
1 yellow onion, thinly sliced
Pinch of salt
4 garlic cloves, minced
1-1½" knob of fresh ginger, peeled and minced
28 oz can of crushed, fire-roasted tomatoes, liquid preserved
1 can full-fat coconut milk
Kosher salt & cracked black pepper to taste
1 cup cilantro, chopped
1½ cups cooked jasmine rice
Instructions
For the lentils:
Rinse and drain the lentils, then add them to a medium saucepan and add water until lentils are covered by 1 inch of water.
Bring to a boil, reduce to a simmer, cover, and cook for 20-30 minutes, until lentils are tender.
Drain and return to pan with ½ teaspoon of salt. Set aside until ready to use.
For the curry:
In a large skillet or Dutch oven heat two tablespoons oil over medium heat.
Once the oil is hot and begins to shimmer, add the cracked coriander, chili flakes, and black mustard seeds.
Sauté until the mustard seeds begin to pop, then add the turmeric and Garam masala and sauté for 30 seconds until aromatic.
Add the remaining 2 tablespoons oil to the pan along with the onions and a pinch of salt and sauté until soft, about 7 minutes.
Add garlic and ginger and stir for about 30 seconds, then add the tomatoes and simmer for 2 minutes.
Add the coconut milk and the prepared lentils and stir.
Simmer for about 10 minutes or until the mixture thickens a bit. 
Toss in most of the cilantro and season with salt & pepper to taste.
Serve over jasmine rice and garnish with cilantro.
Notes
Cooked lentils can be easily frozen for future recipes, so feel free to cook a few batches at once and store in airtight containers.
To crack coriander seeds use a mortar and pestle, or wrap in a tea towel or plastic bag and lightly crush with a rolling pin. Don't crush them into a powder. A good crack is all they need to release their flavor.