Crostini with Beef and Chimichurri Sauce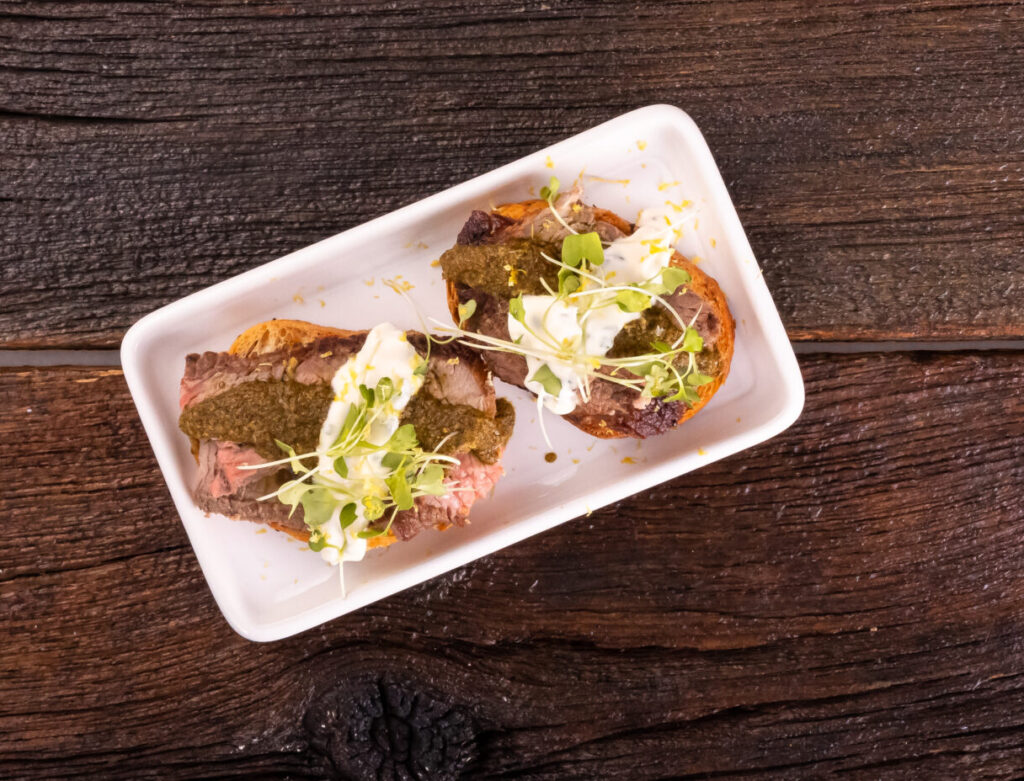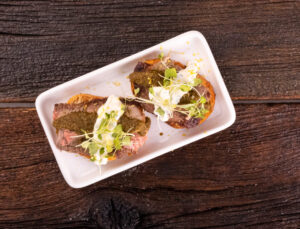 Print
Crostini with Beef and Chimichurri Sauce
Yield 12-14 crostini
Finger food doesn't get much better than this! Mouth-watering local steak, thinly sliced and topped with a creamy, herby, garlicky sauce, is served atop crunchy, toasted baguette slices for an appetizer that's effortlessly indulgent and delectable.
Ingredients
1 lb. Peterson flank, sirloin, or tenderloin steak
½ tsp kosher salt
½ tsp fresh cracked black pepper
1 Tbsp olive oil
½ cup créme fraîche
½ tsp fresh garlic, finely minced
1 tsp lemon zest
¼ tsp kosher salt
1 Tbsp scallions (green parts only), finely minced
12-14 slices of Breadsmith crostini
¼ cup Mama Kicks chimichurri sauce
2-3 Tbsp Morning Sun Farms broccoli microgreens
Instructions
Preheat oven to 225°, pat steaks dry with paper towels, and season with salt and pepper. Place on a wire rack set in a rimmed baking sheet and place in oven. Cook until meat thermometer registers 120°, about 20-25 minutes.
Next, heat oil in a 12-inch skillet over medium-high heat until just smoking. Sear steaks, flipping every 1 minute, until a brown crust forms on both sides, about 4 minutes total. (Do not move steaks between flips.) Return steaks to the wire rack and let rest for 10 minutes.
Meanwhile, make the sauce: Combine créme fraîche, garlic, lemon zest, scallions, and kosher salt.
Move steaks to a cutting board and slice as thin as possible, going against the grain.
To assemble, arrange the crostini on a large, flat platter. Top each with a slice of steak, ½ teaspoon of chimichurri, and a dollop of sauce, then top with a few microgreens and serve.