Creamy Polenta with Mushrooms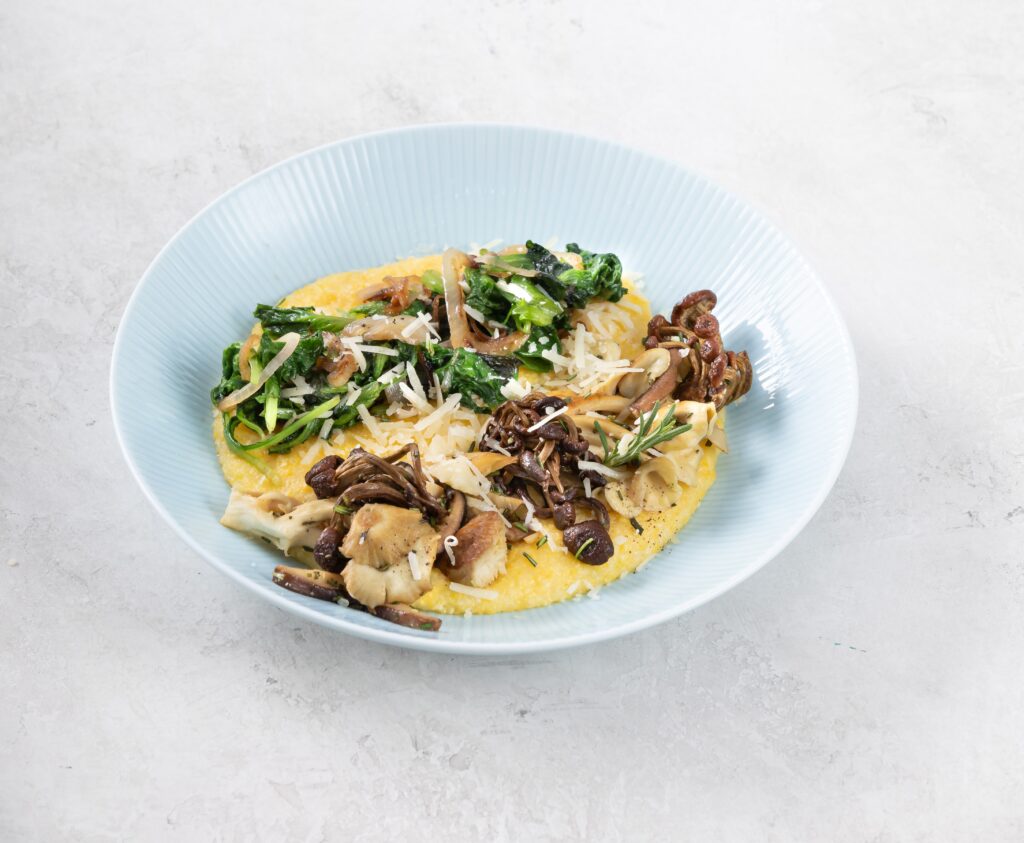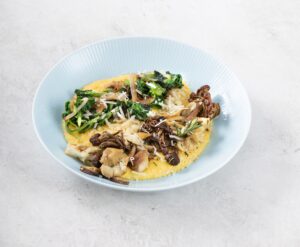 Print
Creamy Polenta with Mushrooms
Yield 4 servings
This warming polenta dish is packed with local flavors like R&R Cultivation mushrooms and Superior Fresh Greens, plus herbs and coconut aminos that amp up the umami.
Ingredients
For the polenta:
3 cups water
 teaspoon kosher salt
1 cup Bob's Red Mill organic corn grits/polenta
2 Tablespoons butter
3oz grated Parmesan cheese (about 2 cups), plus extra for serving
Cracked black pepper
For the mushrooms:
75oz package Northwoods Mushrooms dried shiitakes (or a dried mix of your choice), woody stems removed and sliced
1 cup boiling water 
2 Tablespoons butter
12oz R&R Cultivation mushrooms (any variety), sliced
Pinch of kosher salt
2 cloves garlic, minced
2 teaspoons fresh rosemary, minced
2 Tablespoons coconut aminos
1 Tablespoon olive oil
Salt & pepper to taste
For the sautéed greens:
1 Tablespoon olive oil
1 large shallot, thinly sliced
2 packages Superior Fresh power greens
1 Tablespoon coconut aminos
Salt & pepper to taste
Instructions
For the polenta:
Bring the water and salt to a boil in a medium saucepan.
While continuously whisking, slowly pour the polenta into the pan and mix until all is incorporated and there are no lumps.
Reduce the heat and cook for about 5 minutes, stirring occasionally.
When the polenta is creamy stir in the butter and Parmesan and season with salt and pepper to taste.
If the polenta becomes solid, reheat with a bit of milk or water and stir well to desired consistency.
For the mushrooms:
Rinse and soak the mushrooms in the boiling water. Once the mushrooms have reconstituted, about 20 minutes. Strain and dry, but be sure to preserve the water.
Melt 2 Tablespoons butter in a sauté pan set over medium-high heat.
Once the butter stops bubbling add the soaked and dried mushrooms and cook until they begin to sizzle.
Add the fresh mushrooms and cook until they begin to exude their liquid and have begun to brown, about 6-7 minutes.
Add the garlic and rosemary to the pan and sauté for 3-4 minutes, until well combined.
Add about ¼ cup of the mushroom water and deglaze the pan, using a wooden spoon to scrape up the browned bits. Add more water if needed.
Allow the water to reduce by half, then turn the heat to medium-low. Whisk in the olive oil followed by the aminos.
Season with salt & pepper to taste.
For the sautéed greens:
Heat oil in a large skillet over medium-high heat.
Add the shallots and sauté until lightly browned.
Add one package of greens to the pan and toss around until there's room for the second package.
Add the aminos and deglaze the pan, scraping up any browned bits from the bottom.
Add a pinch of salt and pepper and sauté for about 2 minutes, until greens are wilted but still bright green.
To serve:
Spoon the polenta into a wide, shallow bowl.
Arrange the mushrooms and greens around the top of the polenta.
Serve with extra Parmesan cheese.