Creamy Mushroom Lentil Soup with Sourdough Croutons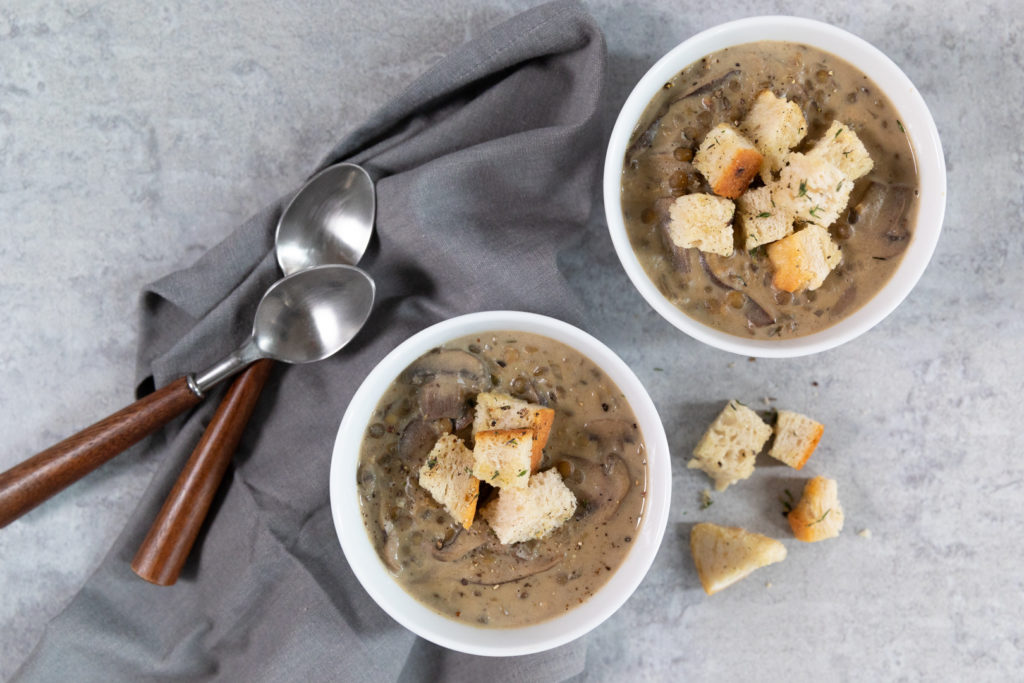 Print
Creamy Mushroom Lentil Soup with Sourdough Croutons
Yield 4 servings
Ingredients
Creamy Mushroom Lentil Soup
2 tablespoons olive oil
1 pound mixed mushrooms sliced
1 onion, chopped
2 cloves of garlic, minced
2 teaspoons fresh thyme leaves
½ teaspoon salt
Pinch black pepper
½ cup white wine
3 cups vegetable broth
1 cup uncooked French green lentils, rinsed, drained
¾

cup half-and-half

3 green onions, chopped
Sourdough Croutons
3 cups cubed sourdough bread
2 tablespoons olive oil
1 teaspoon fresh thyme leaves
Pinch salt
Instructions
Heat the oven to 325°F. In a medium Dutch oven, heat the 2 tablespoons olive oil over medium heat. Add the mushrooms and onions and cook 10 to 15 minutes, stirring occasionally until softened.
Add the garlic, 2 teaspoons thyme, 1/2 teaspoon salt, pepper, and white wine. Cook an additional 2 minutes until fragrant.
Add broth and lentils, bring to a boil. Reduce heat to medium–low, cover, and simmer until lentils are tender, about 30 minutes.
Meanwhile, in a large bowl, toss together the bread, 2 tablespoons olive oil, 1 teaspoon thyme, and pinch of salt. Spread in a single layer on a baking sheet. Bake 15 to 20 minutes or until golden brown and crispy.
Carefully transfer 1 cup of the soup to a blender and puree until smooth. Return the pureed soup and half-and-half to the dutch oven and stir to combine well. Garnish soup with croutons.