Citrus Salmon in Parchment with Dill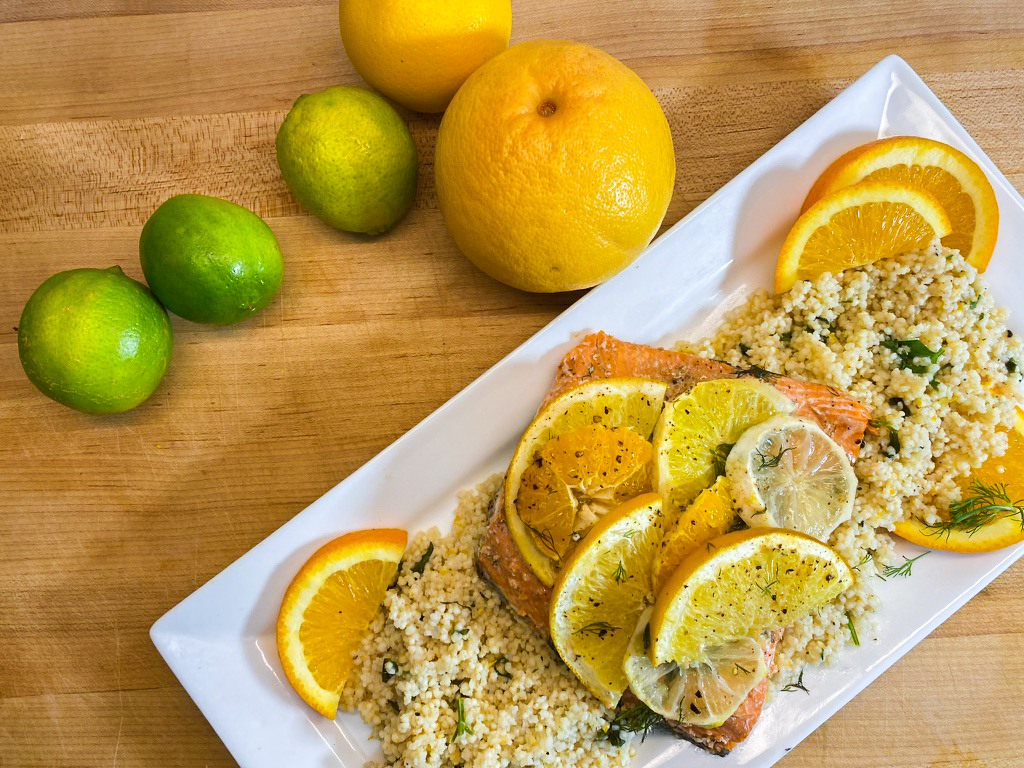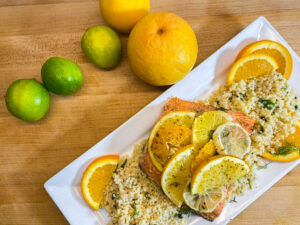 Print
Citrus Salmon in Parchment with Dill
This citrusy salmon is brimming with heart-healthy omega-3s and immune-boosting vitamin C for a delicious dish that's as good for your body as it is for your taste buds. A nutty, citrus-infused cilantro couscous rounds out a light, nutritious meal that you'll want to make again and again! Feel free to use whatever combination of in-season citrus is available.
Ingredients
Salmon
1 8-ounce skin-on salmon fillet
3-4 slices citrus, cut in ¼-inch slices and halved (any combo of oranges, lemons, or tangerines will work)
1 tsp kosher salt
½ tsp cracked black pepper
1 Tbsp fresh dill, chopped
2 tsp olive oil
Citrus Cilantro Couscous
½ cup couscous
1 cup water
¼ cup citrus juice (any combination)
1 tsp olive oil
1 Tbsp citrus zest from lemons and/or oranges
1 tsp salt
½ tsp cracked black pepper
2 Tbsp fresh cilantro leaves, chopped
Instructions
Salmon
Heat the oven to 375°.
Start with an 8 ½" x 14" piece of parchment paper and fold it in half.
Cut it into a large semi-circle.
Place the parchment on a sheet pan and place the salmon fillet on one half of the circle. Sprinkle the salmon with salt, pepper, and fresh dill, and lay the citrus slices on top of the fish. Drizzle with olive oil.
Fold the second side over the salmon and crimp the rounded edge tightly closed.
Bake for 15 minutes.
The package should puff up and make for dramatic serving when opened.
Couscous
Combine the couscous and water in a medium saucepan over medium-high heat. Bring to a boil, then reduce to a low simmer and cook, uncovered, until the liquid is absorbed,10 to 15 minutes.
In a separate bowl, combine the citrus juice, olive oil, zest, salt, and pepper and whisk.
Top the couscous with the citrus vinaigrette, add the chopped cilantro, and fluff with a fork to combine.
Notes