Chunky Beef and Vegetable Soup with Chutney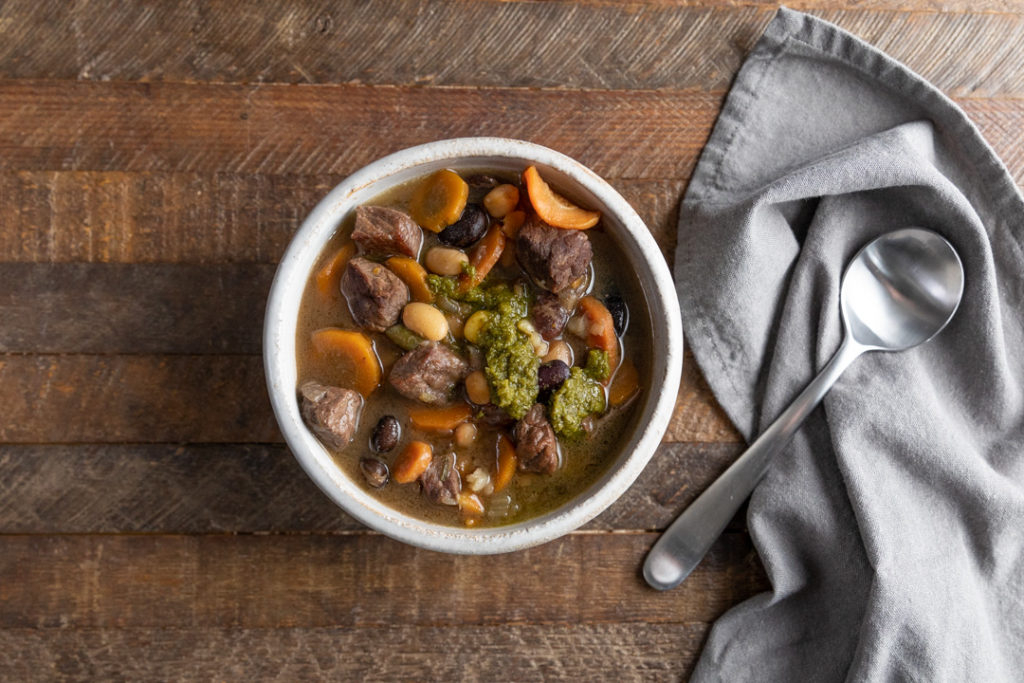 This hearty and satisfying soup packed with vegetables, beans, and beef is topped with Maazah Chutney for a fresh, bright flavor.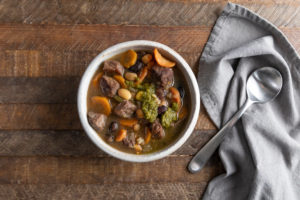 Print
Chunky Beef and Vegetable Soup with Chutney
Ingredients
2 tablespoons olive oil
1 ½ pounds Peterson Meats dry-aged Limousin beef top round steak, cut  into 1/2-inch pieces
½ teaspoon salt
¼ teaspoon pepper
1 medium onion, chopped
2 teaspoons original Grlk Lebanese garlic spread
½ cup red wine (or reduced beef broth)
5 cups beef broth
½ cup North Bay Trading Co. 32-Bean & 8-Vegetable Dry Soup Mix from the bulk aisle
Maazah Chutney for serving
Instructions
In a 4-quart Dutch oven, heat 1 tablespoon olive oil over medium-high heat. Sprinkle beef with salt and pepper. Cook beef about 5 minutes, stirring occasionally until browned; drain. Set beef aside.
In the same Dutch oven, heat the remaining 1 tablespoon olive oil over medium heat. Add onions; cook and stir until onions are tender. Add garlic spread and cook an additional 1 minute.
Add the wine, stirring to loosen browned bits from bottom of the pan. Stir in broth and dry soup mix. Bring mixture to a boil and cook 5 minutes. Reduce heat to medium-low; add in reserved beef. Cover and cook 2 to 2 1/2 hours or until the beans are tender.
Serve with Mazzah Chutney spooned over the top.
Makes: 4 servings (1 1/2 cups each)