Salted Choco Pistachio Sablés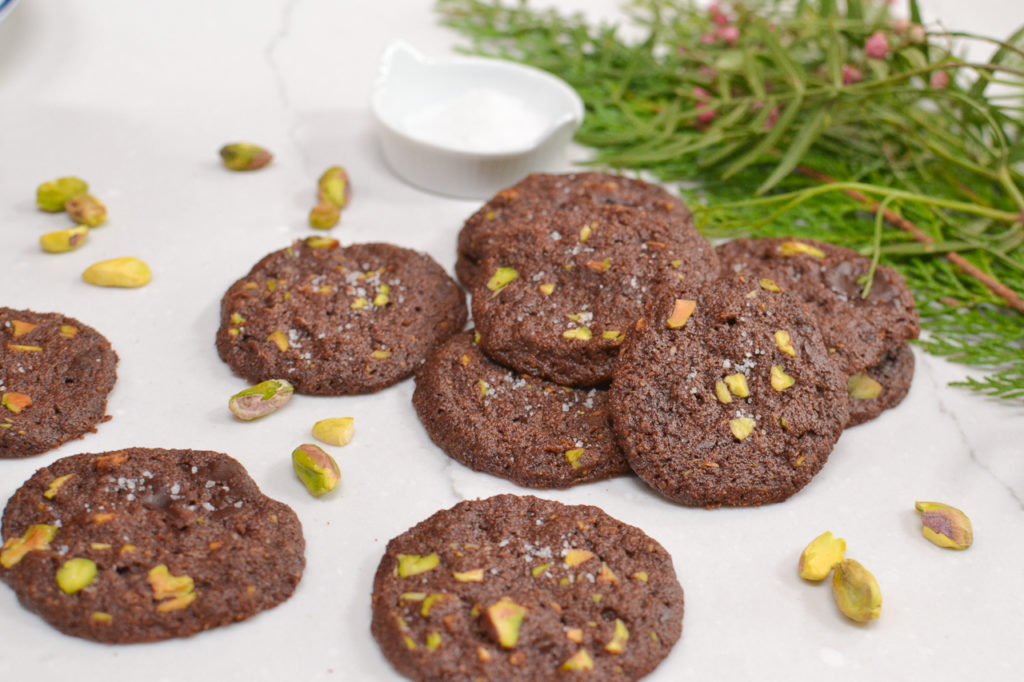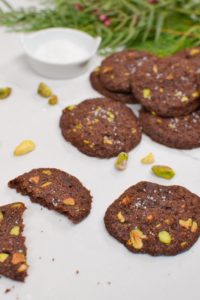 Print
Salted Choco Pistachio Sablés
Ingredients
2½ cups almond flour
  ½ cup unsweetened cocoa powder
  ¾ teaspoon kosher salt
  ¼ teaspoon baking soda
  1¼ cups (2½ sticks) unsalted butter, room temperature
  1¼ cups (lightly packed) light brown sugar
  1 teaspoon vanilla extract
  1 egg white
  5 oz. bittersweet chocolate, chopped
  1 cup unsalted, shelled raw pistachios, coarsely chopped
  Flaky sea salt
Instructions
Whisk flour, cocoa powder, kosher salt and baking soda in a medium bowl. Set aside. Using an electric mixer at high speed, beat butter, brown sugar and vanilla until light and fluffy (about 4 minutes). Reduce speed to low and gradually add dry ingredients; mix just to combine, then mix in egg white. Fold in chocolate and pistachios.
Divide dough into 4 pieces. Roll each piece into an 8"-long log. Wrap tightly in parchment paper and chill until firm, at least 4 hours. (The colder your dough, the easier it will be to slice.)
Heat oven to 350°. Working with one log of dough at a time, use a serrated knife to cut logs into 1/4" thick rounds and transfer to a parchment lined cookie sheet, spacing them 1/2" apart. Bake 10-12 minutes, until set around edges. Remove from oven and immediately sprinkle with flaky salt. Transfer to wire racks and let cool.
Notes
DO AHEAD: Cookie dough can be made 1 month ahead; freeze instead of chilling. Slice frozen logs into rounds just before baking.