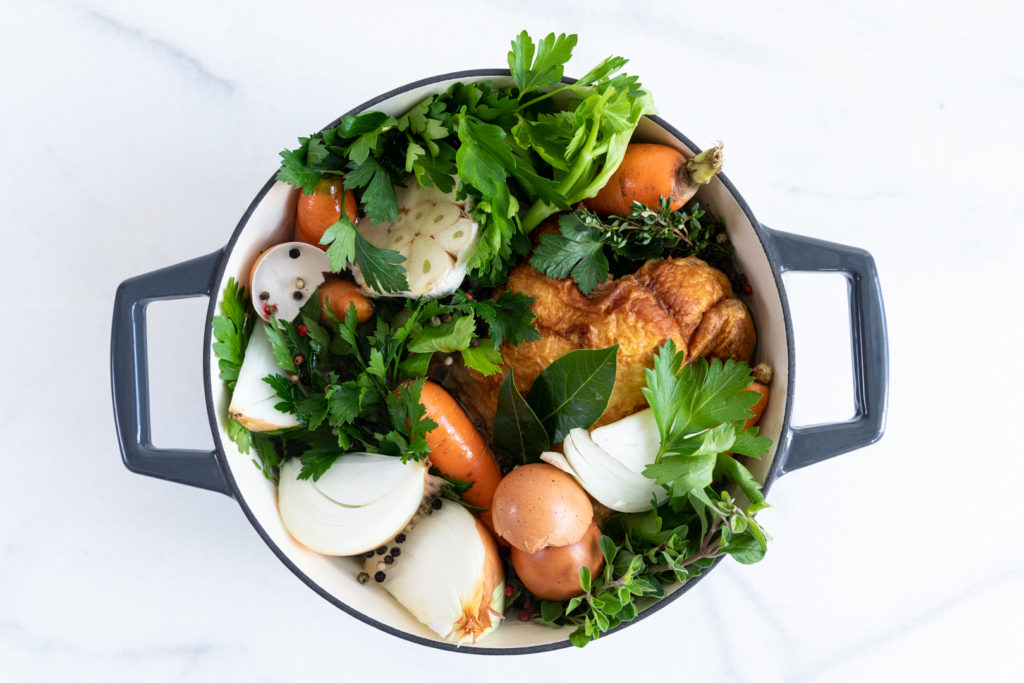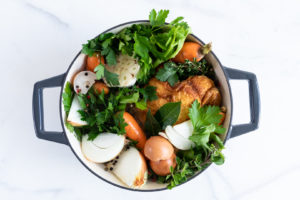 Print
Chicken Broth
Yield 10 cups
This flavorful and versatile chicken broth is made with chicken bones, vegetables, and herbs for a great rich broth that can be used in everything from soups and stews to rice and pan sauces.
The eggshells paired with the vinegar provide a great source of calcium and minerals for an added nutritional boost for your broth.
Ingredients
2 to 3 pounds chicken carcass, including bones, skin, and neck
1 large onion, quartered
2 celery ribs with leaves, cut into 4-inch pieces
2 carrots, cut into 4-inch pieces
1 head of garlic, unpeeled and cut in half crosswise
4 sprigs fresh oregano or thyme
1 bunch fresh parsley
2 eggshells, rinsed well
2 bay leaves
1 Tablespoon whole peppercorns
1 Tablespoon apple cider vinegar
12 cups water
Instructions
In a large stock pot, combine all ingredients and bring to a boil over high heat. Cover, reduce the heat to medium-low and simmer for 6 hours, skimming any scum that rises to the top every 30 minutes.
Carefully strain the broth through a fine-mesh strainer or cheesecloth to remove all the solids; discard. Use immediately or cool slightly, cover and refrigerate for up to 1 week or freeze for up to 2 months.