Cedar Plank Trout with Chimichurri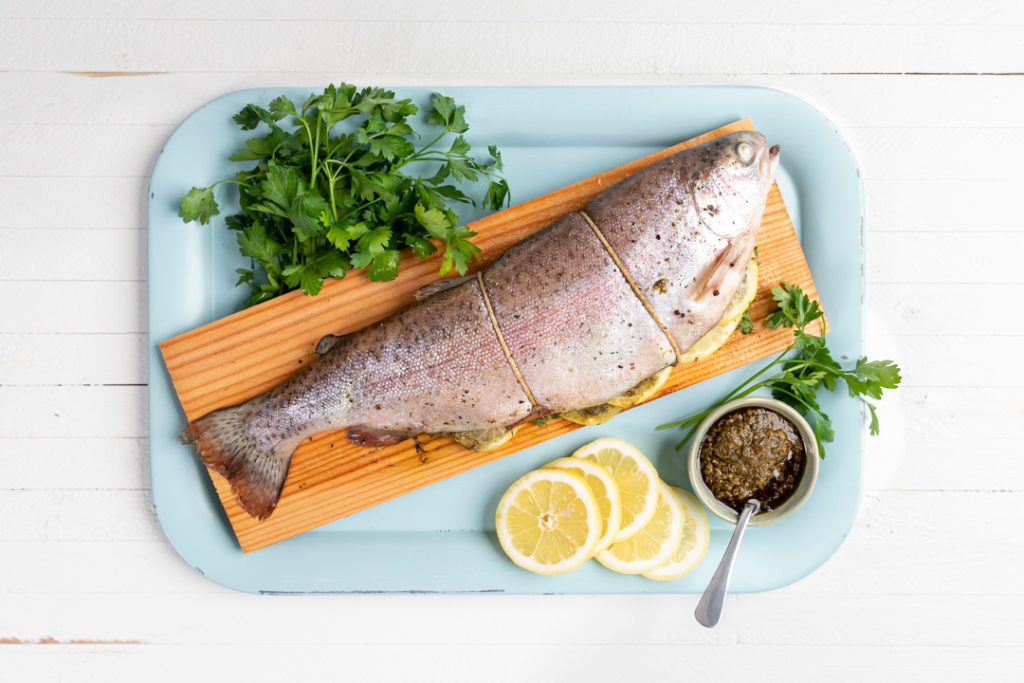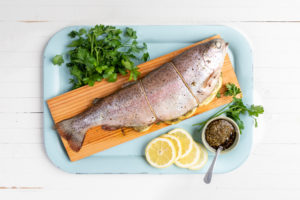 Print
Cedar Plank Trout with Chimichurri
Yield 4 servings
Perfect for entertaining, this tender grilled rainbow trout is an easy showstopper with a mildly smoky flavor served with a bright chimichurri.
Ingredients
2 cedar planks (6 by 14 inches), soaked
1 tablespoon olive oil
2 whole Rushing Waters Trout (about 1 1/2 pounds each), cleaned
3/4 teaspoon salt1/4 teaspoon pepper1/4 teaspoon red pepper flakes
1/4 cup plus 2 tablespoons Mama Kicks Chimmicurri Sauce1 bunch fresh parsley or cilantro
1 medium lemon, thinly sliced
Instructions
Heat gas or charcoal grill for indirect heat.
Brush the exterior of each fish with olive oil and season the interior and exterior of each trout with salt, pepper, and red pepper flakes. Brush 1 tablespoon of the chimichurri sauce in the interior cavity of each fish. Layer in the lemon slices and fresh herbs in the cavity of each fish. Tie the fish together with bakers twine.
Place the trout onto the soaked planks. Place the planks over indirect heat. Close the lid of the grill and cook 15 to 22 minutes or until the fish is opaque and begins to flake when tested with a fork.
Remove from grill, let stand 5 minutes before serving with fresh lemon, parsley, and remaining 1/4 cup chimichurri sauce.
Notes
Tip: Soaking the cedar plank in water for at least an hour will prevent the wood from burning while on the grill.