Butternut Squash Waffles with Chicken Confit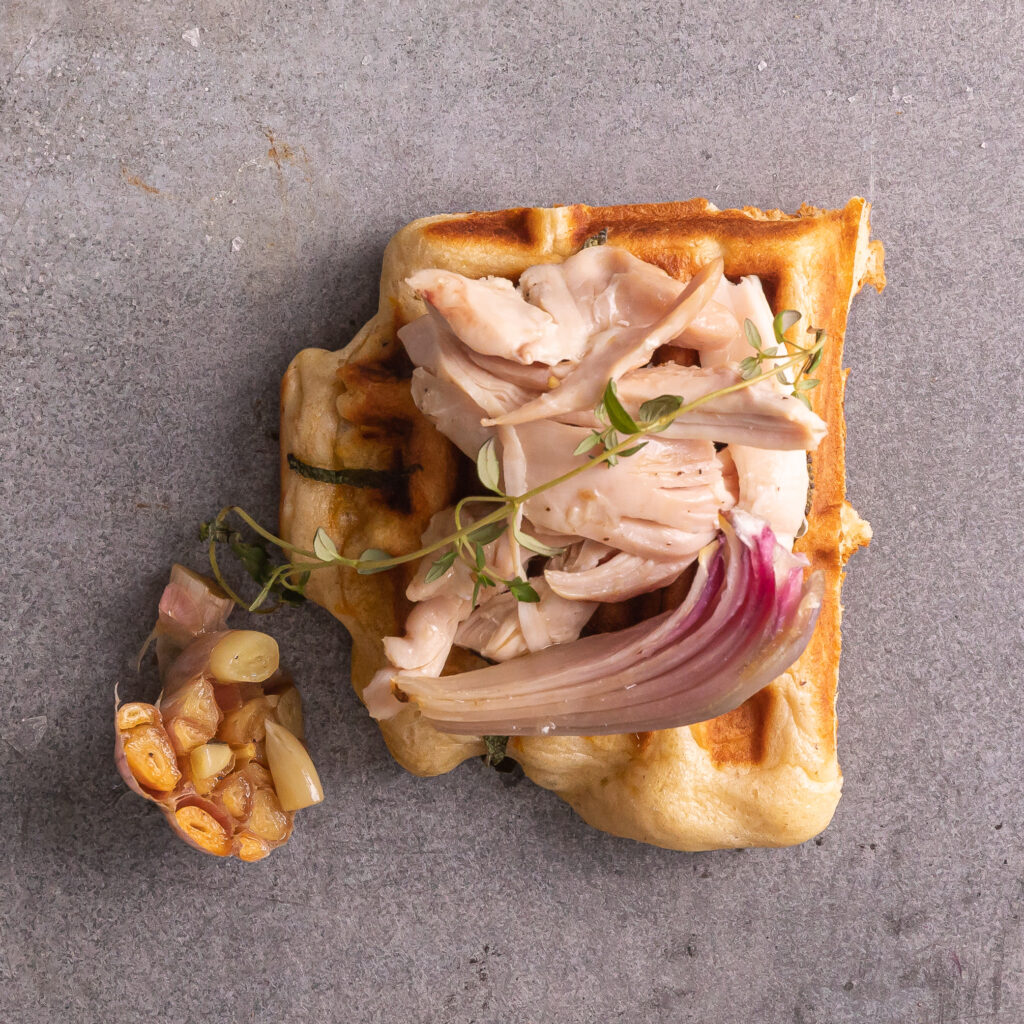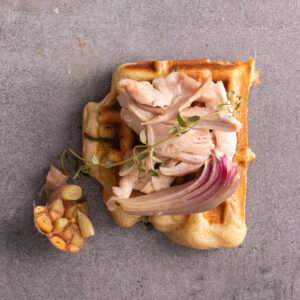 Print
Butternut Squash Waffles with Chicken Confit
Savory waffles get the fall treatment with pleasingly sweet butternut squash and an indulgent homemade chicken confit. Whether served as is or drizzled with your favorite local maple syrup, this warm and comforting dish is fit for any meal of the day.
Ingredients
For the waffles:
1 small butternut squash, peeled and cut into 1" cubes
1 Tablespoon olive oil
½ teaspoon kosher salt
½ teaspoon black pepper
2 cups all-purpose flour
½ cup whole wheat or oat flour
¼ cup cornstarch
2 teaspoons baking powder
½ teaspoon baking soda
1 teaspoon kosher salt
¼ teaspoon ground nutmeg
2 Tablespoons brown sugar
2 large eggs, separated
4 Tablespoons unsalted brown butter*, melted
1½ - 2 cups buttermilk
3 Tablespoons fresh sage, chopped
For the confit:
2-2½ pounds bone-in, skin-on chicken thighs
1 teaspoon kosher salt
1 teaspoon freshly ground black pepper
1-1½ cups olive oil
8-10 sprigs fresh thyme
1-2 heads of garlic, sliced through the middle
3 large shallots or half a red onion, peeled and thinly sliced in wedges
1 small fennel bulb, cut into 8 wedges (optional)
Instructions
To make the confit, preheat oven to 250°. Season the chicken well with salt and pepper, then place in a pan just large enough to fit them snugly. Add oil, thyme, and nestle garlic halves and shallot wedges. Place on stovetop over medium heat. Once oil starts to bubble, move pan to the oven and cook, uncovered, for about 2½ hours, basting the chicken halfway through. Once meat is easily pierced with a thin-bladed knife, remove from the oven and cool completely. Remove the chicken from the oil and place on a dish until ready to serve. Strained oil can be preserved in a covered container and kept in the fridge for another use for 2-3 weeks.
To crisp up the chicken skin before use, place under a preheated broiler. Chicken confit can be cooked a few days ahead of use.
To make the waffles, preheat oven to 400°. Place squash on a parchment-lined baking sheet and toss with the olive oil. Roast for 30 minutes or until tender, tossing once halfway through. Set aside to cool.
In a medium bowl, combine the flours, cornstarch, baking powder, baking soda, salt, nutmeg, and brown sugar. Set aside. With a handheld mixer or whisk, whip the egg whites until soft peaks appear.
With a fork or potato masher, mash up the roasted squash. Add about 1 cup of squash to a medium mixing bowl and mix in egg yolks, cooled brown butter, and buttermilk.
Add the wet ingredients (except the whipped egg whites) to the dry ingredients and fold together. Gently fold in the whipped egg whites. If the batter is too thick, add a little more buttermilk. Do not overmix.
Let batter sit for about 15 minutes while the waffle iron heats. Lightly spray oil on the waffle iron, then add ¼ cup (or the amount recommended by the manufacturer) to the iron. Sprinkle 1 teaspoon of fresh sage over the top. Close the lid and cook until the waffle iron stops steaming, about 4-5 minutes.
Serve immediately or place on a wire rack in a 200° oven until ready to serve.
To serve, place pieces of chicken confit over each waffle along with a wedge of fennel if desired and drizzle with maple syrup.
Notes
*To make brown butter, gently melt butter in a small skillet over medium-high heat until it becomes nutty and fragrant and the milk solids have turned golden brown.