Butternut Squash Coffee Cake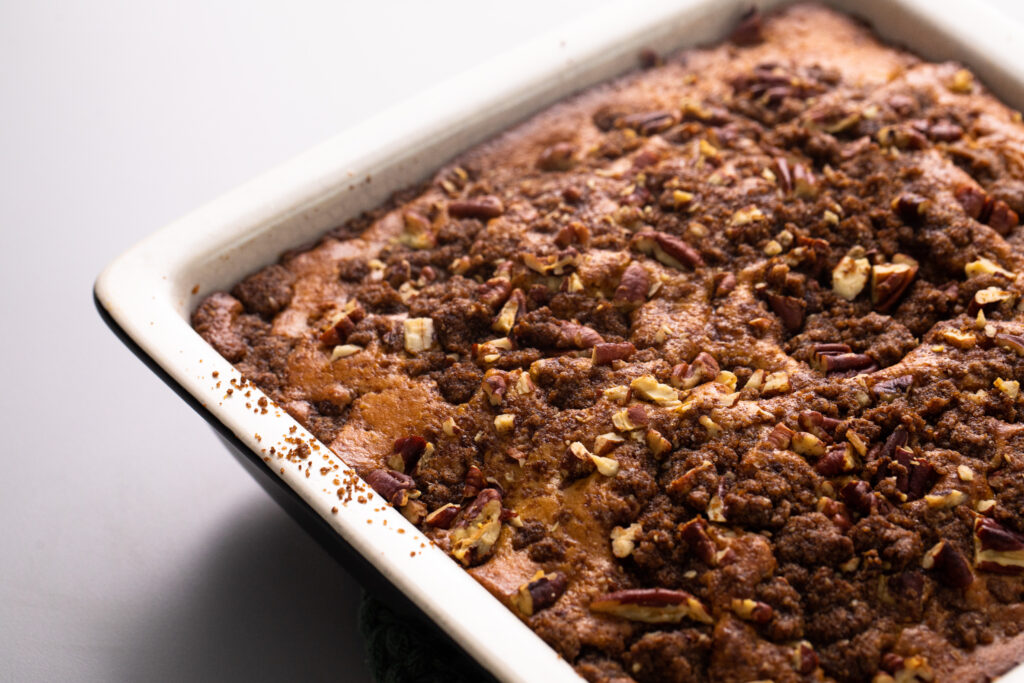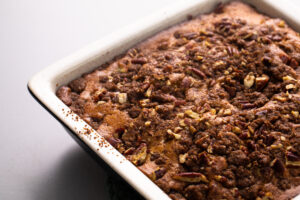 Print
Butternut Squash Coffee Cake with Pecan Streusel
Think squash is just for dinner? This coffee cake will change your mind. Whip up this delectable crowd-pleaser for your next breakfast or brunch, elevated with butternut squash, citrus, and pecan streusel topping. Yum!
Ingredients
1 small winter squash (about 1-2 pounds)
2 cups all-purpose flour
1 teaspoon baking powder
½ teaspoon baking soda
½ teaspoon fine sea salt
1 teaspoon ground cardamom
½ cup sunflower oil
1 cup granulated sugar
2 eggs at room temperature
½ cup sour cream
1 teaspoon vanilla
½ cup pecans, chopped
For the topping:
½ cup packed dark brown sugar
½ cup flour
2 teaspoons cinnamon
½ teaspoon cardamom
Zest of one orange
¼ teaspoon salt
4 Tablespoons unsalted butter, cold and cut into pieces
Instructions
Preheat the oven to 400°. Cut the squash in half lengthwise, remove seeds, and place on a rimmed baking sheet lined with parchment paper, cut side down. Place in the oven and roast for 45-50 minutes or until very soft when poked with a fork. Cool for 10 minutes. Scoop out the flesh and puree it in a food processor or blender until completely smooth. You will need one cup of squash puree. Set aside.
In a bowl, mix together the flour, baking powder, baking soda, salt, and cardamom. Set aside.
Reduce the oven temperature to 350°. In a large bowl, mix together the oil and sugar until smooth. Add the eggs, one at a time, until incorporated. Add the sour cream, 1 cup pureed winter squash, and vanilla. Mix until smooth. Combine with the flour mixture and mix until it is just incorporated, do not overmix. Set aside.
To make the streusel, toss the brown sugar, flour, cinnamon, cardamom, orange zest, salt, and butter in a bowl. Pinch the mixture with your fingertips until it forms a crumbly sand-like mixture.
Pour half of the batter in a well-buttered 8-by-8-inch cake pan. Sprinkle with 2/3 of the streusel, pour the remaining batter over it, top with the remaining streusel and pecans. Place in the oven and bake for 45-50 minutes until a toothpick comes out clean. Cool and serve.