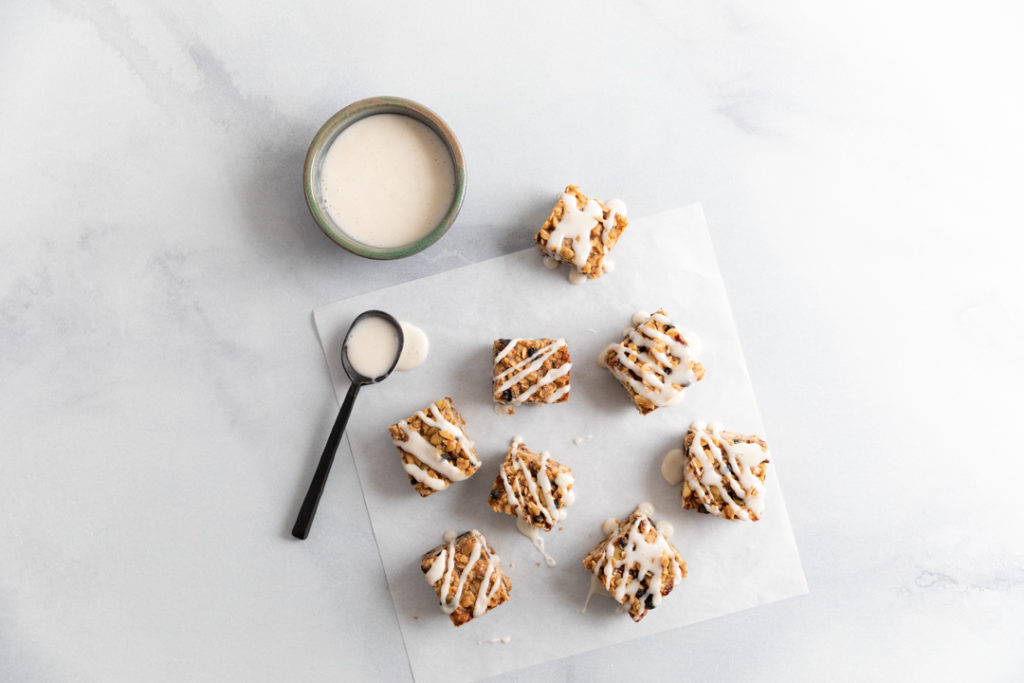 Make a batch of these tasty bars on Sunday for a quick and easy breakfast on-the-go for the week!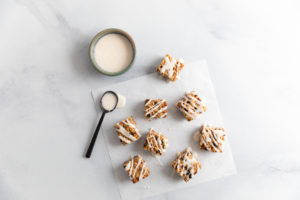 Print
Bulk Bin Breakfast Bars
Ingredients
Breakfast Bars
1/2 cup coconut oil
1/2 cup almond butter, sun butter or peanut butter
1/2 cup maple syrup
1/4 cup milk or non-dairy milk
1 1/2 cups regular rolled oats
3/4 cup dried fruit, chopped (raisins, dried blueberries, sweetened cranberries or cherries)
1/2 cup chopped hazelnuts (filberts), toasted
1/4 cup pumpkin seeds, toasted
1/4 cup sunflower seeds, toasted
1/4 cup American Hazelnut Company hazelnut flour
1 tablespoon chia seeds
1/2 teaspoon salt
1/2 teaspoon ground cinnamon
Probiotic Vanilla Glaze
1 cup powdered sugar
3 teaspoons You Theory Probiotic Powder
1 1/2 tablespoons milk or non-dairy milk
1/2 teaspoon​ vanilla extract
Instructions
Heat oven to 350°F. Line a 9x9-inch square baking pan with parchment paper.
In a small saucepan, over medium stirring frequently heat the coconut oil, almond butter, maple syrup, and milk until thoroughly heated (do not boil). Remove from heat.
In a medium bowl, stir together all remaining breakfast bar ingredients. Pour in the warm coconut oil mixture over the dry ingredients and stir to combine.
Spoon into the prepared baking pan and firmly press down into an even layer. Bake 27 to 32 minutes, or until set and golden brown.
Allow bars to cool completely in the pan. Transfer the pan to the refrigerator and chill 2 hours before cutting.