Sausage Root Vegetable Sheet Pan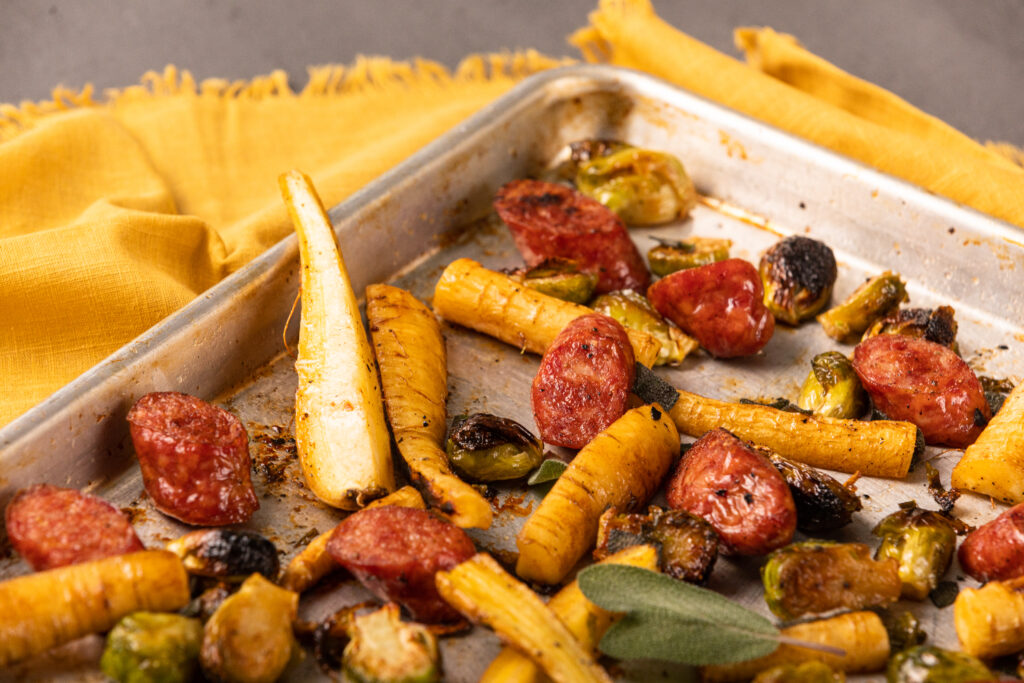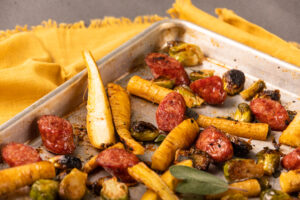 Print
Sausage Root Vegetable Sheet Pan
Get a hearty, crowd-pleasing dinner on the table in a flash! Locally made smoked bratwursts and seasonal root veggies are tossed with a maple and mustard dressing for a winter meal that's perfect after a day of snowy outdoor fun.
Ingredients
2 Tablespoons olive oil
1 teaspoon salt
½ teaspoon black pepper
1 ½ cup parsnips, quartered the long way (about 2-3 parsnips)*
1 ½ cup Brussels sprouts, trimmed and cut in half
3 Gerhard's smoked bratwurst, cut in discs
3 Tablespoons maple syrup
1 Tablespoon Dijon or stone ground mustard
⅛ teaspoon dried thyme
⅓ cup fresh sage leaves, roughly chopped
Instructions
Preheat oven to 400°. Combine the maple syrup, mustard, and thyme in a small bowl and whisk until blended. Line a rimmed baking sheet with parchment paper.
While the oven heats, toss parsnips and sprouts with the olive oil, salt, and pepper until evenly coated. Spread the veggies onto baking sheet in an even layer, leaving space on one end. Spread the bratwurst discs over the remaining space. Roast for 15 minutes, turning everything halfway through.
Remove sheet pan from the oven and drizzle the syrup mixture over the parsnips and sprouts. Toss gently in the pan until evenly coated then return to oven. Roast for 5-10 more minutes until parsnips are fork-tender and sprouts and sausage have started to char.
Remove from oven. Sprinkle with the chopped sage and serve.
Notes
*If you have time, parboiling the parsnips for 2-3 minutes before roasting will help them cook more evenly.
Want more sheet pan recipe ideas? Try Sheet Pan Chicken, Potatoes, and Brussels Sprouts, our Gluten-Free One-Pan Chicken dinner, or Tofu Breakfast Hash (yes, it's good enough to make any time of day).