Beth Dooley Carrots with Watercress & Hazelnuts
Photo credit: Mette Nielsen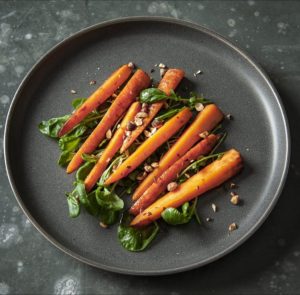 Print
Carrots with Watercress & Hazelnuts
Yield 4-6 servings
Ingredients
1/4 c. toasted hazelnuts, chopped
2 lb. carrots, scrubbed, and cut into quarters lengthwise (see Note)
2 tbsp. hazelnut oil or vegetable oil (see Note)
Pinch of coarse salt
3 to 4 c. fresh watercress leaves
1 to 2 tbsp. fresh blood-orange juice or lemon juice, to taste
Salt and freshly ground black pepper, to taste
Pinch of red pepper flakes, to taste
Instructions
Preheat the oven to 350 degrees. Scatter the hazelnuts on a baking pan and toast until their skins crack and have a nutty smell, about 3 to 8 minutes. Place in a clean dish towel and remove the skins by rubbing them.
Raise oven heat to 400 degrees. Toss the carrots with the oil, arrange on a roasting pan so that they do not touch and sprinkle with a little coarse salt. Cover tightly with aluminum foil. Roast until the carrots begin to soften, about 10 minutes. Remove foil, shake pan, and continue roasting until carrots are tender and browned, another 10 to 15 minutes.
Arrange the watercress on a large platter or individual serving plates and put the roasted carrots on the greens. Drizzle some of the roasting oil in the pan over the carrots and the greens and then sprinkle the juice over all. Season to taste with the salt, pepper, and red pepper flakes. Scatter the nuts over the carrots.
Notes
Note: No need to peel local organic carrots; simply scrub them before using. Much of the flavor is in the peel. American Hazelnut Company's oil, pressed from our locally grown and toasted hazelnuts is especially delicious — nutty tasting and great for sautéing, roasting, and salads.