Bacon-Wrapped Pork Tenderloin with Vegetables and Gremolata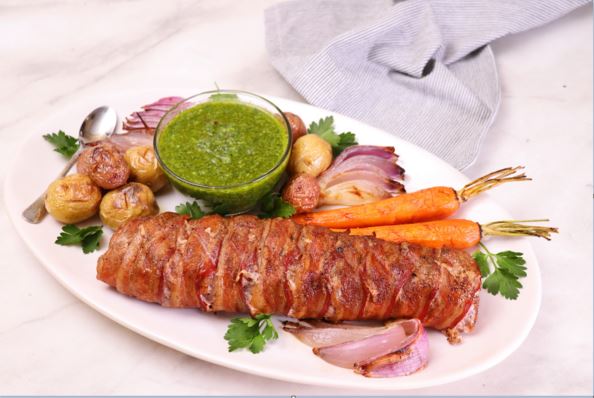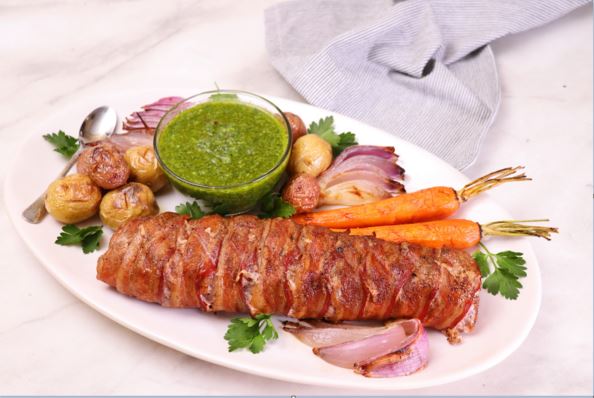 Print
Grilled Bacon Wrapped Pork Tenderloin and Vegetables
Ingredients
For the bacon-wrapped pork loin:
1 - 1.25 lb. pork tenderloin (4 to 6 oz. per person)
8 oz. bacon (8 to 10 slices, see tip below)
2 - 3 Tablespoons extra virgin olive oil
1/2 - 1 teaspoon Kosher salt
1/4 - 1/2 teaspoon black pepper
8 - 10 toothpicks (to secure bacon strips)
For the grilled vegetables:
2 - 4 medium carrots, peeled
4 - 8 new potatoes, scrubbed
1/2 large red onion, cut in 4 wedges with root end intact
2 Tablespoons extra virgin olive oil
Kosher salt, to taste
Freshly ground black pepper, to taste
Instructions
Remove bacon from refrigerator (leave in the sealed package) about two hours before you wrap your tenderloin.
Prepare grill for indirect cooking (coals to one side) with medium-low heat, around 275° - 300° F. If you have Applewood chunks for grilling, add them just before placing the tenderloin on the grill for additional color and flavor.
Line two rimmed baking sheets with foil or parchment (for easier cleanup).
On the first baking sheet: Place room temperature bacon slices side-by-side, overlapping slightly. The width of your bacon wrap should equal the length of your tenderloin with the small end of the tip tucked under.
Place the tenderloin in the middle of the bacon wrap, and season with salt and pepper. Starting at one end, wrap each bacon slice around the tenderloin until you reach the other end. Then, turn the baking sheet around and repeat wrapping until the tenderloin is covered. Season the top of the bacon-wrapped tenderloin, and secure bacon ends with toothpicks.
On the second baking sheet, toss vegetables with olive oil to completely coat. Season lightly, and set aside until ready to grill.
Using a large spatula or long grilling tongs, place the tenderloin on the hot grill grate to one side of the hot coals. Place the vegetables on the grill around the tenderloin. Check the vegetables often, and remove from heat as soon as they're cooked to your liking.
Turn the tenderloin after about 20 minutes. Check the tenderloin again after another 10 minutes to assess remaining cooking time. Remove from grill when the internal temperature reaches 140° F and bacon is golden. Rest under a loose foil tent for three to five minutes. Tenderloin will continue "carryover cooking" and should ultimately reach 145° F before serving. Remove toothpicks from the tenderloin and transfer to a carving board to slice for serving.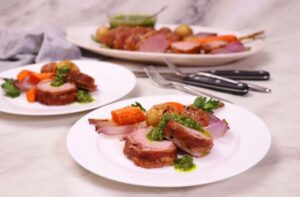 Print
Parsley Gremolata
Ingredients
1 1/2 - 2 cups flat leaf parsley, leaves and tender stems, roughly chopped
2 - 3 cloves garlic, roughly chopped
1 lemon, zested and juiced (about 1/4 cup)
1/2 cup extra virgin olive oil
1/4 - 1/2 tsp. red pepper flakes
1/2 - 1 tsp. Kosher salt
1/2 tsp. freshly ground black pepper
Instructions
Place everything in a food processor and whiz until the sauce is blended to your liking. You can also hand chop the parsley, press or mince the garlic, then follow the rest of the ingredients as noted. Let the sauce sit at room temperature for 20 to 30 minutes before enjoying, if possible, to allow the flavors to mingle. Start with less salt, pepper, and red pepper flakes, and add more to taste.
Makes about 1 cup of sauce.
To store: Refrigerate in a glass, airtight container for 3 to 4 days.
To Serve:
Slice tenderloin into 3/4-inch thick medallions. Plate with grilled vegetables, drizzle with Parsley Gremolata, and enjoy!