Autumn Harvest Sambusas & Kale Salad With Apple Maple Corn Vinaigrette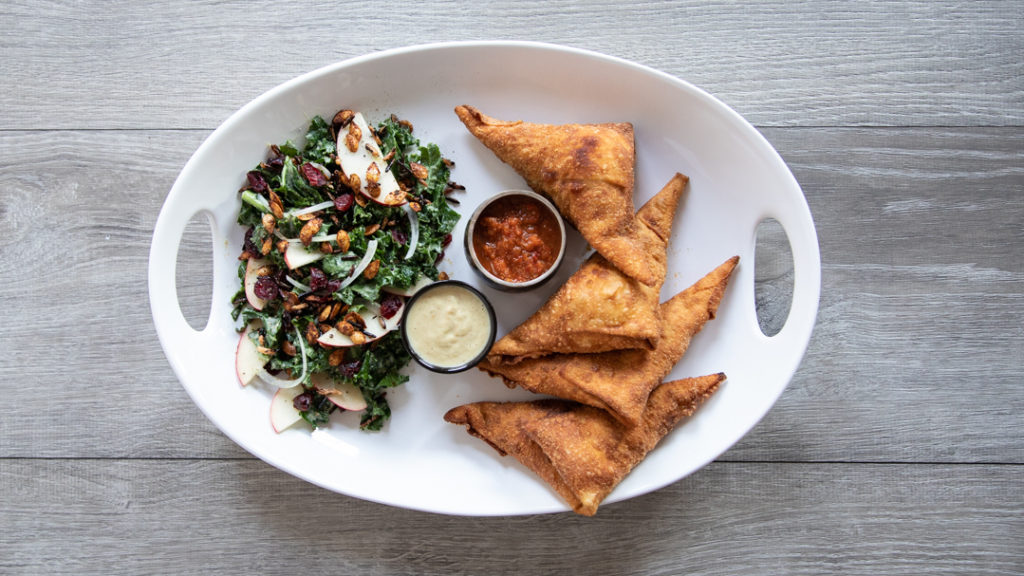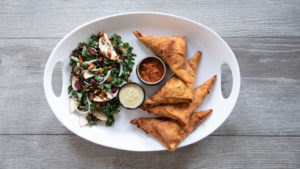 Print
Autumn Harvest Sambusas & Kale Salad With Apple Maple Corn Vinaigrette
Ingredients
Autumn Harvest Sambusas
1 medium butternut squash
2 tablespoons olive oil
2 teaspoons pure maple syrup
3 teaspoons Berbere spice
1/4 teaspoon salt
1 medium onion, finely chopped
2 medium carrots, peeled and finely chopped
2 stalks celery, finely chopped
2 cloves garlic, finely chopped
1 medium tomato, chopped
2 cups roughly chopped curly kale
2 cobs sweet corn, cooked and cut from the cob
1 package (14 ounces) spring roll wrappers
1 egg, slightly beaten
Vegetable oil for frying
Apple Maple Corn Vinaigrette
2 cobs sweet corn, cooked and cut from the cob
1/4 cup cooked chickpeas
1/2 medium apple
3/4 cup olive oil
1/4 cup apple cider vinegar
1 tablespoon Dijon mustard
2 cloves garlic, finely chopped
1 to 2 tablespoons pure maple syrup
Pinch of salt and pepper to taste
Kale Apple and Cranberry Salad
4 cups roughly chopped curly kale
1/2 medium apple, thinly sliced
1/4 small onion, very thinly sliced
1/4 cup sweetened dried cranberries
2 tablespoons salted popped wild rice
Instructions
Heat the oven to 350°F. Cut the butternut squash in half lengthwise. Remove and reserve the seeds from the squash. Place the halved squash, cut side up on a baking sheet. Bake 40 to 50 minutes or until the squash is fork tender. Set aside to cool, about 30 minutes before removing from the peel and roughly chopping the roasted squash.
Rinse the reserved squash seeds in a mesh strainer to remove any pulp. Pat the seeds dry with a paper towel. In a small bowl mix together the squash seeds, 1 tablespoon of the olive oil, maple syrup, 1 teaspoon of the berbere spice and salt; toss to coat. Spread seeds in a single layer on a parchment paper lined baking sheet. Bake 6 to 8 minutes, stirring every 2 minutes or until the seeds are golden brown. Cool completely then set aside to serve with the salad.
In a 12-inch skillet heat the remaining 1 tablespoon olive oil over medium heat. Add the onions, carrots, celery and garlic and cook 6 to 8 minutes, stirring frequently or until the onions and carrots are tender. Add the tomato, kale, corn, reserved roasted squash and remaining 2 teaspoons berbere spice. Stir the mixture to fully combine and add additional berbere spice, salt and pepper to taste.
In a deep fryer or 4-quart Dutch oven, heat fry oil to 350°F. Meanwhile, place 1 egg roll skin on work surface with 1 corner facing you. (Cover remaining skins with damp paper towel to prevent drying out.) Brush edges with beaten egg. Spoon 1/4 to 1/3 cup of the squash filling slightly below center of egg roll skin; fold the corner up over the filling to cover and create a triangle; press to seal the edges. Place on a plate and repeat with remaining egg roll skins, beaten egg and filling.
Fry Sambusas, a few at a time, in oil 3 to 5 minutes, turning once, until golden brown. Drain on paper towels. Serve warm.
To make the vinaigrette: In a blender, mix together all vinaigrette ingredients and blend until smooth. Taste and adjust maple syrup, salt and pepper as desired. Refrigerate until ready to use.
To Make the salad: In a large bowl, mix the kale with a few tablespoons of the vinaigrette. Massage the dressing into the kale to tenderize. Add the apple, onion, cranberries and toss to blend.
Serve salad garnished with seasoned squash seeds and popped wild rice with warm sambusas.