Austin Bartold's Walleye Cakes with Pineapple Slaw & Wild Rice Salad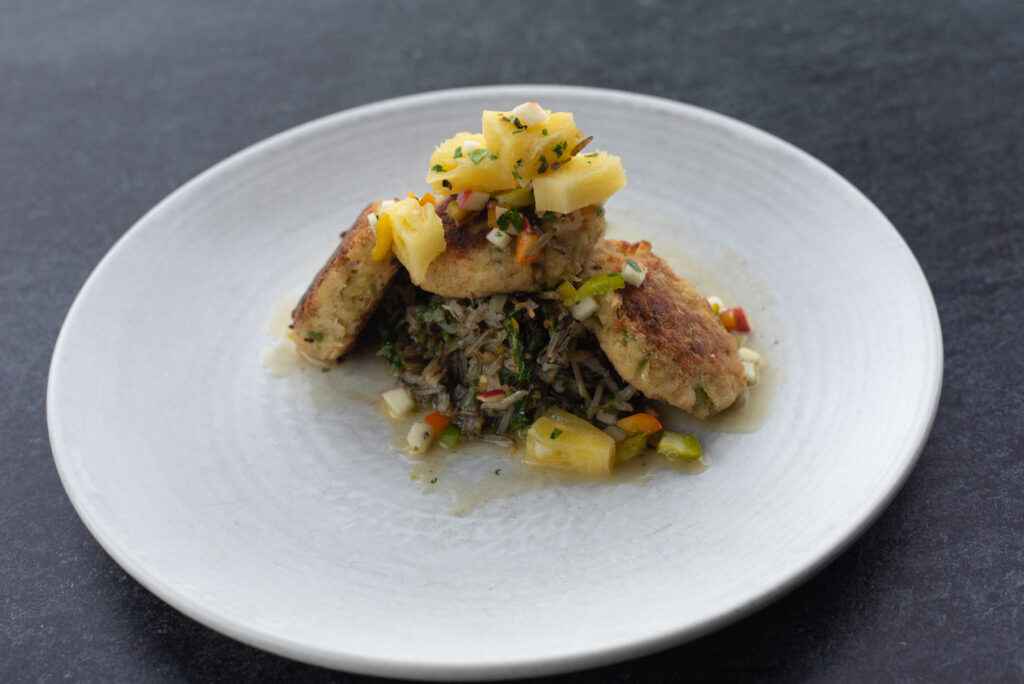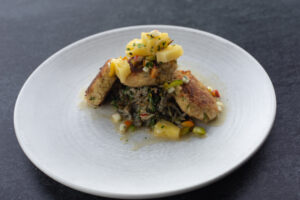 Print
Austin Bartold's Walleye Cakes with Pineapple Slaw & Wild Rice Salad
Yield 4-6 servings
This delicious dish blends indigenous staples like walleye and wild rice with tropical flavors. The walleye cakes are perfect as an entree, hors d'oeuvre, or on a bun.
Ingredients
Pineapple Slaw
1 red bell pepper, diced
1 cup pineapple, diced
1 red apple, cored and chopped

Honeycrisp works best, but any sweet red will work

1/2 cup cilantro, chopped
1 tablespoon apple cider vinegar
2 tablespoons olive oil
salt & pepper to taste
Walleye Cakes
2 large walleye fillets (about 1 lb), baked until fully cooked and chilled in the refrigerator
2-3 tablespoons olive oil
1 yellow onion, minced
1 stalk celery, minced
1 red apple, minced
1 green bell pepper, minced
1 teaspoon grated fresh ginger
1 teaspoon fresh rosemary, chopped
1 teaspoon dried thyme
1 teaspoon red pepper flakes
1 teaspoon curry powder
1 large egg, beaten
1 cup panko
1/2 cup mayonnaise
1/2 cup flour
Wild Rice Salad
1 cup wild rice, cooked and drained
1/4 cup onion, minced and sauteed in clarified butter or high-heat index vegetable oil
1 stalk kale, cut into a chiffonade
2 medium carrots, peeled and shredded
1/2 small apple, chopped
Honey Cilantro Orange Vinaigrette
3/4 tablespoon mustard
1 tablespoon apple cider vinegar
1/4 cup honey
zest of 2 oranges
1 bunch cilantro, minced
2 tablespoons olive oil
salt and pepper to taste
Instructions
Pineapple Slaw
Toss all ingredients in a large mixing bowl until fully combined
Walleye Cakes
Heat 1 tablespoon olive oil in a skillet over low heat and slowly cook the onion until caramelized, 20-30 minutes.
Add the ginger, rosemary, thyme, salt, and pepper and stir to mix. Cover and refrigerate for at least 2 hours.
In a large mixing bowl, mash the chilled walleye fillets and onion mixture into a paste. Stir in celery, apple, green pepper, egg, panko, mayonnaise, red pepper flakes, and curry powder. 
Use an ice cream scoop to create balls of fish mixture. Form balls into patties and dredge in the flour.
Heat 1-2 tablespoons vegetable oil or clarified butter in a heavy frying pan or cast-iron skillet over medium-high heat.
Cook patties on each side until golden-brown, about 5 minutes.
Allow to cool slightly before serving. Top with slaw.
Honey Cilantro Orange Vinaigrette
Combine all ingredients except for the olive oil
Slowly drizzle the olive oil while continuously stirring the mixture. This will help the vinegar and oil to properly emulsify.
Wild Rice Salad
Mix the cooked wild rice and sauteed onion with the kale, carrot, and apple.
Toss with the vinaigrette and serve with the walleye cakes.
Notes
Austin Bartold is the chef nutritionist at the Division of Indian Work. This recipe comes from the cookbook Original Local: Indigenous Foods, Stories, and Recipes from the Upper Midwest by Heid E. Erdrich.