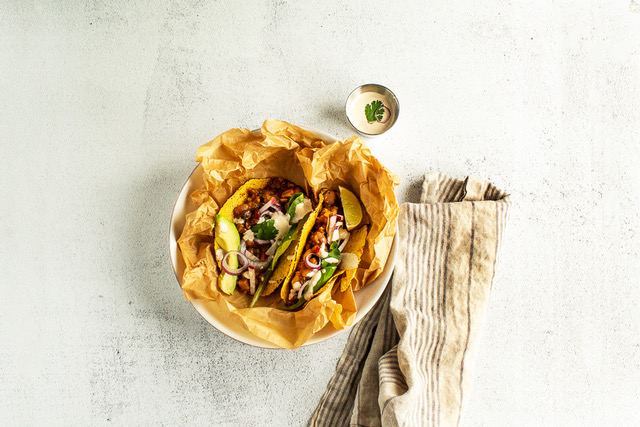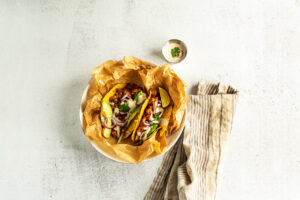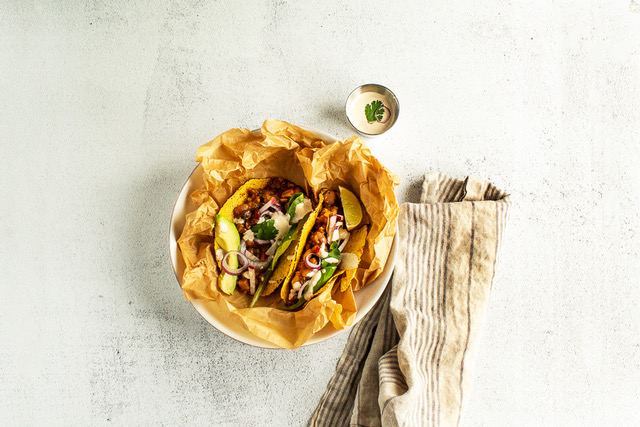 Print
32-Bean Tacos
Yield 3 cups of taco filling
These easy 32-Bean Tacos are made using dried items from bulk that you can purchase in just the amount you need. Substitute sour cream in the crema with a dairy-free alternative to make your tacos vegan. It's a great budget-friendly meal.
Ingredients
For the crema:
½ cup sour cream, Greek yogurt, or dairy-free alternative
Juice from half of one lime
¼ tablespoon chipotle chili powder, such as from Frontier Co-Op in the bulk aisle
¼ teaspoon kosher salt.
For the tacos:
1 cup North Bay Trading 32 Bean Soup Mix (from the bulk aisle)
4 cups water
3 Tablespoons Minnesota Nice Spice Totally Taco or other taco seasoning, divided 
8 corn tortillas, or preferred alternative
4 cups Superior Fresh or other spring greens mixture
1 avocado, peeled and sliced
2 radishes, cut into matchsticks (see 11:20 in the video here for tips)
Salsa to taste
½ cup of cilantro, roughly chopped
Lime wedges for garnish
Instructions
For the crema:
In a small bowl, whisk together sour cream, lime juice, chipotle powder, and salt.
For the tacos:
In a 3-quart saucepan, add the bean mix and water along with 2 Tablespoons taco seasoning. Bring to a boil for 5 minutes, then cover and simmer for 1 to 1½ hours, stirring occasionally.
After 1½ hours add the last tablespoon of taco seasoning, then continue to simmer uncovered, stirring often. Once liquid is absorbed and mixture has thickened remove from heat.
Using tongs, place one tortilla at a time over the flame of a burner set to medium-high, turning every few seconds until charred all around — about 45 seconds total. If you don't have a gas burner, use a cast iron skillet over high heat.
Build your tacos using greens, bean mixture, a spoonful of Chipotle Lime Crema, and slices of avocado. Top with radish sticks, salsa, cilantro, and fresh lime juice.