Top 10 Appetizers for the Holidays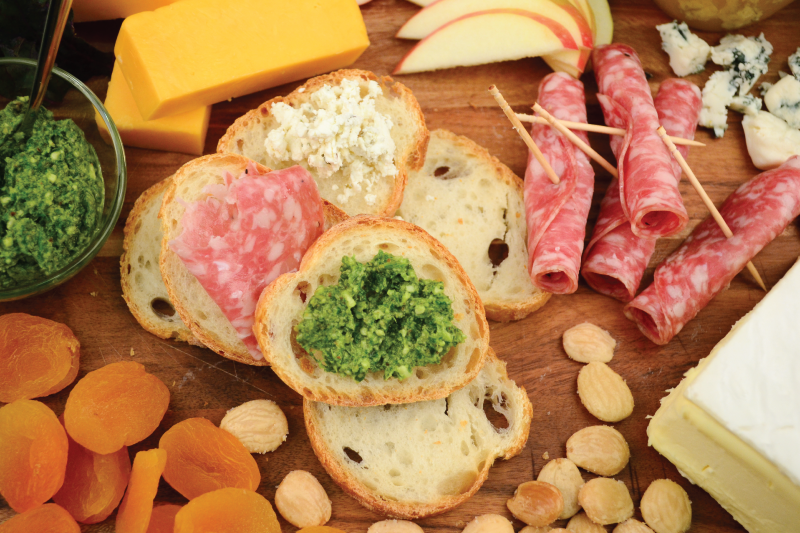 Sometime in the next month or so, you'll likely be giving or attending any number of holiday get-togethers.   Appetizers are the perfect party offering – everyone loves them, many require little or no assembly or cooking and they appeal to everyone on your guest list!
If you'd rather nosh than feast, read on for 10 of the simplest, tastiest and freshest appetizers.
1. Triple Cream Cheese (Brie or other variety), Fig Jam, Thinly Sliced Breadsmith Baguette
2.  Bacon & Brussels Sprouts: Wrap each brussels sprout in a slice of Beeler's bacon, season with pepper, bake on a foil-lined sheet at 375 for 30 minutes.
3.  Sweet Potato Slices with Goat Cheese & Local Honey: Slice sweet potatoes, drizzle with olive oil, salt and pepper, bake on a sheet at 400 for 10 minutes, turn and bake 10 minutes more. Top with goat cheese, broil for 2 minutes, drizzle with honey.
4. Gluten Free Crackers, Punk Rawk Labs Vegan Cheese, Pam's Raspberry Pepper Jam
5. Tapas Platter: Assorted Olives, Sliced Prosciutto, Marcona Almonds, Roasted Red Peppers, Sliced Salami, Dried Apricots, Cherry Tomatoes
6. Lakewinds Roasted Red Pepper Hummus, Baby Rainbow Carrots
7. Sliced Baguette, Hope Creamery Butter, Radishes, Coarse Salt
8. Lakewinds Jalapeno Poppers
9. Lakewinds Gorgonzola Cheese Ball and Pesto Torta, assorted crackers and sliced cucumbers.
10. Asparagus spears, wrapped in prosciutto, broiled or grilled for 3-5 minutes until crisp-tender. Serve with lemon mayonnaise.