Gluten-Free One Pan Dinner (Just Add Chicken Legs, Local BBQ Sauce, Corn and Carrots)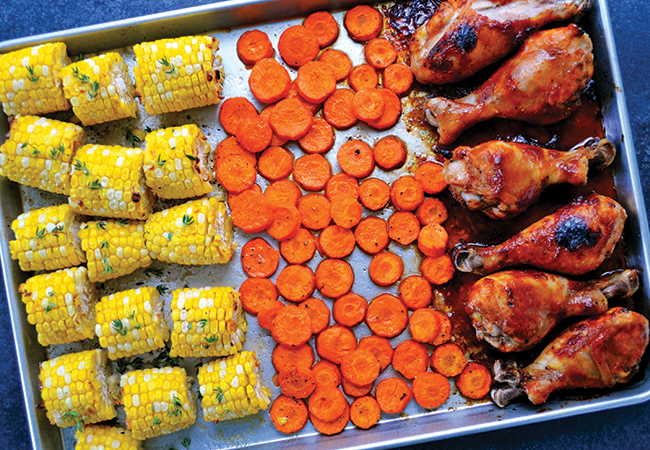 This fast, low-prep, gluten-free sheet pan dinner reduces dishes and time spent in the kitchen. Made with local Triple Crown BBQ sauce (but any sauce will do) and local, in-season corn and carrots covered in butter for a kid-approved delicious meal.
Ingredients
6 chicken legs
---
Salt and pepper
---
¼ cup Triple Crown Barbecue Sauce
---
4 ears corn, cut into 2 inch rounds
---
6 carrots, cut into ½ inch coins
---
Lots of melted butter
Directions
Place chicken legs on left side of sheet pan, sprinkle with salt and pepper and brush with barbecue sauce. Roast in 375˚ oven for 30 minutes. Add corn pieces to the center of the sheet, carrot coins to the right, and turn the chicken pieces over. Sprinkle with salt and pepper, drizzle with melted butter. Roast for another 15 minutes, turning once.
Hero Tip: Dishes are nearly done!