Local Foraging in the Kitchen: Morels, Ramps, Nettles and Dandelion Greens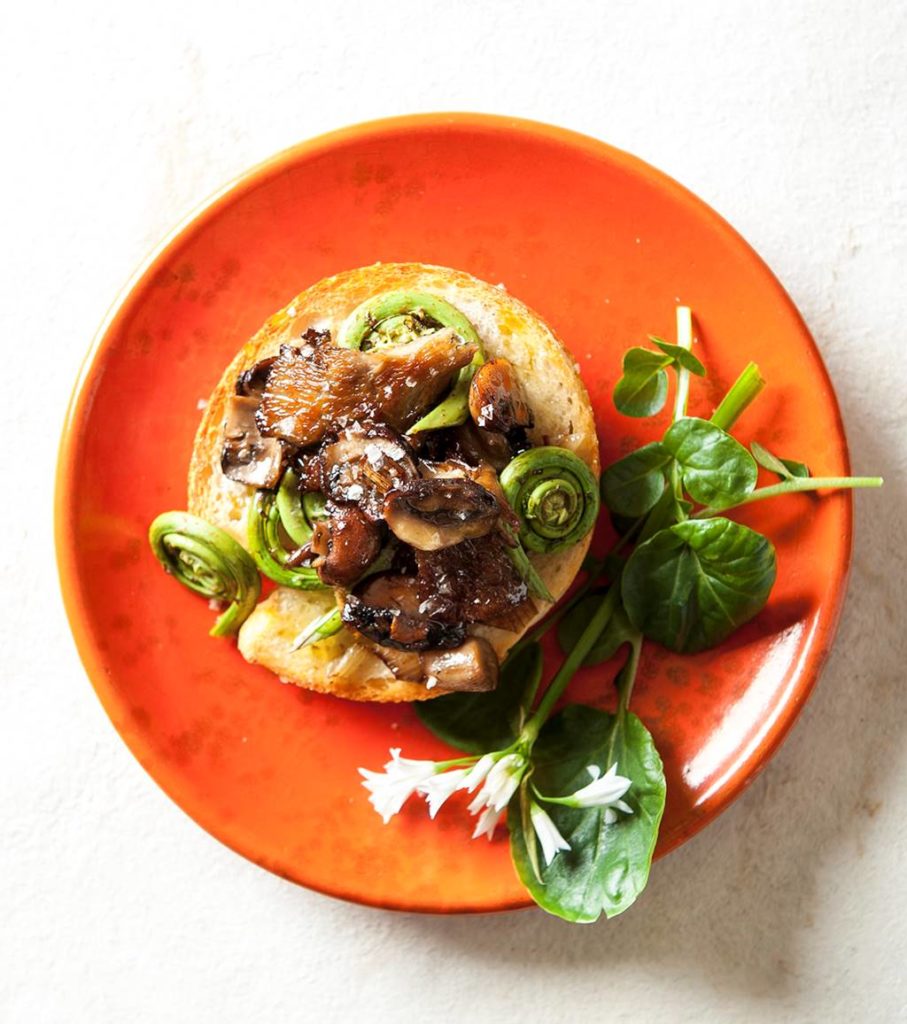 Photo Credit: Mette Nielsen
The sun is out! Temperatures are up! Let's get wild. The morels and ramps are poking up through the damp forest leaves and fiddleheads unfurl at the edges of fields. Beware of those nettles tangled near watercress fringed icy streams. Dandelion greens abound! Try this morel dish recipe or read on for more tips about cooking these foraged plants.
Sauteed Morel Mushrooms
Serves 4
Morels are distinctly delicious and super easy to prepare, be sure to cook them long enough. The season is very short and they can be pricy so I often add a few cultivated mushrooms into the mix – crimini, oyster, shiitake.
Ingredients
1 tablespoon unsalted butter
---
8 ounces mixed mushrooms, cleaned and dried
---
2 shallots, minced
---
¼ cup dry white wine
---
2 teaspoons minced fresh thyme
---
1 tablespoon minced fresh parsley
---
Salt and freshly ground black pepper
Directions
To prepare morels, trim, split in half and dip quickly in salted water and then pat thoroughly dry with clean dish cloth or paper towels. Melt the butter in a large heavy skillet over medium heat until it begins to foam. Add the mushrooms and shallots and cook, stirring occasionally, until well-browned, about 4 to 6 minutes. Then stir in the wine and the herbs. Continue cooking until the liquid becomes a glaze.
---
Ramps
These wild leeks are fragrant members of the lily family. Foragers swear you can smell leeks when you step on them, so that they announce themselves, and easy to find. Use ramps as you would leeks and shallots. They're great in sautés, soups, stir-fries, scrambled eggs.
---
Nettles
My grandmother would laugh at the very idea I might actually pay money for stinging nettles. They grew wild on the border of the field near her house and she needed gloves to harvest them. But once they were blanched in salted water, she used them just like spinach. Her favorite technique was to simply sauté them in lots of butter and season with salt and pepper and served as a side dish. Try them in a quiche or sautéed in with the morel mushrooms (above).
---
Dandelion Greens
Yes, these are the same greens I don't want in my backyard. But they're delicious, slightly bitter, and loaded with vitamin A and calcium. They pair nicely with lush eggs, bacon, potatoes. Try tossing them onto a simple pizza with mild cheeses and sautéed mushrooms; chop and add them to creamy soups right before serving for zest; chop and add them to scrambled eggs. Toss them with roast new potatoes as they come from the oven.