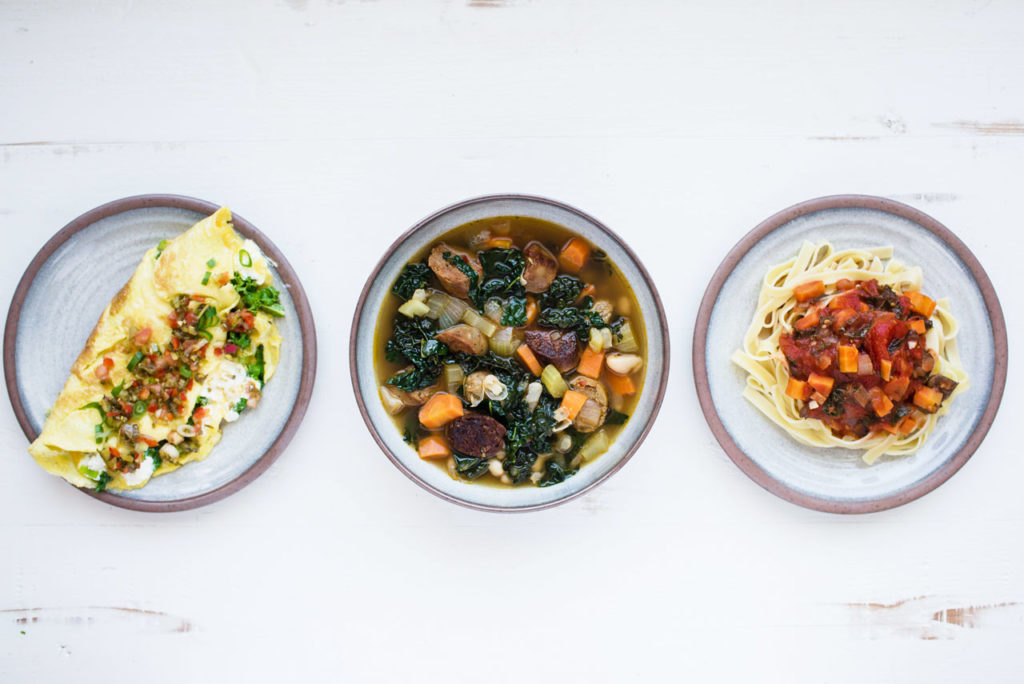 Kale isn't going anywhere as a healthy food trend – and why should it?
High in fiber, vitamin C, iron, and an excellent source of antioxidants, kale can play a lead or supporting role in every meal of the day. Switch up your smoothie-or-salad routine with these easy recipes.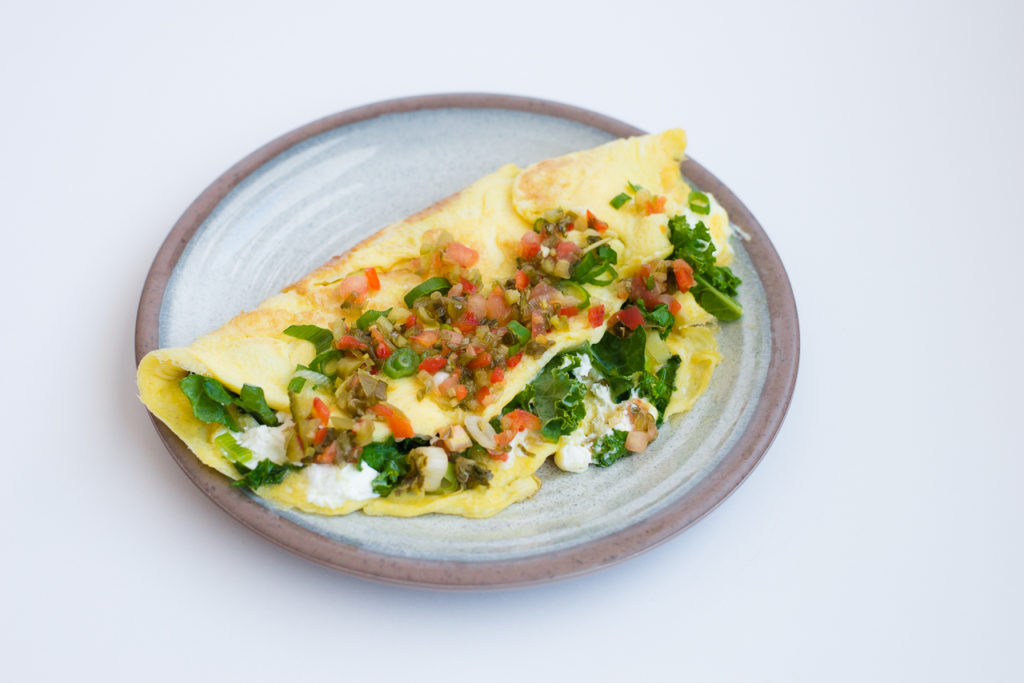 Breakfast
Kale and Goat Cheese Omelet
1 tablespoon butter
2 tablespoons minced scallion (white part)
Handful of chopped kale, ribs removed
Salt and pepper to taste
3 large eggs, beaten
3 tablespoons crumbled goat cheese
1 tablespoon chopped scallions (green part)
1 tablespoon Uncle Simon's Picante Sauce
In an omelet pan, melt butter over medium heat. Add white scallion and kale, season with salt and pepper, sauté for 5 minutes, tossing until kale begins to melt. Pour eggs into pan and gently move around until eggs are nearly set. Sprinkle on cheese, fold omelet over and cook 2 minutes until cheese is melted. Remove from pan and garnish with green scallions and picante sauce.
---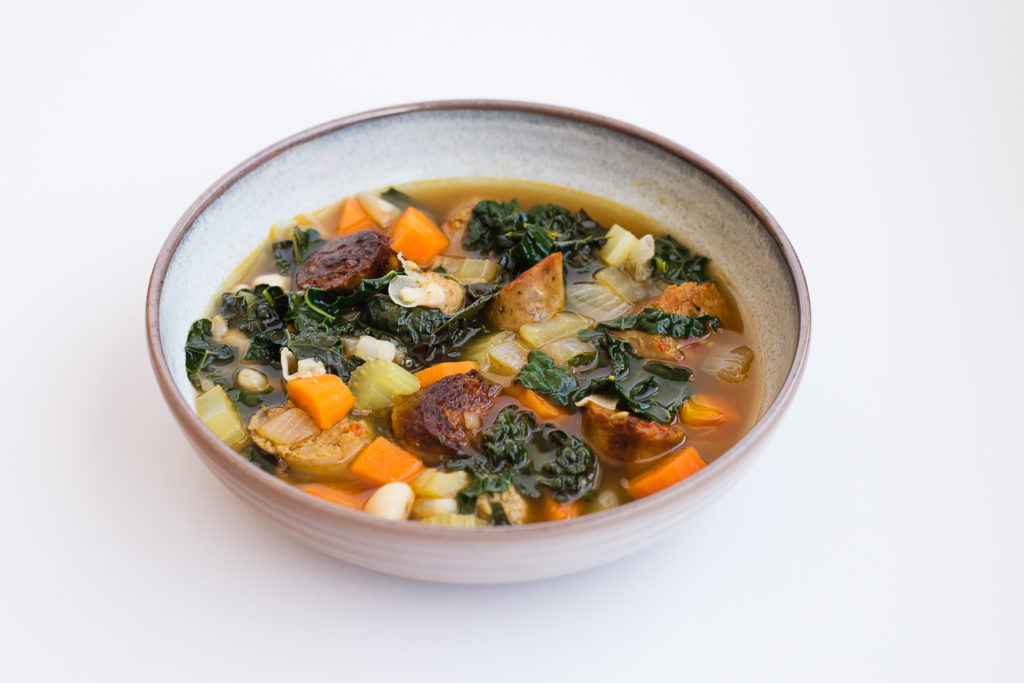 Lunch
Vegan Kale, White Bean & Sausage Soup
1 package of Field Theory Italian Sausage, sliced
1 tablespoon olive oil
1 cup chopped carrots
1 cup chopped onion
1 cup chopped celery
Salt and pepper
6 cups vegetable broth
1 large bunch of kale
1 teaspoon dried sage
2 15 ounce cans cannellini beans, drained and rinsed
In a large pot, heat olive oil and sauté sausage 5 minutes, remove from pan, slice, and brown on cut sides for 2 minutes, remove again. Add carrot, onion, and celery, season with salt and pepper, and sauté 3 minutes. Add broth and bring to a simmer. Discard stems from kale, slice, and add to soup. Cook 10 minutes. Add sage, cooked sausage, and drained beans. Check seasoning, add water if it seems too thick. Simmer on low for 15-20 minutes.
---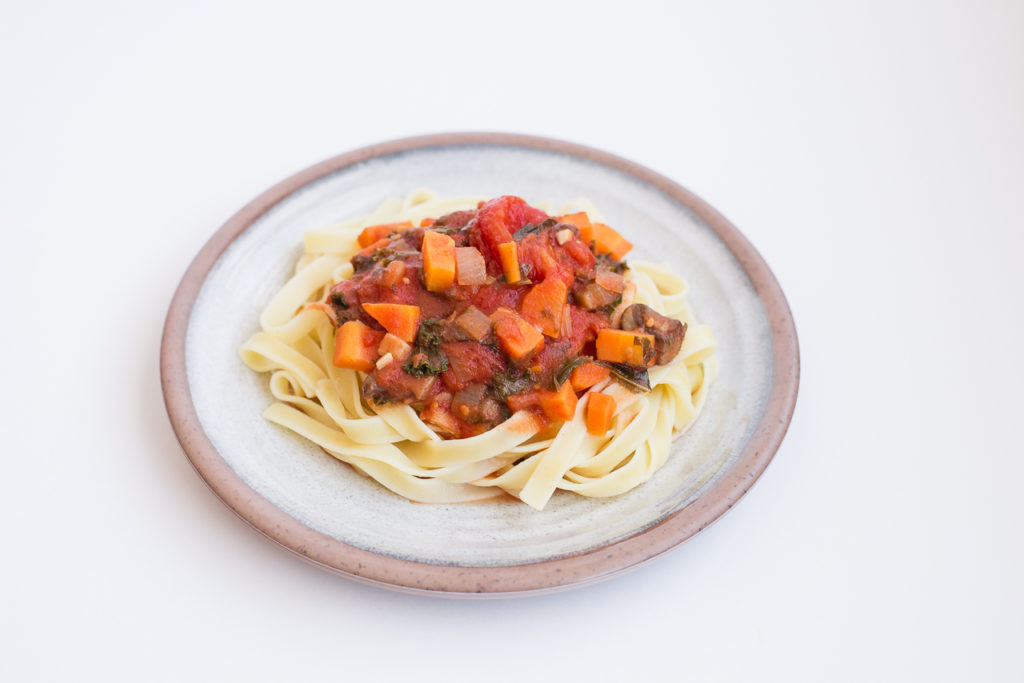 Dinner
Vegetable Marinara Sauce
2 tablespoons olive oil
½ cup chopped onion
½ cup chopped carrot
2 cloves chopped garlic
8 ounces chopped mushrooms
1/3 cup dry white wine
3 cups thinly sliced kale
1 28 ounce can crushed tomatoes
1 15 ounce can tomato sauce
1 teaspoon dried oregano
Salt and pepper
In a medium pot, heat olive oil over medium heat. Add onion, carrot, and garlic and sauté for 10 minutes until just starting to soften. Add mushrooms and sauté 5 more minutes.  Add wine, simmer for a few minutes. Add kale, tomatoes, and oregano and season with salt and pepper.  Simmer on medium-low until vegetables are tender. Serve over your favorite pasta or zoodles.