Growing Community Connections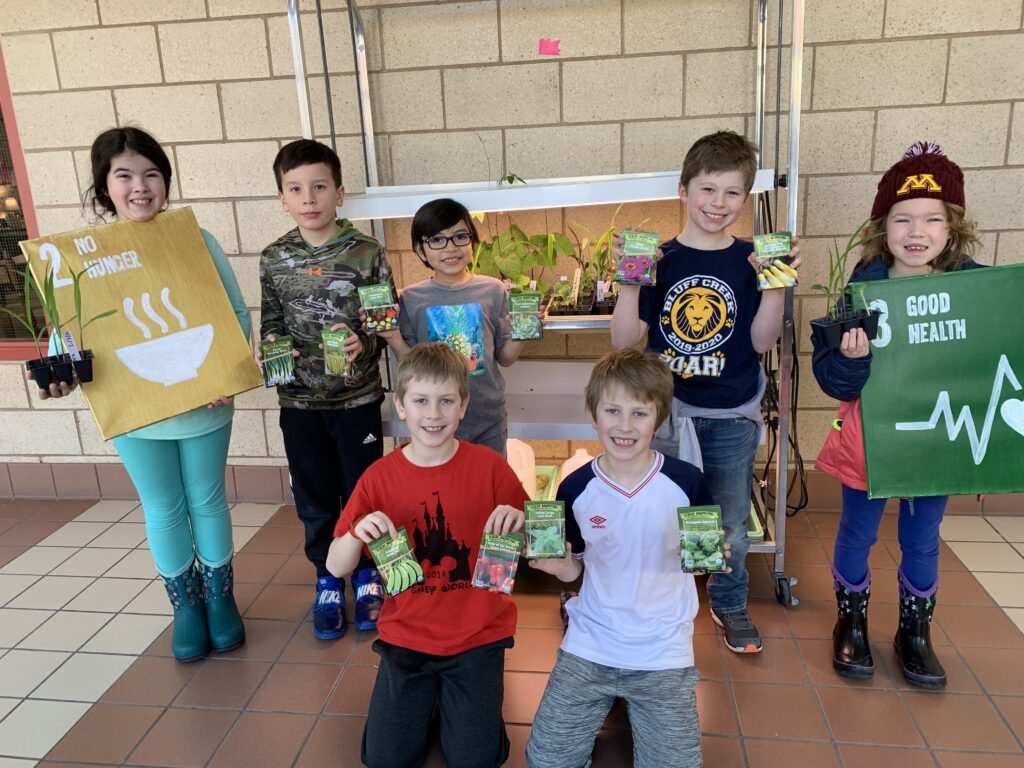 Nurturing Local Community Gardens
At Lakewinds, concern for our communities is built into almost everything we do. In addition to our mission to promote sustainable agriculture, support local farmers and makers, and protect our planet, we're committed to giving back. One way we do this is through partnerships with local school and community gardens.
About the School & Community Gardens Giving Program
Understanding where our food comes from and learning how to grow things for ourselves and our communities is an important step toward personal empowerment and care for the world around us. Community and School gardens provide important opportunities for people of all ages to engage with food and the environment in a meaningful way. At Lakewinds, we recognize the importance of these community assets, and we believe it's important to bolster their work educating, uplifting, and providing food for the communities we call home. We created our School & Community Gardens Giving Program to support these efforts.
Each February, as the earliest hints of spring are in the air, local community garden and school garden organizers are dreaming of warmer days and just beginning to plan their gardens for the coming season. Some start pretty extensive varieties of seedlings in early March, while others opt to begin with plant starts closer to May. In either case, Lakewinds provides support to get gardens up and running with donations of seeds, compost or soil, and plant starts to more than 15 local school and community gardens located in the Twin Cities metro area each year.  The following are just a few of the gardens that benefit from this community giving program.
School Gardens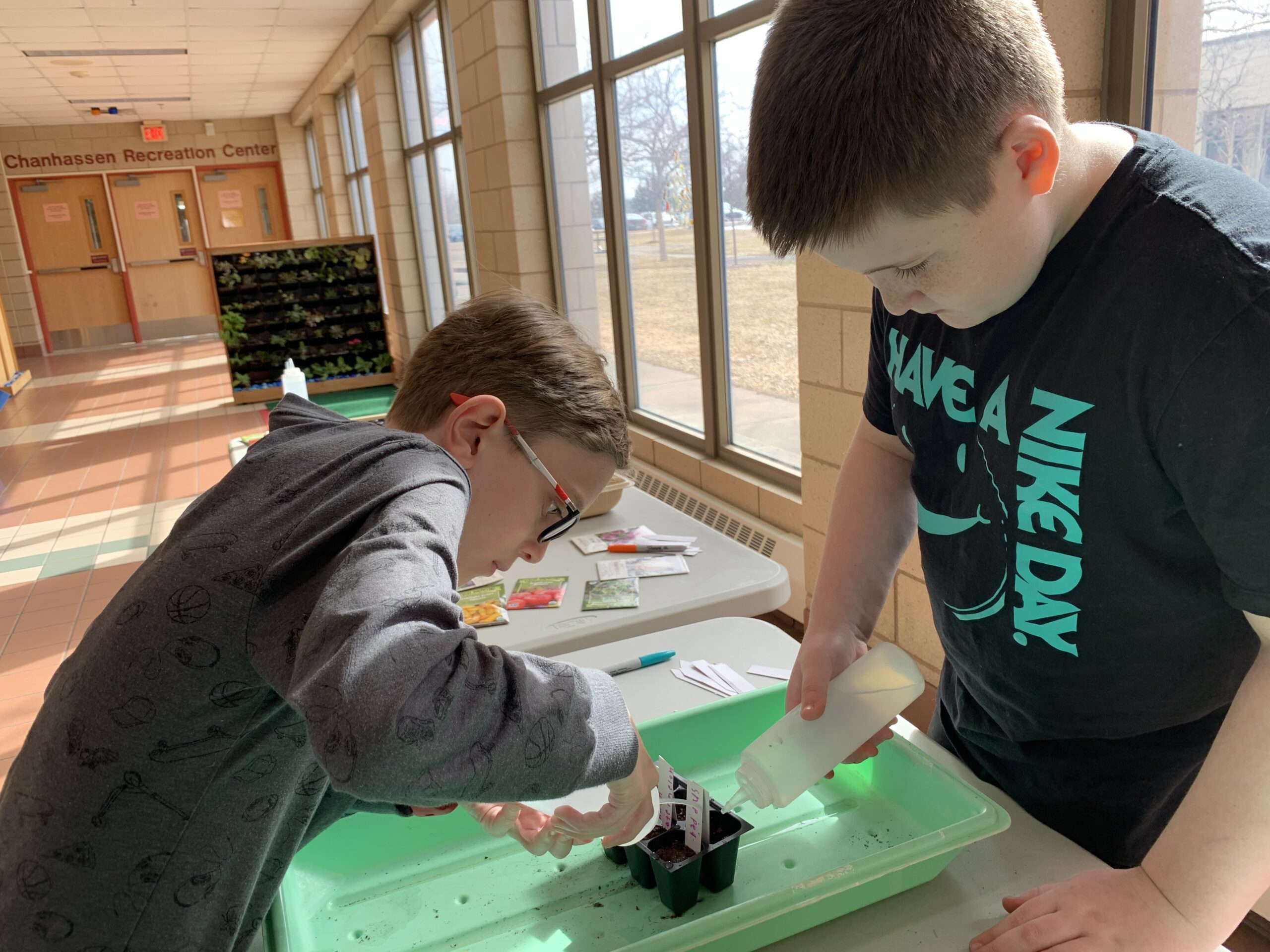 Tower Gardens — Bluff Creek Elementary (Chanhassen, MN), Groveland Elementary (Minnetonka, MN), Kenny Elementary (Minneapolis, MN)
Over the course of 2015 and 2016, Lakewinds purchased 9 hydroponic tower gardens that were donated to 3 elementary schools near our stores. Each school year, these tower gardens provide students the opportunity to plan, grow, document, and harvest plants using sustainable hydroponic methods in their classrooms or resource rooms. From tracking ph levels and recording data to experimenting with light and nutrient levels and sketching the plants at various times during the life cycle, these tower gardens provide myriad opportunities for hands-on learning experiences. Our support of these classroom gardening efforts continue year to year through the donation of organic, non-GMO seeds and through our involvement in school planting days and classroom harvest parties.
At least once per year, Jennifer, our events & community relations coordinator, visits the tower garden classrooms at Groveland Elementary and Kenny Elementary post-harvest to engage the students in describing the methods and challenges they faced with their tower garden. She also teaches them about basic nutrition before helping the students create their very own salads using the leafy greens and herbs grown in their tower gardens. The salads (and classroom-made dressings) are usually a big hit with everyone, even kids who "hate" or "never eat" vegetables.
At Bluff Creek Elementary in Chanhassen, gardening is a school-wide operation. Meghan Holmes, garden coordinator of the BCE garden explains, "We have both a school garden and hydroponic grow towers which are utilized by all students at our elementary school. Our garden program interacts with classrooms throughout the year, bringing lessons about seeds, monarch butterflies, and ways to learn where our food comes from. The school garden has a school-wide planting day in May, with all students having the opportunity to plant seeds, maintain our plants, and sign up for planting day."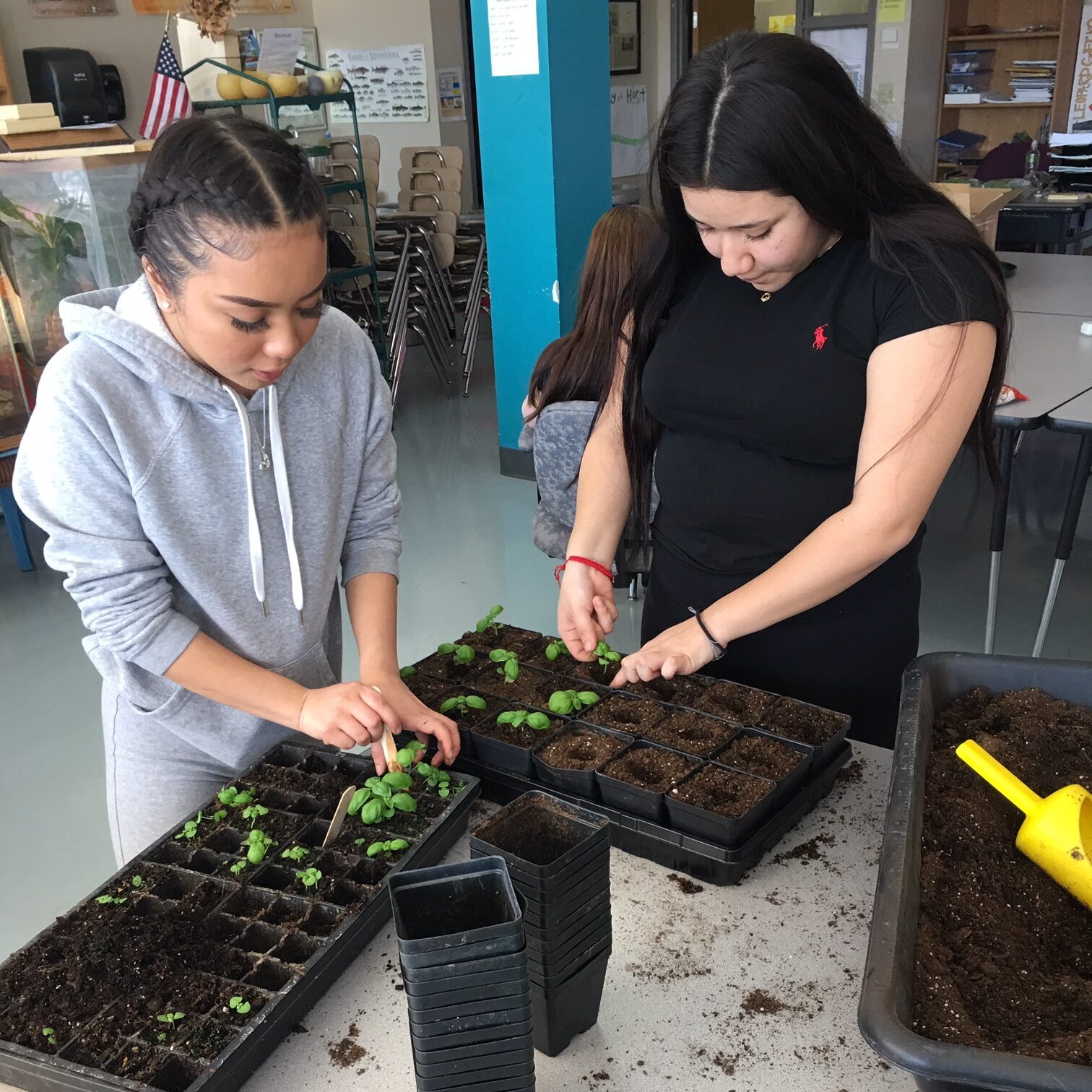 Integrated Arts Academy (Chaska, MN)
A public high school focused on learning through personalized, inquiry-based education that combines art and core academic standards, IAA receives donations of seeds and plant starts or compost. The school garden is designed and planned by senior students in the horticultural program. The students decide the layout, growing methods, and types of plants grown with assistance from their advisor. The garden is tended over the summer by students, teachers, and parent volunteers. Most of the food raised is used in IAA's student culinary program with excess produce being sent home with students over the summer.  IAA also has an aquaponics classroom operation, which incorporates koi.  This creates a more sustainable growing system and the students are able to raise their own beneficial insects like praying mantises for natural pest control in the outdoor garden.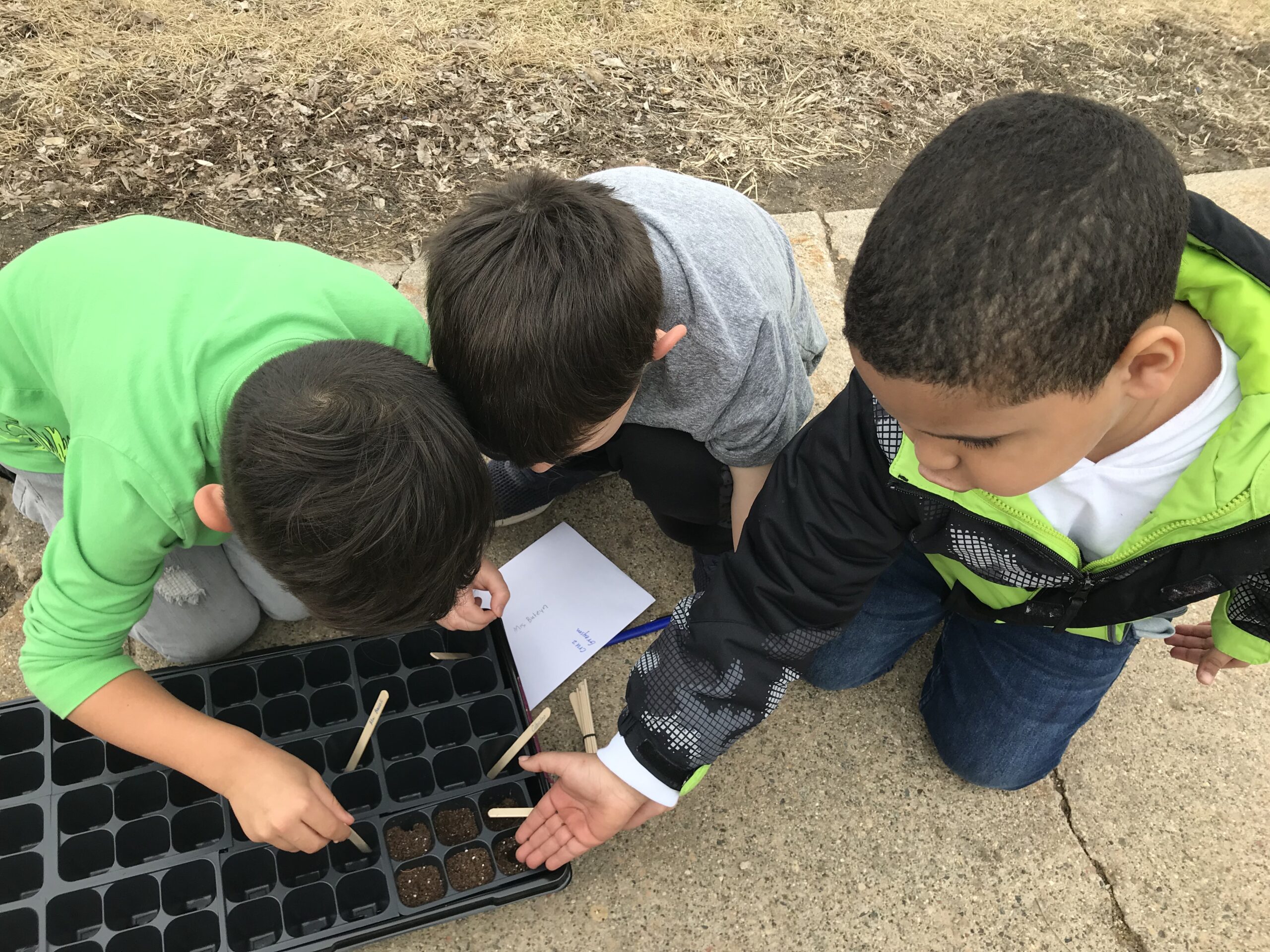 La Academia (Chaska, MN)
This Spanish immersion elementary school created their new school garden in 2018. Lakewinds has been a big supporter from the start, donating seeds and starter plants since that first year. Last spring we worked with teachers to plan a special pollinator garden at La Academia, all with plants donated by Lakewinds. La Academia's school garden is used to teach healthy eating habits and where food comes from. It also supports learning in core subjects like math and science and provides a stimulating outdoor learning environment. The La Academia school garden even has a raised bed for increased accessibility and an outdoor classroom space adjacent to the garden. Students and their families sign up to volunteer to tend the garden over the summer. Families from the school are invited to take home produce grown at the school, and extra food is donated to local food shelves. Kari Crane, garden coordinator, says, "We're grateful for all of the outdoor learning our garden provides, and we couldn't do it without community partnerships like Lakewinds!"
Community Gardens
Every Meal (previously known as The Sheridan Story): two urban gardens tended by Surly Brewing and Dangerous Man Brewing located in Minneapolis, 1 garden at Every Meal offices.
You may recognize Every Meal as a past Round Up recipient in 2018. They fill gaps in food access and combat food insecurity by providing kids in need with access to healthy food, primarily on weekends and during the summer. Our partnership with Every Meal didn't end there. Since then, Lakewinds has contributed organic seeds and plant starts to the two urban gardens that provide fresh produce all summer long for Every Meal. Produce from their community gardens, tended by volunteers from Dangerous Man Brewing and Surly Brewing, is distributed throughout the summer to students in the Minneapolis school district.
Appetite for Change (Minneapolis, MN)
Appetite for Change is another organization you may remember as a past Round Up recipient. AFC is creating an equitable food system in North Minneapolis through urban farming, healthy food workshops, youth development, and sustainable economic growth. Systemic barriers hinder food access for many in the area they serve. Using food as a tool to build health, wealth, and social change, this community-led organization strengthens families, creates economic prosperity, and encourages healthy living. Beginning this spring, Lakewinds is partnering to provide organic seeds and plant starts for AFC's 5 urban farm plots across North Minneapolis. The farm plots are tended to by community members and AFC youth learning how to grow a variety of plants. These fresh fruits and vegetables subsequently supply AFC's Breaking Bread Café or are sold to their commercial kitchen renters, local corner stores, and at the West Broadway Farmers Market.
BRCC Cottageville Gardens (Hopkins, MN)
The Cottageville Garden, located near Blake Rd. and Lake St. in Hopkins, was founded by the Blake Road Corridor Collaborative as part of an effort to improve safety and engage the community.  The garden (and the park it's located in) was remodeled a couple of years ago, and that's when Lakewinds began donating organic plant starts and seeds to the volunteer-tended garden. The produce grown there is redistributed to ICA food shelf and back to the neighborhood for free.
Our co-op is committed to supporting community and school gardens in the metro area, which are working to increase awareness and understanding of sustainable growing methods, access to fresh produce, and education that empowers folks to participate more directly in our local food system. In this way, we recognize the value of community and school gardens, and we affirm the value of caring for our communities.
Updated 3/3/2021