Thanksgiving FAQs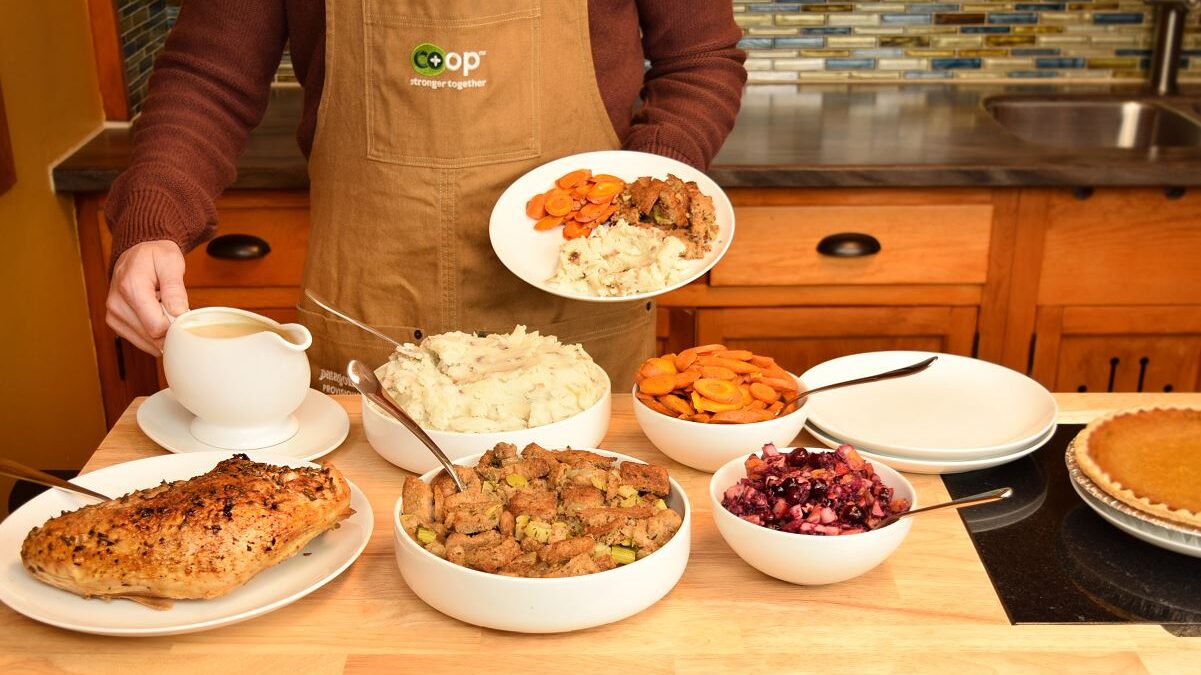 When and how do I order my Thanksgiving turkey or ham?
Thanksgiving turkeys and hams can be preordered from Nov. 1 through Nov. 16, online only. Please note that organic Larry Schultz turkeys and Ferndale turkey breasts are frozen and will need adequate time to thaw (for example, a frozen turkey may need 3 days in the refrigerator to thaw). Ferndale organic turkeys (whole) are air chilled and will need some time to defrost as well. Please keep this in mind as you plan your feast!
How much turkey should I order?
If you're ordering a whole, bone-in turkey, it's recommended that you buy 1 pound of turkey per person.
How do I thaw and roast my turkey?
See helpful information about thawing, brining, and roasting turkeys here.
How much food should I order?
In general, order:
1 lb per person of turkey or ham that you're preparing yourself.
1/4 lb per person of sides and gravy.
1/2 lb per person for roasted and prepared turkey, ham, and other entrees.
Adjust per your guests' appetites and whether you want leftovers!
When can I order my heat-and-serve meal?
The deli-made, scratch-made Thanksgiving heat and serve meals can be ordered Nov. 1 through 18, either online or using the order form found at (and returned to) the deli counter.
Can I make substitutions within my heat-and-serve meal?
Sorry, but no substitutions are available. If you have someone attending your dinner who has a special diet, please see the Thanksgiving deli menu and order items a la carte. A number of items are vegan and/or made without gluten.
Are you doing a DIY meal kit this year?
No, this year we are only doing the heat-and-serve meal option.
What if I only want to buy a Thanksgiving meal for two people?
The deli offers a "Classic Turkey Dinner" that includes roasted turkey breast, mashed potatoes, gravy, stuffing, and maple glazed carrots for $18.99.
Can I order meal items a la carte?
Yes, using the Thanksgiving order form from the deli or online, you can order your preferred feast items, including turkey, a vegan mushroom walnut loaf, traditional or wild rice (vegan) stuffing, roasted Brussels sprouts, carrots, cranberry relish, and more.
When can I pick up my orders?
Turkeys and hams can be picked up Nov. 18 to Nov. 23 by 4 pm. If you've ordered a Larry Schultz Organic turkey, please note that it is a frozen turkey and will need extra time (perhaps 3 days in the fridge, depending on its size) to thaw.
Deli sides and heat-and-serve meals can be picked up starting Nov. 21 and should be picked up by 4 pm on Nov. 23. Stores are closed on Thanksgiving, Nov. 24.
Can I order these items on Instacart?
No, we're sorry, but turkeys, hams, and heat-and-serve meals must be preordered, so they they are not available via Instacart. A few of the classic deli sides might be available on Instacart, while supplies last.
Can I preorder pie?
Yes, you can order apple, pumpkin, or pecan pies from the deli. However, gluten-free pies are found in the frozen aisle this year, so are first-come, first-served.
Get started with your turkey order, deli order, or order your heat-and-serve meal.
Happy Feasting!