How to Use Instacart
Here at Lakewinds, we currently use Instacart for our grocery delivery service. If this is new to you, here's how to get started.
Create your Instacart account
Go to lakewinds.coop/delivery and select "Start Shopping."

Enter your ZIP code and follow the prompts to create your account.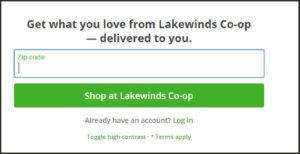 If you already have an account, click on "Log in."

Connect your ownership number
Add your Lakewinds owner number to your Instacart account.
From the Account pull-down menu, select "Your Account."


Select "Loyalty Cards" from the menu on the left.

Under the Lakewinds card, select "+ Add Loyalty Card" and input your owner number.

Your owner number is used to give you credit for purchases so they count toward your annual patronage dividend. However, your monthly owner discount and owner deals do not apply to grocery delivery purchases at this time.
How to Shop
One way to shop is by searching for what you want in the Search field. Search for an item, such as "Milk," or by brand, such as "Organic Valley."

Peruse the results and click on the + sign to order one of that item.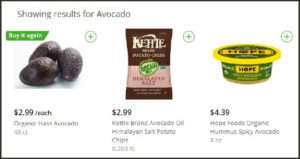 You can also click on the image of the item to see details and ingredients, and enter how many you want to buy.
You can also search by department. For example, if you want a salad from the deli, you can also select "Departments," which is located at the top of the page if you're using a computer or at the side of the page if you're on a mobile device.

Then click on "Deli."
And scroll to "Prepared soups and salads."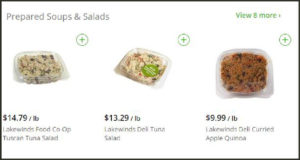 Once an item is in your cart, click on the item and add notes under "Special instructions." For example, you could make a note about preferring riper bananas. You can also let the shopper know what you prefer for a replacement if that item is out of stock.
More Shopping Tips
To view items that are on sale, on desktop select "Savings" from the list below the search bar. On your mobile phone, "Savings" show at the bottom of your screen.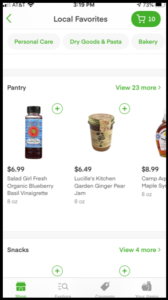 Before checking out, carefully review your cart to make sure it's correct. Click on the Cart logo at the upper right to review your list, then select "Go to checkout" and finalize the order.
Contact your shopper
You can leave directions for your shopper under the "delivery instructions" section, which you can edit during checkout. Owners, please note that owner discounts, owner deals, and owner coupons don't apply to delivery.
You'll be notified when your shopper starts on your order. They may ask you about substitutions or replacements if an item you want is out of stock.
After your delivery arrives
View order details
After a delivery, review your receipt by going to Your orders, then View order detail.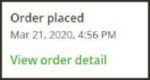 Select "View Receipt."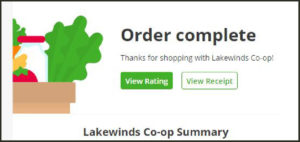 FAQs
How do I make a return?
Immediately after you receive your order, when you rate the shopper and the experience, indicate the problem and explain what you want to return and why so they can issue the refund. Please contact Instacart's Help Center immediately. Don't wait since they can only make adjustments or give you refunds within one week of the delivery.
How much does Instacart cost?
Delivery:
The standard price for a grocery delivery over $35 is:  $3.99 plus a 5% service fee and optional tip.
There's a $10 minimum order. Any order between $10 and $35 is: $7.99 plus a 5% service fee and optional tip.
Instacart gives you the option of becoming an Instacart+ member for $99 per year or $9.99 per month. You do not need to be an Instacart+ member to use the service. It's typically a better option for those who want to use Instacart frequently, such as every week. With Instacart+, members are charged a 1.9% grocery delivery service fee, plus optional tip.
Owners, please note that your monthly owner discount, owner deals, and special owner coupons do not apply to delivery purchases at this time.
How long does it take to get my groceries?
You can typically get your grocery delivery order in the next day or two. If you live outside of the delivery area, note that you can have Instacart deliver your groceries to any address within the delivery area, such as a business or workplace address.
What is "Fast and Flexible"?
This option means that your order will be filled and delivered by the next shopper available, instead of having a fixed time or shopping window. You'll be notified when your order is being filled and when it's scheduled to arrive.
Why did they replace my item with something else?
If an item you want is out of stock, the shopper may replace it with a similar item. When you're shopping and an item is in your cart, you can click on it and indicate whether you want it replaced or not, and if so, with what replacement item.
Why can't I find a particular item I want to buy?
Most items in our stores are available on Instacart. You can search for an item by brand, type of item, or category. If you still don't see an item you like, it might be out of stock or unavailable for delivery.
How can I shop faster?
If you've shopped on Instacart before, you can select "Your Items" from the top of the page, and then choose "Shop your last order" to buy items again. As you shop, you can also mark items you buy often as a favorite by selecting the heart icon "Favorite." Later, under "Your Items" you can select "Favorites" to view those items and quickly add any of them to your cart.