Healthy Takeout Meals
If you're looking for something more than standard drive-through or takeout, we can help! Find a wide range of scratch-made, delicious, healthy takeout meals that are made from fresh, high-quality ingredients at the Lakewinds deli. All of the ingredients follow the strict product standards found throughout the store.
Discover popular, year-round favorites, plus dishes that are brought in seasonally. Some popular takeout meals and items include: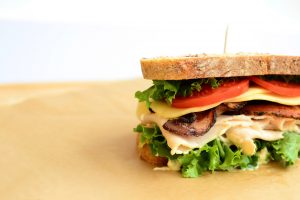 A wide variety of tasty wraps and sandwiches for almost every diet.
Soup for just about any mood. Buy a quart of your favorite for later or find soup on the hot bar, ready to eat.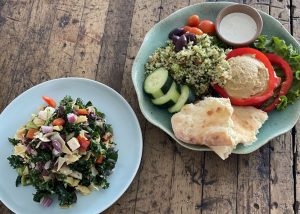 Chef-crafted salads, both served at the deli counter and to grab and go.
Heat-and-eat entrees like turkey meatloaf, baked salmon, or the vegetarian Florentine burger. Don't forget hearty sides like Brussels sprouts, Creole roasted yams, and twice-baked potatoes to accompany a variety of healthy takeout meals.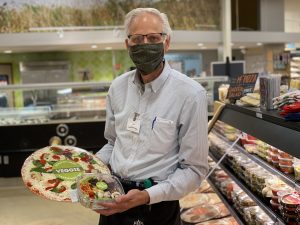 Grab pizza by the slice, whole, or ready-to-bake.


---

Healthy Takeout Meals, Made from Scratch
Our takeout meals are made from scratch every time. Hummus, salad dressings, soup, bone broth — it's all made by hand. Though it takes extra time and effort, we think it's worth it for a few reasons:
Simply put, making it by hand tastes better and gives us complete control over flavor. That's why our homemade pizza dough and sauce work so well together!
It's also important to know what goes into our food, so we use whole ingredients whenever possible, so our takeout meals are safe, fresh, and sustainably sourced.

Quality Ingredients
Great taste is important but so is health and sustainability. Crafting our dishes from whole ingredients means we use the highest-quality ingredients. Everything we put into our takeout meals follows the standards found throughout the store, so you can shop with confidence.
Free from artificial additives: We don't allow artificial colors or preservatives, or any other additives, such as nitrates, nitrites, and MSG.
Commitment to quality: We source organic whenever possible, and all ingredients are grown or raised sustainably.

House Recipes
Our dishes come from recipes that have been honed over years by our dedicated kitchen staff. You'll find familiar faves like beef chili and quinoa tabouli, plus a number of delicious house specialties.
Our Kale & Brussels Sprouts Salad is packed with nutritious veggies, dried cranberries, and slivered almonds. It's a wonderfully crunchy side that works just as well as a main.
For a light, fresh, flavorful salad, the Asian Spring Salad has rice noodles, carrots, and green onions in a ginger sauce with cilantro.
The Gandolfini Sandwich is one of our most popular takeout meals, and with good reason! Smoked ham, cured salami, provolone, and peperonicini are layered atop fresh-baked baguette in a fantastic blend of Italian-American flavors.

Seasonal, Healthy Takeout Meals
Our deli takeout meals reflect what's fresh & flavorful and what we're craving throughout the year.
Summer is all about light, bright, and local. You'll find plenty of BBQ-friendly sides like our classic potato salad or, for a different spin, our Feta and Chickpea salad.
In the fall we take advantage of fresh apples, squash, and other late-season favorites.
During winter we crave warming comfort foods and beverages. Pick up a quart of our house bone broth, simmered over hours to unlock the full flavor.
In spring our minds begin to anticipate the upcoming growing season. The Mediterranean Mezze salad is a complete takeout meal with pita, hummus, and plenty of fresh veggies.
Get your favorite deli salads, entrees, sides, and more, along with your favorite local and organic groceries, with grocery delivery.