Board of Directors Election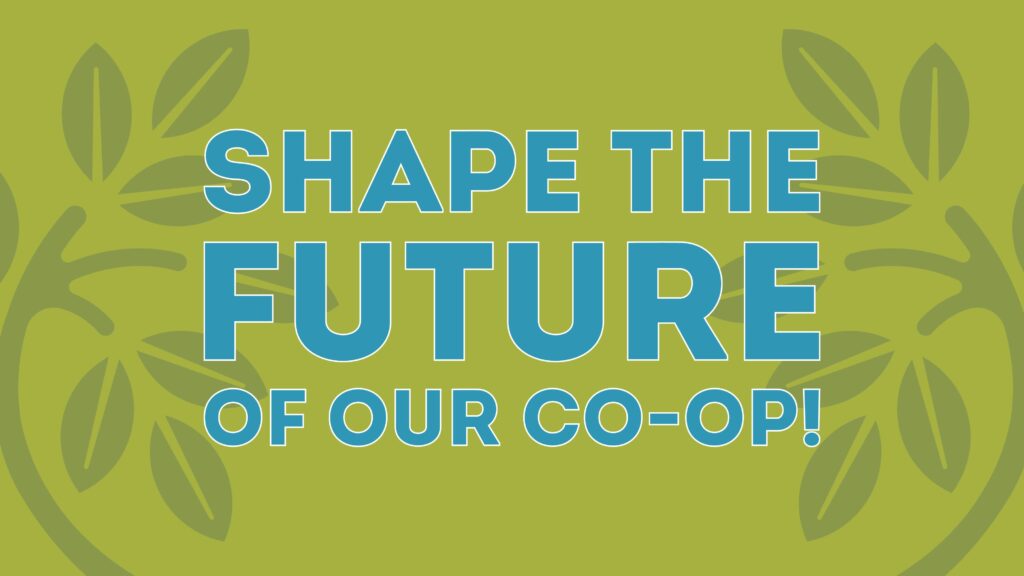 Democracy is at the heart of our co-op's organizational structure. As an owner, you have a voice in the governance and direction of your co-op by voting for our board of directors. Each owner household gets to cast one ballot, voting for each of the three open seats on the board. The board oversees the governance of the co-op and hires and oversees the general manager. They are also tasked with supervising financial conditions and sharing the co-op vision to best serve all owners. Board members must be non-employee Lakewinds owners in good standing. They should have experience in strategic thinking, group decisions, and fiduciary reasonability. Each board member represents our owners for a three-year term.
---
Online voting will be open starting August 23, 2022.
---
Learn about this year's candidates:
OWNER SINCE 2018
Local food has been a thread weaving through my life experiences. Some of my early childhood memories take place in and around the small, family-owned cheese factory run by my grandfather and uncle. Small, family-owned businesses were common — as were our large gardens in rural Wisconsin.
In college, I worked with large farms in northern Wisconsin. I tended to test plots, assessed hail damages and started to develop an interest in a sustainable food supply chain. While it wasn't core to my profession, I did have the opportunity to work with large Minneapolis-based companies to enable sustainability initiatives — both from a farming and water supply perspective.
As a result, I worked with Neighborhood Roots MN to help grow the Fulton, Kingfield, and Nokomis farmers markets. I was rewarded by meeting the farmers who shared their bounty and the passion of the community in supporting local food.
A board position at Lakewinds Co-op will allow me to continue to pursue my passion around sustainable food sources and the local food movement. I look forward to meeting more members that also share this passion.
---

OWNER SINCE 2022
For the past few years, I have been very interested in organic foods, making sure that everything that my family eats, starting with the seeds, is organic. The current food crisis makes me want to step up and do something. I want to be assured that there is always a place that I can count on to purchase true organic food from.
I am also eager to make sure that local inner-city kids are able to learn about organic foods, have access to organic foods, and have the means to plant and produce their own food.
---

OWNER SINCE 2017
It would be an honor to contribute my skills and experiences to the Lakewinds board. I have been a faithful weekly shopper of the co-op for many years now and still enjoy seeing what new products are on the shelf or what's in season. You'll likely find me walking the aisles with my reusable grocery bags filled with cotton produce bags and a few mason jars. I know the stores already do a lot of work contributing to the community at large, but there is always more that can be done.
As a member of the board, I would look forward to collaborating on the vision for what the co-op can achieve. Two issues in particular that I would like to explore deeper is how we can do more to protect our environment such as further reducing plastic waste as well as keeping healthy food as affordable as possible to the most people.
I believe my professional background will positively contribute to the sustainability of the co-op. I have worked within finance for the last 10 years, working both in corporate financial planning and treasury. I have focused the last seven years working with our company's state CFOs and corporate leadership to forecast earnings.
---
OWNER SINCE 2018
I hope to serve on the Lakewinds board of directors because of my deep commitment to the cooperative movement and its principles, which I developed during years of public service in food and ag policy. I also believe my experience as a cooperative lawyer at the Dorsey & Whitney law firm will be an asset to the board.
In my current work, I help co-ops fix problems and take advantage of opportunities. Doing so requires a deep understanding of the legal and business issues facing my co-op clients. I previously worked as an ag policy advisor to United States Senator Heidi Heitkamp and at the USDA during the Obama administration alongside an amazing team of cooperative movement devotees. These experiences gave me a deep understanding of our food system and its economics, which I will bring to my service on the board.
Lastly, Lakewinds is poised for continued success and I would be honored to help chart our co-op's course. As a director, my priorities would be to (1) deliver exceptional value to our owner-members, (2) emphasize our co-op's strong commitment to local, sustainable, and organic food; and (3) ensure our co-op continues to be a place that attracts a talented team.
---
OWNER SINCE 2015
I became a Lakewinds owner in 2015 when I had recently joined the Kashi Company and was on a quest to understand the Natural/Organic industry. While it was Kashi that initiated my curiosity, it was Lakewinds that enabled me to learn, evolve, and grow. My experience into the community opened my eyes and forever changed my life and my family's life. Lakewinds became a trusted partner in our wellness journey and continues to be today.
My skills and experience will allow me to positively contribute to the board. My introverted nature enables me to observe, listen, and critically think about the opportunities or challenges at hand before responding. My academic and work experiences have trained me to continually think ahead and strategically plan the future to achieve desired results. My career in retail and consumer packaged goods have provided me a framework for understanding sales, marketing, operations, and financials.
My goal is to ensure the continuity of this strong community by developing a pipeline of owners through engaging the next generation of purchasers, and by committing to diversity, equity, and inclusivity throughout our ecosystem.
---

OWNER SINCE 2020
As a candidate for the Lakewinds board of directors, I am thrilled to pair my 20 years of business, marketing, and grocery experience with Procter & Gamble, Kimberly-Clark and as an agency Founder & President to help shape Lakewinds' long-term strategic vision. I've held diverse leadership roles across marketing, ecommerce, category management and strategy & innovation that will bring a unique holistic viewpoint to Lakewinds. I have partnered with CPG brands and retailers like KIND Snacks, General Mills, Target, Walmart, Kroger, Amazon and Instacart to deliver frictionless online and in-store shopper experiences that meet evolving consumer demands. I will leverage my proven track record of repositioning billion-dollar brands like Huggies to help futureproof Lakewinds in an ever-changing and uncertain economic climate.
My multi-million-dollar budget and P&L ownership experience would also assist me in providing sound financial stewardship for Lakewinds and its owners. As the granddaughter of a farmer, it would be my sincere privilege to serve the interests of our owners and champion breakthrough revenue results for our beloved Lakewinds. Thank you for your time and consideration!
---

OWNER SINCE 1999
I would like to encourage the sharing of food knowledge and ideas, which can breed passion and excitement among the Lakewinds community — member/owners, staff and potential member/owners. Igniting ideas to continue building a base of owners and support for the local food system. Making and eating food has always been a passion. As a CSA member for over 25 years, I have visited and worked at a local farm in harvesting, prep and distribution. This hands-on experience and farmer-family relationship has helped me understand some of the issues faced by the local farm community. It is important to me to support the local food system. Having a career in customer, consumer insights I have led a variety of teams through a structured, creative process to build customer-centric brands.
I am excited to employ my talents and skills to help the Lakewinds community by:
• Fostering collaboration among board of directors and owner/members.
• Bringing creative new ideas about using Lakewinds' products and food.
• Bringing to life supplier stories that build empathy with the member community, ultimately increasing member satisfaction and loyalty.
• Making a compelling case for owner/membership.
---
See details about the 2022 Annual Owner Meeting on Sept. 11 and buy lunch tickets through Aug. 27.