Savory French Toast with Creamed Cress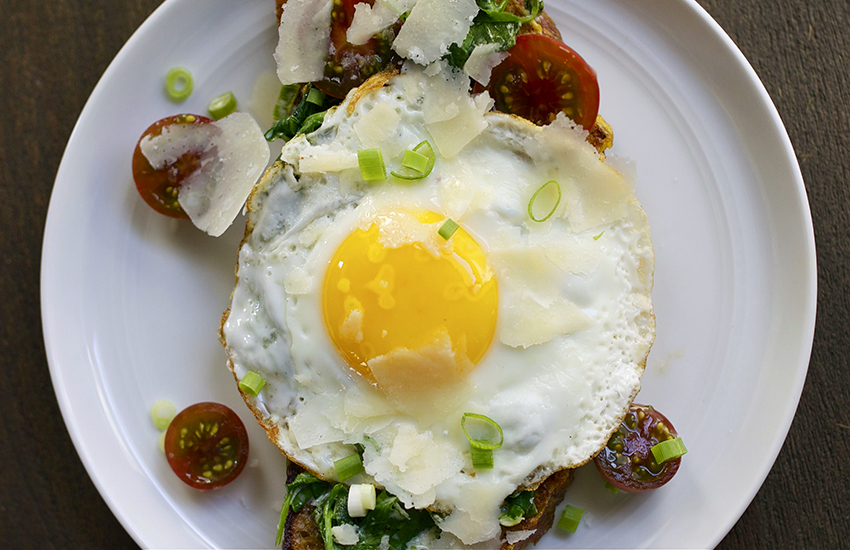 We went a little wild on savory waffles a few weeks back; now it's time for savory French Toast to have a turn! Classic French toast made with local Baker's Field bread gets a tangy twist with dijon mustard in the egg batter. Adding creamed cress (any other greens can be used as well) and other tasty toppers makes a very filling French toast fit for brunch, lunch or anytime.
Serves 4
French Toast with Dijon Mustard Ingredients
---
3 eggs
---
1 ¼ cup whole milk
---
¼ tsp. kosher salt
---
1 Tbsp. dijon mustard
---
Baker's Field Table Bread, sliced into ¾ in slices
---
Directions
In a medium bowl, whisk together the eggs, milk, salt and mustard. Heat a large cast iron pan over medium-high heat and melt 1 Tbsp. butter. Dip the bread in the egg mixture to soak and place in the hot skillet. Cook for 1-2 minutes per side. Remove from pan and repeat with remaining bread slices.
Creamed Cress Ingredients
---
1 Tbsp. butter
---
1 bunch green onions, thinly sliced
---
2 small bunches upland cress
---
½ cup heavy cream
---
Salt and pepper to taste
Directions
In a medium skillet, melt butter and add the green onions. Saute for 2 minutes and add the cress. Let cook for another two minutes over medium-high heat until just wilted and bright green. Add the cream and let simmer for 1 minute. Season with salt and pepper to taste.
Optional Toppings
Grape tomatoes, halved
---
Fried eggs
---
Shaved parmesan cheese
---
Directions
Top French toast pieces with the creamed cress, grape tomatoes, fried egg and parmesan.
Tip: For another savory french toast option, try topping with slices of ham, gruyere cheese and sauteed mushrooms. You can also use other greens in place of the cress such as spinach, kale, swiss chard or collards. Just remove the center stem & roughly chop greens before sautéing.