Pork Shoulder & Tomato Soup with Crème Fraîche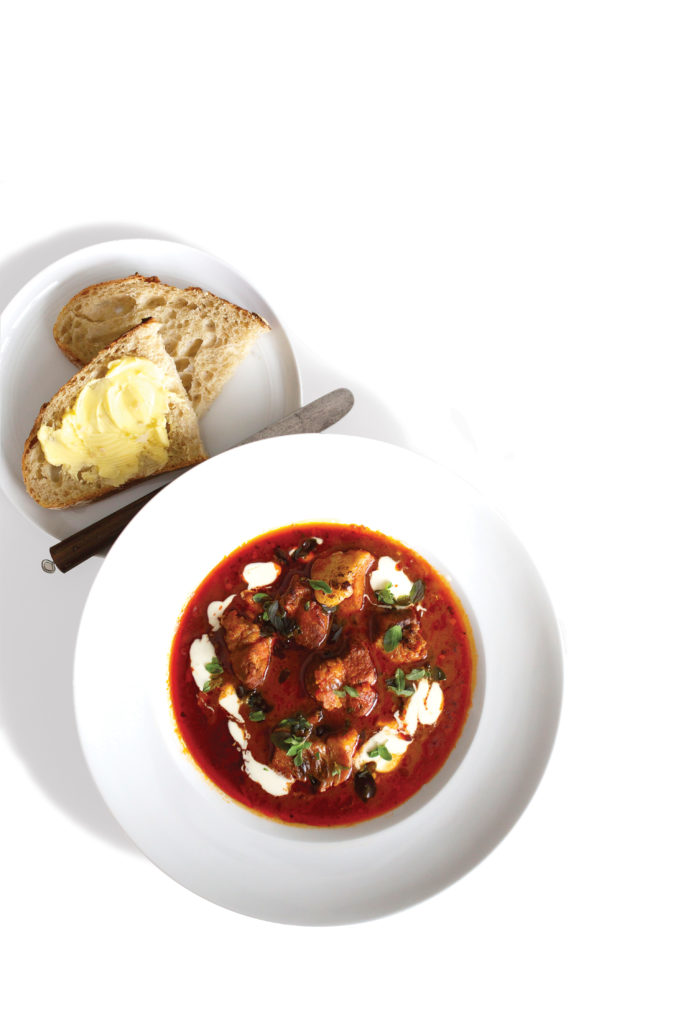 Photo Credit: Brooke Martin
A hearty, but fresh soup that is perfect for short winter days. Serve crusty bread slathered with cultured butter on the side. For a bit of heat, add a spoonful of sriracha at the end.
Serves 4 generously
Ingredients
---
2 lb boneless pork shoulder, cut into 1 inch pieces
---
sea salt
---
2 Tbsp Field Day extra virgin olive oil
---
1 large onion, diced
---
8 garlic cloves, minced
---
2 tsp smoked paprika
---
1 cup dry sherry
---
1 jar Field Day marinara sauce
---
2 cups Field Day chicken broth
---
freshly ground pepper
---
4 tbsp crème fraiche
---
fresh marjoram leaves, for serving
---
Directions
Season pork with sea salt. In a large pot, heat olive oil until hot. Add pork and let brown on all sides. Remove from pot and set aside. Add onion and saute until softened and starting to caramelize. Add garlic and paprika and stir for 1 minute. Stir in sherry and cook for 2 minutes or until slightly reduced. Add marinara, chicken broth, 1 tsp sea salt and freshly ground pepper to taste. Bring to a boil, reduce heat and simmer, covered for 1 hour. To serve ladle soup into large bowls and top with crème fraiche and marjoram leaves.