Poblano Tacos with Cauliflower Queso & Tomato Sauce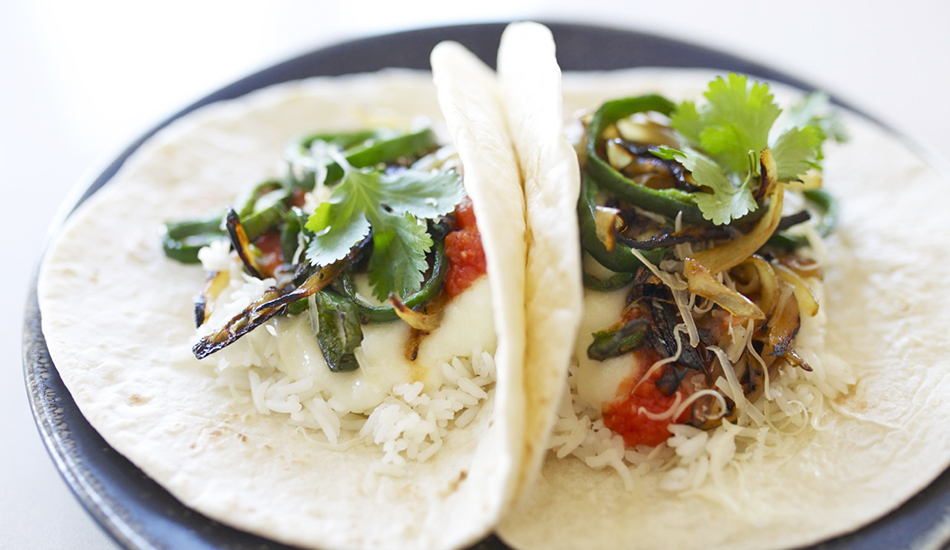 These vegetarian tacos are a healthier nod to the classic dish, chile relleno. The cauliflower queso can also be served with tortilla chips.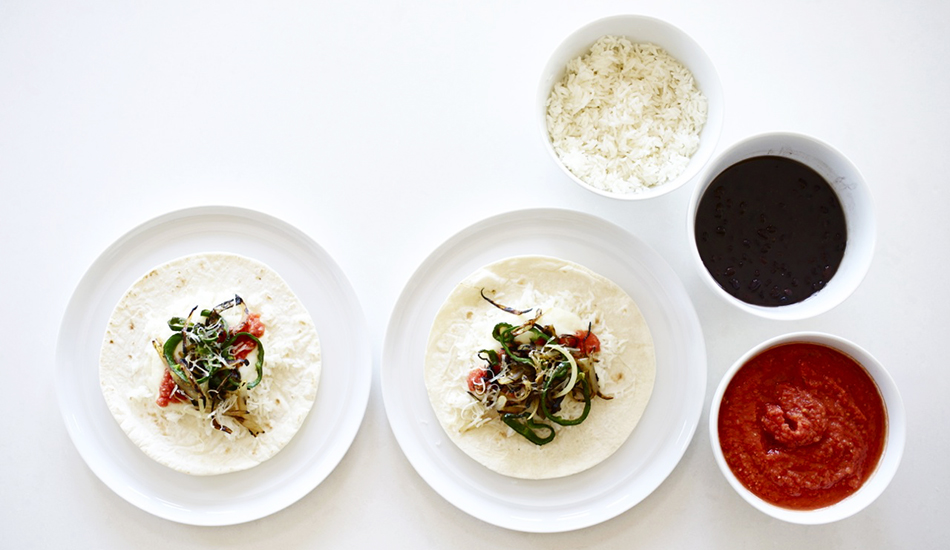 Ingredients
Tomato Sauce
1 – 28 oz. can whole peeled tomatoes, drained
---
2 garlic cloves, minced
---
½ cup chopped onion
---
1 dash of hot sauce, optional
---
Kosher Salt
---
Freshly ground pepper, to taste
Cauliflower Queso
1 small head cauliflower, stemmed and cut into large florets
---
1-cup buttermilk
---
2 tablespoons butter
---
½ tsp. salt
---
1 cup Asiago cheese, shredded
Tacos
1 Tbsp. olive oil
---
1 large onion, sliced
---
4 poblano peppers, stem and seeds removed and sliced thinly
---
Tortillas
---
Black beans (sold in our bulk aisle)
---
Cooked rice (sold in our bulk aisle)
---
Shredded Asiago, for garnish
---
Fresh cilantro, for garnish
Directions
To make the tomato sauce: In a food processor, puree all the ingredients until smooth. Transfer to a bowl. Rinse out food processor bowl to use later.
To make the cauliflower queso: Bring a large saucepan of salted water to a bowl, add cauliflower florets and cook for 15 min. or until tender. Drain and transfer to food processor. Add buttermilk, butter and salt and process until smooth. Transfer back to the saucepan over low heat and mix in the cheese. Cover and keep warm.
To make the tacos: In a cast iron skillet, heat 1 Tbsp. olive oil until hot. Add onion and let cook until the edges start to blacken. Add sliced poblano and sauté until bright green and cooked through. Season to taste with salt. Assemble the tacos: Place a scoop of rice and/or black beans on top of a tortilla, top with a generous amount of cauliflower queso, a spoonful of tomato sauce and the poblano mixture. Garnish with Asiago and cilantro. Enjoy!