Local Tomato Season – It Doesn't Have to End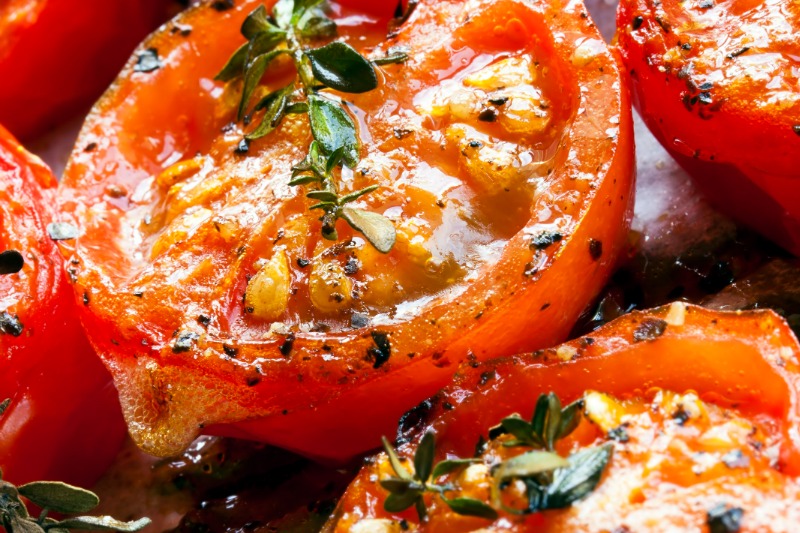 I don't think I'll ever tire of sun-ripe, local tomatoes, but as the light begins to slant, I am looking beyond bruschetta for ways to enjoy every last bite. In this shoulder season, I'm looking for easy, quick recipes that celebrate the tomato's unique flavors in pasta, on pizzas and gratins. Come January, I know I'll yearn for the brilliant tang that only a fresh tomato brings to a dish but I'm not the one to sweat all day canning sauce.
Here are 5 ways to honor tomato's lush glory and preserve them for the darker days to come.
Slow Roasted Tomatoes:
This takes a little patience but not much work. The tomatoes condense so their flavors become more intense.
Choose whole cherry tomatoes, or plum tomatoes cut in half. Arrange on a baking sheet (cut side up for the plum) so they are not touching. Drizzle with a little olive oil and sprinkle with a pinch of coarse salt. Roast in a low, 250 to 300-degree oven until the tomatoes shrivel significantly and begin to brown around the edges, about 4 to 6 hours, depending on the size and ripeness of the tomatoes. Turn the pan several times through the roasting. Remove and cool.
Store in a covered container with a little olive oil and a sprig of fresh rosemary or thyme in the refrigerator for a week, or freeze.
Use these tomatoes to top pizza, toss with pasta, spoon over roast chicken as it comes from the oven.
Oven Roasted Tomato Salsa:
In a food processor or by hand, rough chop 2 cups Oven  Roasted Tomatoes; 1 cup chopped onion; 2 small seeded & chopped serrano peppers; generous pinch cumin and juice of 1/2 to 1 whole lime, to taste. This keeps about a week in the fridge or may be frozen. Right before serving, stir in 1/2 cup fresh chopped cilantro before serving (just to brighten it all up). Great with chips, stirred into black beans, or rice.
Oven Roasted Tomato Sauce:
In a food processor or by hand, rough chop 2 cups roasted tomatoes, 1 tablespoon fresh marjoram, 2 cloves garlic. This will keep about a week in the fridge or may be frozen. Right before serving stir in ¼ cup chopped fresh basil (to brighten it up).  Toss with pasta, slather over grilled steak, chicken, or fish.
Fast Roasted Tomatoes with Parmesan:
This recipe calls for those big, plump tomatoes. Use a mix of yellow, red, black, whatever looks good. Cut the tomatoes in half and set cut side up on a baking sheet, drizzle with oil, balsamic, and sprinkle with a little shredded Parmesan and roast in a hot (400 degree F ) oven until they're very soft, about 30 minutes. Store in a covered container for three days or freeze. These are terrific served over hot pasta or chopped and spooned over roast chicken or grilled steak.
Rustic Tomato Sauce:
Most recipes tell to peel and seed the tomatoes before making sauce, but the tomato flavor is in the gel surrounding the seeds and peeling hardly seems worth the effort.
Rough chop the tomatoes and put into a large pot. Add several cloves of garlic and a couple of tablespoons of fresh marjoram, a pinch of salt and pepper. Set over low heat and bring to a simmer. Cook, mashing occasionally, and stirring the pot, until the tomatoes become a thick sauce, about 45 minutes to one hour. Add a splash of red wine or balsamic or red wine vinegar and pinch of salt and pepper to taste. This will keep about a week in the refrigerator and freezes nicely.
Tips and hints:
Do not store fresh tomatoes in the refrigerator – the cold destroys their flavor!
Do NOT use aluminum pans when roasting or baking tomatoes. The citric acid in the tomatoes reacts with the metal giving the tomatoes an off color and flavor.
Don't bother peeling or seeding tomatoes, the tomato flavor is in the gel and the peel adds texture.
You can freeze fresh tomatoes. Use cherry tomatoes or chop and put larger tomatoes in freezer bags, label and store in the freezer for up to a year. These will work in any recipe that cooks fresh tomatoes.
Use a variety of tomatoes in cooked dishes and sauces, they all have their own unique flavors and textures. Tiny cherry tomatoes are snappy and sweet-tart; big full Jersey's and other blowsy red tomatoes are super juicy and full-flavored; the yellow tomatoes tend to be mellow and mild.
Find flavorful, organic local tomatoes at these Lakewinds locations.