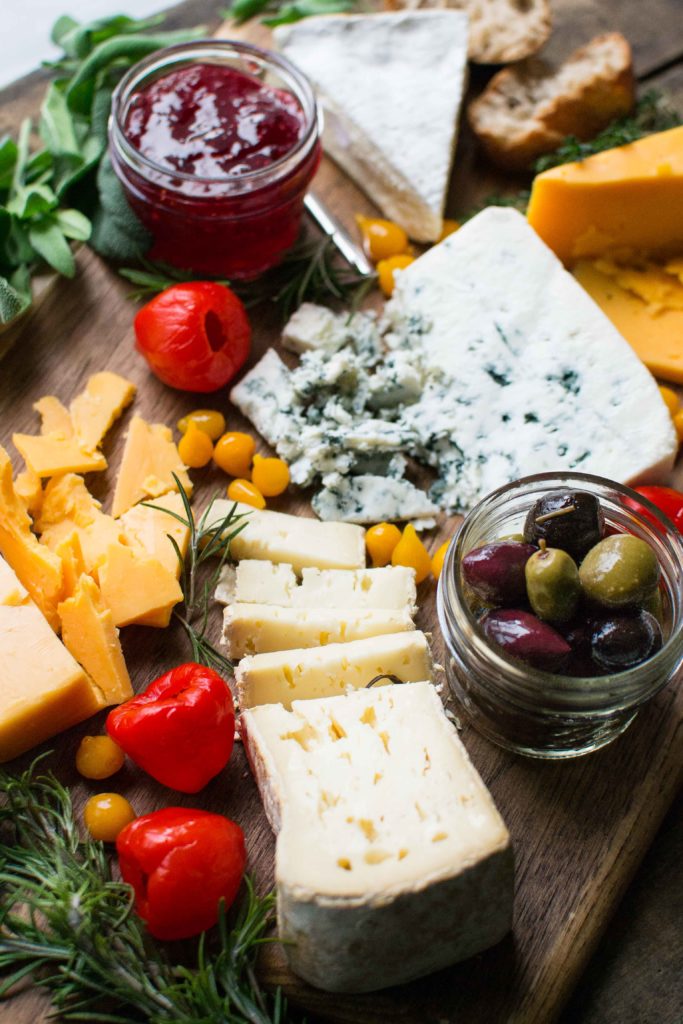 Go from hassled to happy this season with a few of these Holiday Hacks.
Most important tip: Don't do in two steps what can be done in one, and don't do EVERYTHING yourself!
General Tips
Stock up on great crackers, cheeses, meats, and condiments. They keep beautifully, ready to serve for last minute guests, and make terrific gifts. Quick serving suggestions: Lone Grazer Cheeses with Lucille's Pepper Jams; La Quercia uncured prosciutto or salami with Grainy Mustard; Local Blue Cheeses Drizzled with Bare Honey.
Bruschetta – Make up batches of these little toasts to serve with cheeses and dips, or to float on top of soups. Package them in pretty bags to gift with a bottle of wine.

To make bruschetta, simply slice a baguette into ¼ or ½ inch rounds; brush with olive oil, and toast in a 350 degree F oven until toasty brown, about 5 minutes. Cool before storing in plastic bags.

Marinated Mushrooms – keep these on hand and for gifts.

Cut button mushrooms into chunks and toss with lemon juice, olive oil, salt and pepper (or your favorite prepared vinaigrette, i.e. Salad Girl). Store in glass jars in the refrigerator until ready to serve or give.
Homemade But Not from Scratch Festive Dinners!
Soup! Glorious Soup! Serve ready to go deli soups (or Spoon Optional Soups) in shot glasses or tiny cups. Garnish bisques of pumpkin, butternut squash, or sweet potato with a swirl of sour cream or whole milk yogurt, a sprinkle of chopped toasted nuts, and chopped fresh parsley. For a simple light meal, float bruschetta sprinkled with Cheddar cheese on tomato basil or turkey and rice soup. Garnish hearty bean soups with your favorite salsa and chopped fresh cilantro.
Green and White Pizza: Bake prepared pizza dough in a hot hot oven until toasty brown. Sprinkle with shredded Parmesan or crumbled feta cheese while still hot so that it melts. Top with fresh greens tossed with a favorite prepared vinaigrette (i.e. Salad Girl) and serve asap.
Rotisserie Chicken (crossing to holiday supper)!
Chicken Curry in a Hurry: Simmer sliced potatoes, carrots and the meat from a deli-roast chicken in prepared curry sauce (i.e. Maya Kaimal Indian Simmer Sauces), thin with a little stock, until the vegetables are tender (about 5 minutes). Serve with dried cranberries, toasted nuts, whole milk yogurt, and chopped fresh cilantro.
Chicken Pot Pie: Mix together shredded chicken meat, a little cream or half and half, splash of wine, frozen peas and corn. Turn into a deep dish pie plate or baking dish and top with prepared pastry crust (puff pastry or pie crust). Cut decorative slits in the top. Bake in a 400 degree F. oven until the crust is flaky and brown, about 20 to 30 minutes.
Chicken & Wild Rice Salad: Toss together shredded chicken meat, cooked wild or brown rice, chopped celery, a few spoonfuls of whole cranberry sauce and a splash of your favorite vinaigrette (i.e. Salad Girl). Top with toasted walnuts.
Chicken Tetrazzini with Proscuitto and Peas (Old-fashioned Comfort!): Chop up a few ounces of prosciutto and sizzle in a pan with a little olive oil, chopped garlic, and onions until soft, about 5 minutes. Stir in enough chicken stock and sour cream to make a thick sauce. Add a splash of white wine, a handful of frozen peas, and shredded chicken. Serve on buttered noodles and top with toasted almonds.
Simply Sweet! Sometimes or Fancy Finish!
Cranberry Whip with Gingerbread Crumble: Whip two parts vanilla ice cream with one part whole cranberry sauce. Layer into individual serving glasses or a glass bowl with crumbled gingerbread cookies.
Chocolate Peppermint Mousse: Whip a pint or two of extra dark chocolate ice cream then fold in an equal amount of whipped cream so that it appears streaky. Layer into a pretty glass bowl with crushed candy canes and chopped dark chocolate. Return to the freezer until firm.
Baked Alaska: Mound layers of your favorite ice cream onto a round pan of brownies (homemade or deli). Whip up 6 egg whites with 1 cup of sugar to stiff peaks and cover the entire mound with the egg whites, making sure that you cover the brownie layer as well. Freeze until firm. Just before serving, preheat the oven to 500 degrees and bake the Alaska until the shell is lightly browned, about 3 minutes. Remove and serve immediately. Alternately, brown the egg whites with a blow torch (as my father once did).