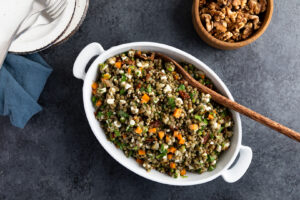 Lemony Marinated Lentils with Walnuts and Goat Cheese
Yield 4 cups
The seasonal flavors in this recipe make it the perfect side dish for your fall table. Serve it alongside smoked ham, roasted vegetables, and a light green salad.
Ingredients
3 cups Lemony Marinated Lentils
1/2 cup Mediterranean Organics oil-packed sun-dried tomatoes, drained and finely chopped
4 oz LaClare chevre goat milk cheese, crumbled
1/3 cup walnuts, toasted
Instructions
In a large bowl, add the marinated lentils, sun-dried tomatoes, and chevre and gently toss to combine.
Cover and marinate in the fridge for a couple hours or overnight. Remove from the fridge about 30 minutes before serving to allow the lentils to come to room temperature. Stir the walnuts in just before serving.
Notes
This dish will keep in an airtight container in the fridge for up to one week.
Adding the walnuts just before serving will help them to maintain their crunch.
Recipe by Lakewinds Food Co-op at https://www.lakewinds.coop/recipes/all/lemony-marinated-lentils-with-walnuts-and-goat-cheese/