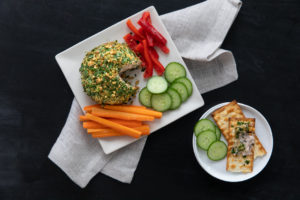 Vegan Cheeze Ball
Yield 8 servings
Ingredients
1 container (8 ounces) plain vegan cream cheese
2 tablespoon Truffle Herb Walnut Humble Nut Butter (from an 8.4 ounces jar)
2 tablespoons fresh lemon zest
1 clove garlic, finely chopped
3/4 teaspoon salt
1/2 cup finely chopped toasted walnuts
1/4 cup finely chopped fresh parsley
1 green onion, thinly sliced
Crackers, sliced bell peppers, and carrots, for serving
Instructions
In a medium bowl, stir together the cream cheese, Humble Nut Butter, 1 tablespoon of the lemon zest, garlic, and salt until smooth.
Place a fine mesh strainer over a medium mixing bowl, and top with two layers of cheesecloth.
Scoop the cheese onto the center of the cheesecloth, then gather the corners and twist gently to form into a ball. Secure with clip. Place the wrapped cheese on the strainer. Refrigerate 12 to 24 hours or until semi-firm.
To serve, unwrap from cheesecloth, gently invert onto a plate, and reform into a ball.
In a small bowl, mix walnuts, parsley, green onions and remaining 1 tablespoon fresh lemon zest. Gently use hands to roll and press the herb mixture onto the ball until thoroughly coated.
Serve immediately with crackers, bell peppers, and carrots. Store leftovers in the fridge for up to 3 days.
Recipe by Lakewinds Food Co-op at https://www.lakewinds.coop/recipes/all/vegan-cheeze-ball/