Turkey Burgers with Hoyo Sauce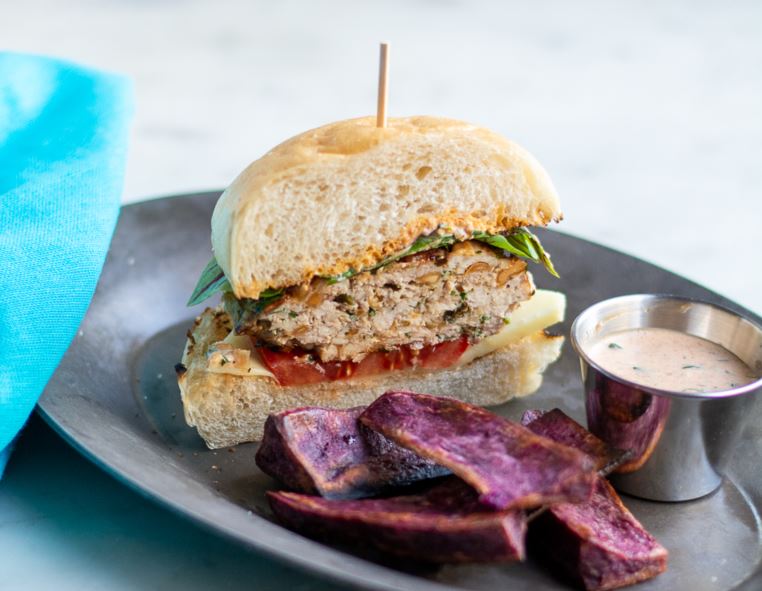 Print
Turkey Burger
Yield 6 servings
Ingredients
1/2 cup fresh cilantro leaves, chopped
1/2 cup dry-roasted peanuts, coarsely chopped
3 Tablespoons Hoyo Basbaas sauce
1 Tablespoon soy sauce
1 teaspoon Kosher salt
1/2 teaspoon fresh cracked black pepper
1 Tablespoon jalapeno, finely chopped
1 garlic clove, finely minced
2 pounds ground turkey
6 slices Ellsworth Monterey Jack cheese
6 tomato slices
Superior Citrus Greens
6 Breadsmith burger buns, lightly grilled 
Instructions
Preheat grill to medium-high. Be sure it is scraped clean.
In a large bowl, combine cilantro, peanuts, Hoyo Basbaas sauce, soy sauce, salt, pepper, jalapeño, and garlic; mix well. Add the ground turkey to the mixture and combine ingredients together with a fork (try not to over-work the meat to avoid making it tough). Divide the mixture into six equal portions, shaping each into a ½-inch-thick patty. Place patties on a grill lightly coated with oil (use long tongs and a paper towel dipped in oil wiped across the grill grates); grill 5-7 minutes on each side or until a digital thermometer registers 160°. Remove from grill and assemble with toppings.
Serve with slices of Monterey Jack and tomato and top with Superior Green Citrus Mix green. Spread some Hoyo Basbaas Sour Cream Sauce on the lightly grilled buns.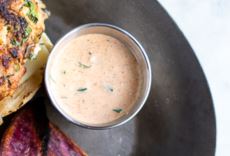 Print
Hoyo Basbaas - Sour Cream Sauce
Ingredients
1/2 cup Hoyo Basbaas sauce
1/2 cup sour cream
2 Tablespoons cilantro, chopped
1 Tablespoon lemon or lime juice
1 tsp. smoked paprika
Kosher salt and fresh cracked black pepper to taste
Instructions
Mix all ingredients in a bowl and serve with burgers. This makes a great dipping sauce for roasted sweet potato fries too!