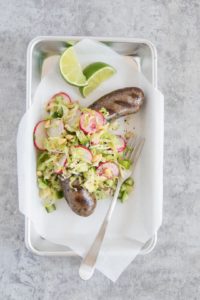 The Brussel Hustle
Yield 4 servings
Ingredients
Lime Honey Vinaigrette
3 teaspoons fresh lime juice
1 teaspoon finely chopped shallots
1 teaspoon grated garlic
1 teaspoon dijon mustard
1 teaspoon honey
2 teaspoon rice wine vinegar
1/4 cup canola oil
Salt and pepper to taste
Brussels Sprout Salad and Brats
1 cup shaved Brussels sprouts
3 radishes, thinly sliced
1/4 cup diced cucumber
2 teaspoons toasted pine nuts
4 Kale Sriracha Beef Brats
Instructions
Heat gas or charcoal grill. In a large bowl, whisk together all vinaigrette ingredients until well blended. Add the shaved Brussels sprouts, radishes, cucumber and pine nuts; toss to coat; set aside.
Place bratwursts on grill over medium heat. Cook uncovered 10 to 15 minutes, turning frequently, until thoroughly cooked.
Place bratwursts on serving plates. Top with Brussels Sprout Salad.
Recipe by Lakewinds Food Co-op at https://www.lakewinds.coop/recipes/all/the-brussel-hustle/