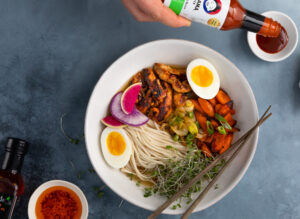 Spring Udon Bowl
Here in the Upper Midwest, spring starts out chilly. This hearty noodle bowl packs some heat to keep you warm until the weather turns. Full of nourishing local ingredients and sense-tingling seasonal flavors, you won't want to stop at one bowl.
Ingredients
1 lb. boneless skinless chicken thigs, sliced in bite-sized pieces

2 Tablespoons K-Mama's Korean hot sauce

1 teaspoon sesame oil

2 garlic cloves, minced

1 inch knob of fresh ginger, minced

1 Tablespoon + 2 teaspoons Smude's sunflower oil, divided

2 carrots, thinly sliced at an angle

4 scallions, sliced thin, white and green parts separated

⅓ cup water

2 cups Taking Stock chicken broth

1 package udon noodles

4 eggs

1 package microgreens

1 small daikon radish, thinly sliced

¼-½ teaspoon Smude's Fiery Oil (warning: very hot!)
Instructions
Combine chicken thigs, K-Mama's, sesame oil, garlic, and ginger in a medium bowl and let marinate for 30 minutes to 4 hours.
In a medium skillet, add 1 Tbsp sunflower oil and heat until smoking hot. Add the chicken in a single layer. When the bottom side is well browned, toss and stir-fry until completely cooked, about 4-5 more minutes. Remove from pan and set aside.
Return the skillet to the stove, add 1 tsp sunflower oil and stir-fry carrots for 2 minutes.
Add water and use a wooden spoon to scrape up any browned bits in the pan, then cover to steam.
When carrots are tender (about 3 minutes) set aside with the chicken.
To the same skillet add 1 tsp sunflower oil and the white parts of the scallions and sauté 2-3 minutes until tender. Set aside.
Meanwhile, bring a saucepan of water to a boil. Gently lower eggs into the water with a slotted spoon and cook for approximately 6 minutes at a gentle boil. Remove eggs (saving the water) and place in a bowl of ice water. When ready to serve, peel the eggs and slice.
In the same saucepan, add the noodles and cook according to package directions. Drain, rinse, and set aside. In the saucepan bring the stock to a simmer.
In large, shallow bowls, place even portions of the noodles, chicken, and vegetables. Pour the hot stock over the mixture and garnish with eggs, microgreens, radishes, and scallion greens.
Judiciously drizzle with Smude's Fiery Oil to taste and serve!
Recipe by Lakewinds Food Co-op at https://www.lakewinds.coop/recipes/all/spring-udon-bowl/