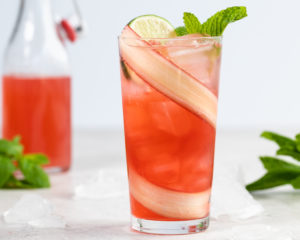 Sparkling Rhubarb Mint Shrub
Yield 1 mocktail
Tangy rhubarb and fresh mint make this summery sparkling drink colorful and refreshing.
Ingredients
1/2 cup water
1/2 cup sugar
3/4 cup chopped rhubarb
10 mint leaves
2 ounces Clover Valley Rhubarb-Mint Shrub
4 ounces sparkling water
Instructions
In a medium saucepan, combine water, sugar, and rhubarb. Cook over medium heat, stirring occasionally until all of the sugar has dissolved and the rhubarb is very tender. Remove from heat; add the mint, muddle the rhubarb and mint to release the flavors and set aside 1 hour to cool. Strain the syrup and refrigerate for up to one week. Makes about 1 cup.
Fill a glass with ice. Add the Clover Valley shrub, 2 ounces of the rhubarb simple syrup, and sparkling water. Stir gently to blend. Garnish with rhubarb, mint, and lime, if desired.
Notes
Tip: Use a vegetable peeler to create a thinly sliced rhubarb garnish.
Recipe by Lakewinds Food Co-op at https://www.lakewinds.coop/recipes/all/sparkling-rhubarb-mint-shrub/