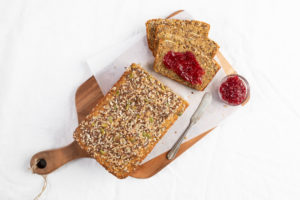 Seeded Whole Wheat Quick Bread
Yield 1 loaf
Ingredients
⅓ cup unsalted sunflower seeds
¼ cup golden flaxseed
3 Tablespoons unsalted pumpkin seeds
3 Tablespoons sesame seeds
2 cups all-purpose flour
1 cup rolled oats
1 Tablespoon baking powder
2 teaspoons salt
½ teaspoon baking soda
3 large eggs, lightly beaten
3 Tablespoons honey or pure maple syrup
1⅔ cups buttermilk
⅔ cup avocado oil
Instructions
Heat oven to 350°F. Line 9"x5" loaf pan with lightly greased cooking parchment paper.
In a 10-inch skillet over medium-low heat, combine sunflower seeds, flax seeds, pumpkin seeds, and sesame seeds. Cook, stirring constantly 5 to 7 minutes or until lightly browned.
Reserve 2 Tablespoons of the seed mixture in a small bowl; transfer the remaining seeds to a large bowl. Add flour, oats, baking powder, salt, and baking soda to the large bowl; whisk to combine.
In a medium bowl, mix together the eggs and honey until well blended. Add the buttermilk and oil until combined. Pour the wet ingredients into the flour and seed mixture; stir and fold until well combined. Spoon the batter into the prepared pan. Sprinkle the reserved seeds on top.
Bake 1 hour to 1 hour 15 minutes or until golden brown and a toothpick inserted into the center of the loaf comes out clean. Let cool in the pan on cooling rack for 10 minutes; carefully remove from pan and place top side up on cooling rack. Cool completely, about 2 hours, before slicing.
Recipe by Lakewinds Food Co-op at https://www.lakewinds.coop/recipes/all/seeded-whole-wheat-quick-bread/