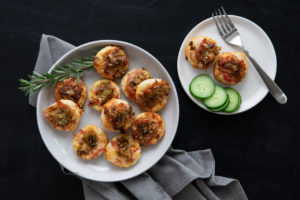 Prosciutto, Leek and Fontina Bites
Yield 16 servings
Ingredients
3 medium leeks
2 tablespoons butter
4 cloves garlic, finely chopped
2 tablespoons dry white wine
1/2 teaspoon salt
1/4 teaspoon pepper
14 ounces all-butter puff pastry, defrosted
1 egg, beaten
2 ounces prosciutto, torn into small pieces
4 ounces fontina cheese, shredded
Instructions
Trim the root ends and deep green tops off of the leeks. Cut in half lengthwise and thinly slice crosswise. Place sliced leeks in a strainer and rinse thoroughly to remove any dirt; drain very well.
Heat the oven to 400°F. In a 12-inch skillet, melt butter over medium heat. Add the leeks and garlic, cook 5 to 8 minutes, stirring frequently until the leeks are cooked down and tender. Stir in white wine, salt, and pepper. Cook an additional 3 to 5 minutes, stirring frequently or until most of the wine is cooked off. Remove from heat and set aside to cool slightly.
Lightly flour a large cutting board or countertop. Unfold the thawed puff pastry and press seams and edges to smooth the surface. Using a 2-inch round biscuit or cookie cutter, cut the pastry into about 32 rounds. Place pastry rounds about 1-inch apart on parchment-lined cookie sheets.
Brush each pastry round with the beaten egg. Top each round with a piece of the prosciutto and a small amount of the leek mixture. Top with shredded fontina cheese.
Bake 18 to 22 minutes, or until the cheese is golden brown and the pastry is fully puffed and browned. Serve warm or at room temperature.
Recipe by Lakewinds Food Co-op at https://www.lakewinds.coop/recipes/all/prosciutto-leek-and-fontina-bites/